Halloween Meatballs Recipe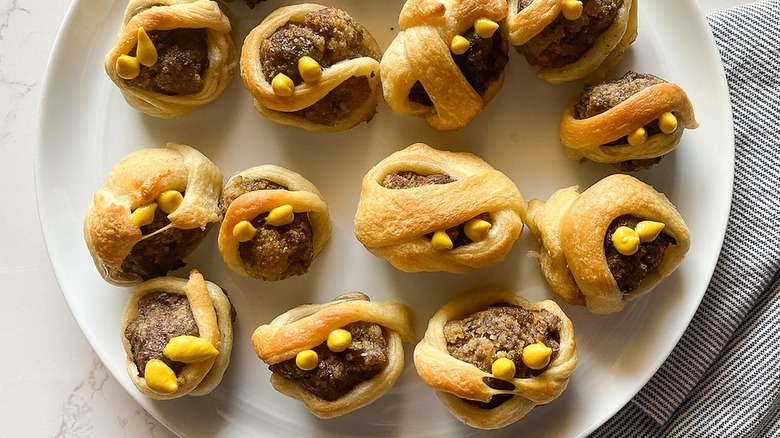 Kristen Carli/Mashed
There's no denying that candy is just dandy for Halloween. Lately, however, we can't help but notice that the thought of Halloween candy doesn't quite muster up the same level of excitement that it once did for us. We're not entirely sure why. After all, it's certainly not that we don't love candy. Perhaps it's because there are so many delicious Halloween recipes out there that don't involve candy — and recipe developer Kristen Carli definitely has us pretty excited with this Halloween meatballs recipe.
While Carli certainly doesn't have anything against classic candy, she's more keen on exploring different kinds of Halloween recipes, and these meatballs are clear proof of that. They're delicious, Italian-style meatballs that are wrapped in "bandages" made of golden brown crescent roll dough and dotted with little yellow mustard eyes — it doesn't get much more festive or delicious than that! "These are the perfect addition to your Halloween holiday platter," Carli explains. "I like to serve them to include some protein along with the rest of the treats you enjoy on this day." It's all about balance! Without further ado, let's get started on these delightful little Halloween treats.
Gather your ingredients to make Halloween meatballs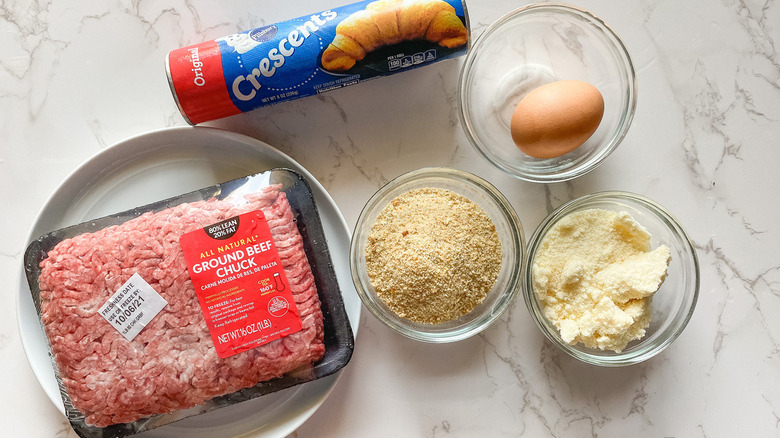 Kristen Carli/Mashed
To make this recipe, you'll need ground beef, breadcrumbs, an egg, and grated Parmesan cheese for the meatballs themselves. As for seasoning, you'll simply need some salt and pepper. You'll also want a little bit of olive oil to help sear the meatballs on the stovetop. Finally, to give these meatballs their Halloween look, you'll need refrigerated crescent dough to "mummify" each meatball and yellow mustard to give the mummies some flavorful eyes.
Preheat your oven and make the meatballs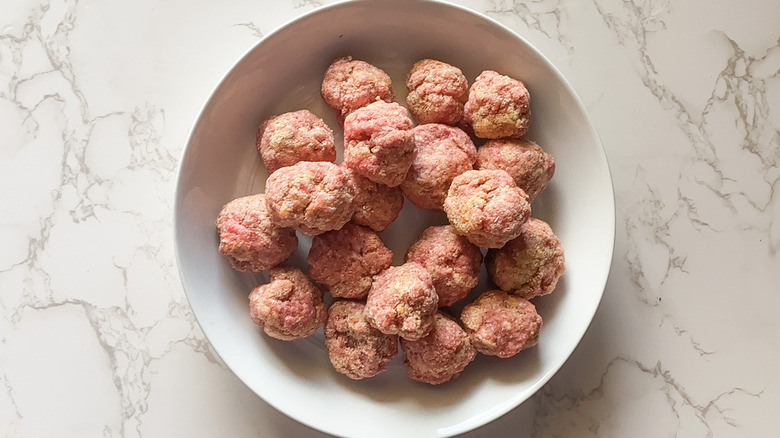 Kristen Carli/Mashed
Since your meatballs are going to spend some time baking, you'll want to start by preheating your oven to 375 F. While your oven is heating up, grab a large bowl. Add in the ground beef, breadcrumbs, and the grated Parmesan cheese into the bowl. Crack the egg and add it to the bowl. Add the salt and pepper. Now, use your hands to combine this mixture thoroughly. You'll want to mix the dough just until all of the ingredients are thoroughly combined and the breadcrumbs, cheese, seasonings, and egg are evenly distributed within the beef. Then, roll the mixture into meatballs that are around 1-inch in diameter, as shown in the image.
Brown your meatballs in your skillet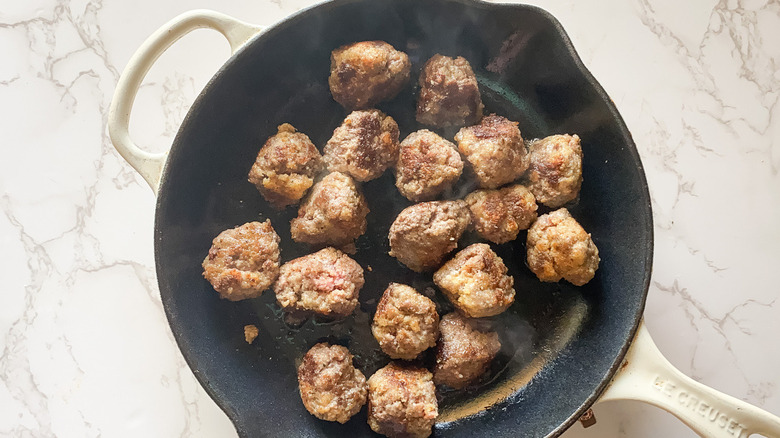 Kristen Carli/Mashed
Now that your meatballs are ready for cooking, go ahead and heat a large skillet over medium heat. Add the olive oil, and wait for the oil to begin shimmering. When it does, add the meatballs, but avoid overcrowding the pan. If there isn't enough space in the skillet to accommodate all of the meatballs while still allowing a bit of space between each, then divide the meatballs into batches. Sear the meatballs on all sides, which should take about 10 minutes for each batch. The meatballs will also have more time to cook in the oven, so the goal right now is to get a flavorful sear on them.
Prepare the crescent roll 'bandages'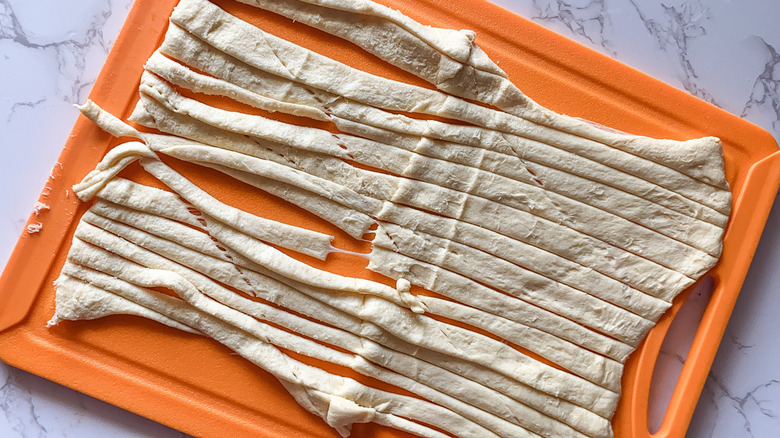 Kristen Carli/Mashed
Pop open your refrigerated crescent roll dough, and unroll it so that it forms a flat, rectangular shape. Using a pizza cutter, cut the dough into strips of about cut dough into thin strips of about ¼- to ½-inch thickness. These thin strips of dough are going to be your "bandages," thus turning your seared meatballs into Halloween meatball mummies. Don't worry about cutting even strips of dough — soon you'll be wrapping them around the meatballs and baking, so it doesn't have to be perfect!
Bake your Halloween meatball mummies, add mustard eyes, and serve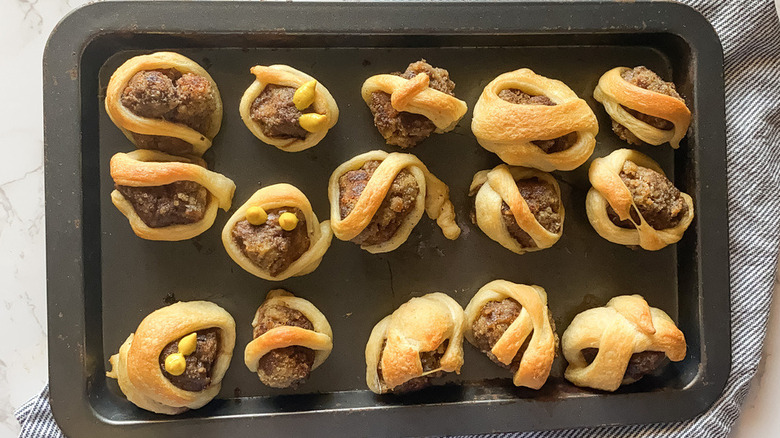 Now it's time to make the mummies! Wrap one strip of dough around each meatball, winding it all the way around the meatball to make it look as if it were wrapped in mummy bandages. Set your Halloween meatball mummies onto a baking sheet, place on center rack, and set a timer for 10 minutes. After the time is up, remove your Halloween meatballs from the oven. The bandages should now be golden brown. Transfer them carefully to a serving platter, and allow to cool for five minutes. Before serving, give each mummy two dots of mustard where you'd like their eyes to be, and that's it! You're ready to serve these festive Halloween meatballs that are sure to scare up a good time at your next party.
Halloween Meatballs Recipe
These festive Halloween meatballs incorporate crescent roll dough "bandages" and mustard "eyes," and are sure to be a hit at your next party.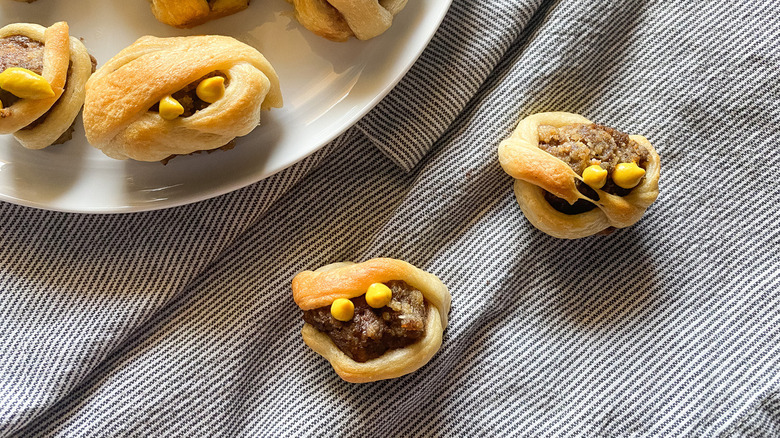 Ingredients
1 pound ground beef
½ cup bread crumbs
½ cup grated Parmesan cheese
1 egg
1 teaspoon salt
½ teaspoon pepper
1 tablespoon olive oil
1 (8 ounces) tube crescent dough
mustard, for garnish
Directions
Preheat oven to 375 F.
In a large bowl, add ground beef, bread crumbs, grated Parmesan cheese, egg, salt, and pepper.
Using your hands, mix to combine. Roll into 1-inch diameter balls.
Heat a large skillet over medium heat and add olive oil.
Add meatballs and allow them to sear on all sides, which will take about 10 minutes.
Unroll the crescent dough and lay it out flat.
Using a pizza cutter, cut dough into thin strips, about ¼- to ½-inch.
Wrap one strip of dough roughly around each meatball to look like mummy bandages.
Repeat with all meatballs, and set them onto a small baking sheet after you finish wrapping.
Bake the wrapped meatballs for 10 minutes.
Remove from oven. Carefully dot eyes on each meatball using mustard and serve immediately.
Nutrition
| | |
| --- | --- |
| Calories per Serving | 616 |
| Total Fat | 34.7 g |
| Saturated Fat | 13.1 g |
| Trans Fat | 1.3 g |
| Cholesterol | 133.1 mg |
| | |
| --- | --- |
| Total Carbohydrates | 39.2 g |
| Dietary Fiber | 2.4 g |
| Total Sugars | 1.5 g |
| Sodium | 828.5 mg |
| Protein | 34.4 g |