Chrissy Teigen Opened Up About Her Pregnancy Loss With This Behind The Scenes Cookbook Photo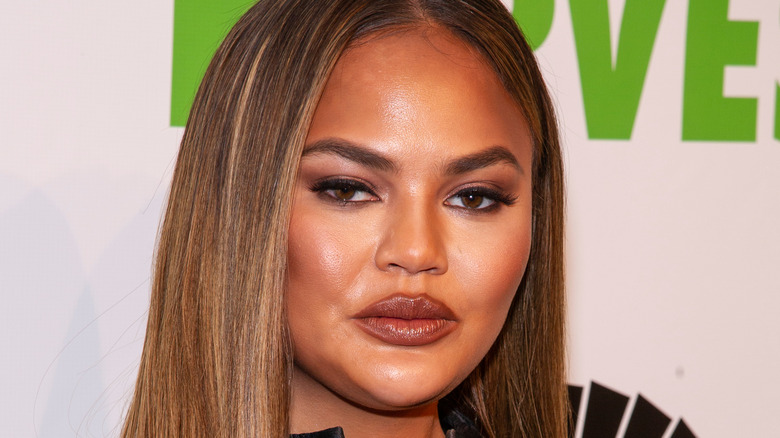 Lev Radin/Shutterstock
Last week was Baby Loss Awareness Week, according to the organizers' website, and the occasion undoubtedly brought up painful memories for Chrissy Teigen. Fans of the model turned cookbook author surely remember September 2020, when Teigen miscarried the child she and husband John Legend had already named Jack. She posted an emotionally raw photo of herself on Instagram September 30 of last year, sitting on a hospital bed in the throes of grief. It was an honest, moving image that not everyone appreciated, according to BBC.
"These photos aren't for anyone but the people who have lived this or are curious enough to wonder what something like this is like," Teigen said at the time, per BBC. "These photos are only for the people who need them. The thoughts of others do not matter to me."
At the time Teigen and Legend were mourning the loss of Jack, Teigen was working on "Cravings: All Together," her new cookbook. "I absolutely threw myself into writing, quickly, to distract from the trauma, the pain, the grief," Teigen said in an October 16 Instagram post. In a separate post on Instagram from August of this year, announcing pre-orders for the book, Teigen said the upcoming book "quite literally saved" her. The October 16 post, which included a behind the scenes cookbook photo, indicated that Teigen needed more than her writing to pull her through her grief.
Chrissy Teigen reveals her cookbook co-author helped her through her grief
The photo Chrissy Teigen posted to Instagram on October 16 once again showed her in a vulnerable position. It wasn't quite as raw as the September 2020 Instagram image of Teigen crying on her hospital bed. But it was just as real. In the October 16 Instagram, Teigen is laying on a couch, cocooned in a blanket, with two bowls of food next to her. Sitting near Teigen on the couch is Adeena Sussman, who co-wrote "Cravings: All Together." Sussman's attention is focused on a large bowl of food in her lap. Tongs in hand, Sussman appears ready to offer Teigen a taste.
Teigen acknowledged Baby Loss Awareness Week in her caption and provided context to the photo. "I felt suctioned to the couch with barely an appetite to even taste our recipes," she wrote. Then she confided to her fans that it wasn't the book itself that saved her — or at least it shouldn't get all the credit. "It was during this time that I truly believed Adeena was sent by god herself," Teigen wrote. "When I tell you this book saved me, I only kind of mean that. It was Adeena."