What Makes Ina Garten's New Series Be My Guest So Unique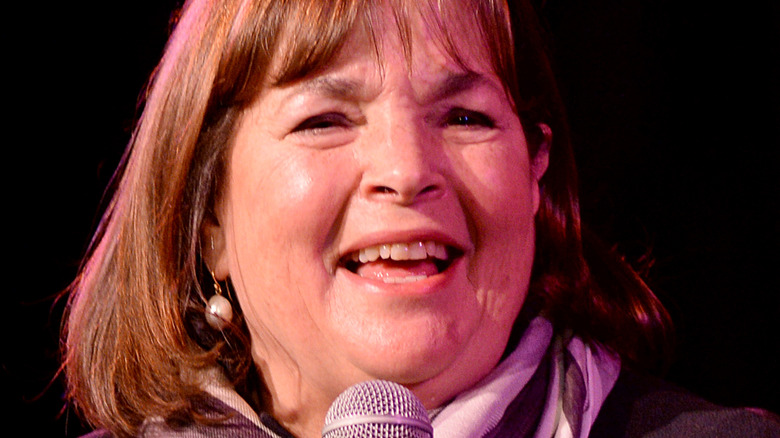 Brad Barket/Getty Images
Ina Garten fans have a lot to be happy about these days. They're looking forward to the new season of "Barefoot Contessa: Modern Comfort Food," which premieres on Food Network October 31 (via Variety). While many celebrity chefs have defined their careers by hosting multiple popular shows (think Gordon Ramsay and Guy Fieri, to name only two), Garten has focused her energies on "Barefoot Contessa," with occasional guest appearances on talk shows and Food Network programs such as "Food Network Star" and "Beat Bobby Flay" (via IMDb).
Now, at age 73, Garten has decided to diversify her portfolio. Discovery Inc. announced in a statement sent to Mashed that Garten signed a multi-year deal with the media company to produce a variety of content, starting with a brand-new show called "Be My Guest." The show won't depart much from the formula that has worked so well on "Barefoot Contessa" since its debut in 2002 (via The New York Times). On "Be My Guest," as on "Contessa," Garten will cook in her kitchen/TV studio/barn on her East Hampton property. Even so, Garten's expanded partnership with Discovery Inc. has some new wrinkles that make it unique.
Garten's show Be My Guest will include a podcast and a Discovery+ extended cut
As the name "Be My Guest" suggests, Ina Garten won't be cooking alone on her new show for the Discovery family of networks, per the statement sent to Mashed. "With 'Be My Guest' I'm welcoming really fun, interesting people into my barn in East Hampton for good food and conversation," Garten said in the statement. No doubt, her fans will see some of the famous friends Garten has made in the Hamptons and elsewhere over the decades. Maybe Jennifer Garner will show up; Garten professed her friendship for the TV and movie star in an April Instagram post. 
Discovery Inc. promised that "Be My Guest" will be a "fresh take on Ina's signature style," which she has honed over the years on "Barefoot Contessa." What really makes "Be My Guest" unique, however, is that this one project will take many forms. If you're a basic cable subscriber, you can watch half-hour episodes on Food Network. If you've cut the cable cord and signed up for Discovery+ instead, then "Be My Guest" will appear as an hour-long "extended cut" on the streaming service. And with podcasts being all the rage these days, Garten is catching that wave too with a "Be My Guest" podcast. "The range of platforms — from streaming and network TV, to audio — offers new and creative ways to connect with new viewers," Garten said. "This is going to be so much fun!"