Snoop Dogg's Pantry Is Surprisingly Relatable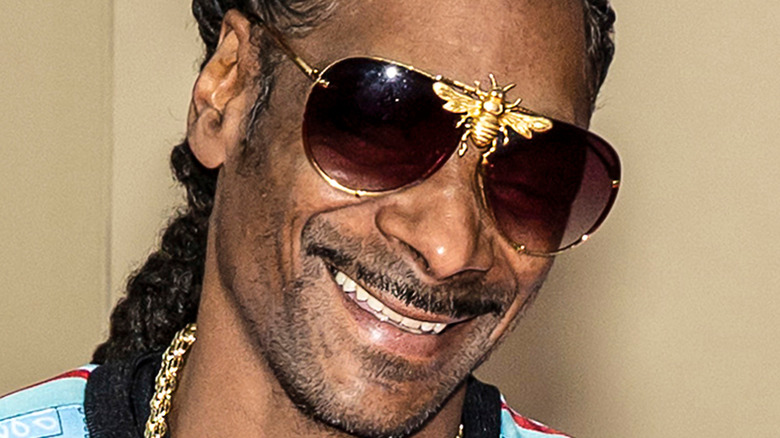 Ovidiu Hrubaru/Shutterstock
We may receive a commission on purchases made from links.
Celebrities. They're just like us! Well, sort of. Even though many household names typically live a lavish life of which we normal folks dream, it's always refreshing to find out that some stars are on the same wavelength as us — even when it pertains to something as minor as what they like to eat. For one, Calvin Cordozar Broadus Jr., better known by his stage name, Snoop Dogg, stocks up on foods that you probably have in your own kitchen.
Like tons of other celebs, Snoop has written a cookbook, which is aptly titled "From Crook to Cook: Platinum Recipes from Tha Boss Dogg's Kitchen," and it's filled with recipes virtually anyone can whip up, including baked mac and cheese, fried bologna sandwiches, orange chicken, and of course, Snoop's favorite cocktail, gin and juice (per Amazon). It's probably fair to guess that his bestie Martha Stewart played an inspiring role in his cookbook writing, considering she has taught him a thing or two about the culinary arts over the course of their friendship. So, what does Snoop Dogg have in his home pantry? Let's just say that if you were to stroll into his kitchen, you may be surprised that it belongs to someone this famous.
Snoop Dogg loves everyday staples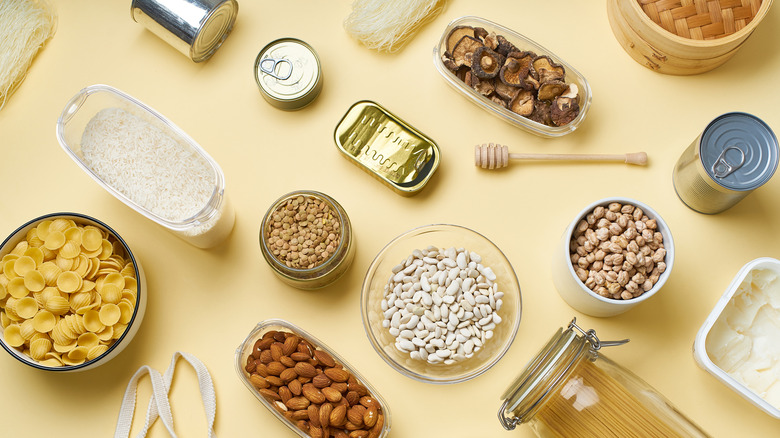 Asya Nurullina/Shutterstock
Snoop's pantry includes plenty of essential items, including mac and cheese, honey, hot sauce, seasoning salt, cans of tuna, and soy sauce. Meanwhile, his fridge is hardly ever without orange juice, which he drinks by itself and uses for cocktails, as well as mustard, milk, cheese, butter, Moët champagne, syrup, and a variety of candies for when the snack attack strikes, reports Quartz.
As far as Snoop's personal wellness, the rapper takes his health seriously. But as we all know by now, he doesn't shy away from the occasional indulgence. That said, in addition to eating a good amount of healthy meals at his home, Snoop does his best to eat clean, even when he's snacking. Among his favorite at-home treats are grapes, bananas, and apples. And, when it comes to Snoop's go-to meals, he loves simple fare like Caesar salads, and also enjoys pairing things like salmon and chicken with foods like green beans and roasted vegetables.