Sour Patch Kids Popcorn Is Officially Coming To Walmart
Sour Patch Kids has been a leader in the candy world for quite some time now. From the release of its recent mystery flavor to the launch of its own New York City store, the brand has done a lot to create a loyal following. That beloved sweet-yet-sour flavor hasn't been limited to just the candy bowl. Those little sour kids have popped up in a variety of foods over the years, including ice cream and cereal. But with the announcement of the new Sour Patch Kids popcorn, the candy will move into the savory sector for the first time.
According to a press release from Candy Pop, a division of SNAX-Sational Brands, the new Sour Patch Kids popcorn might become the Halloween treat that all the ghouls and goblins crave. The brand describes the new snack as popcorn with "REDBERRY® flavor coating ... topped with authentic SOUR PATCH KIDS® Bitz and finished with a sour sugar sprinkle." The popcorn itself appears to be similar to other offerings from Candy Pop. While guests of the 2021 Sweets and Snacks Expo were able to preview this new treat, it will be officially launching at Walmart (with additional sale locations to follow) just in time for Halloween. If sweet and sour candy with a side of crunchy and salty makes your spooky season sound sensational, the new Sour Patch Kids popcorn might be your next must-have treat.
Could Sour Patch Kids popcorn spark a new snack trend?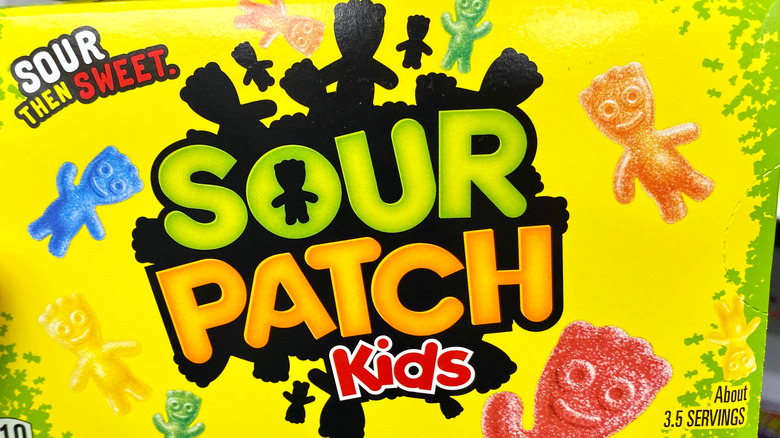 ZikG/Shutterstock
Although Candy Pop's new Sour Patch Kids popcorn will look a bit different — namely, it lacks those iconic kid shapes — the familiar flavor comes through with each bite. From the Bitz pieces to the flavoring on the popcorn itself, this new offering hits all the flavor notes of sweet, salty, sour, and bitter. It is interesting that Redberry was the chosen flavor. In a 2020 contest, Blue Kid was picked as most popular, but maybe the tart red raspberry flavor just works better with popcorn. Or, maybe it leaves the door open for more flavor options down the line.
While SNAX-Sational Brands offers an array of candy and cookie-filled popcorn creations, this move into sour candy could spark a new popcorn trend. As seen with other new products from the brand, like the Nutter Butter Cookie Pop flavor offered in a variety pack at Sam's Club, there appears to be a movement towards using candy and cookies in more salty, savory snacks like popcorn. Could a Cadbury Egg popcorn be on the horizon for Easter?