Making French Toast Just Got Even Easier With This Egg Mix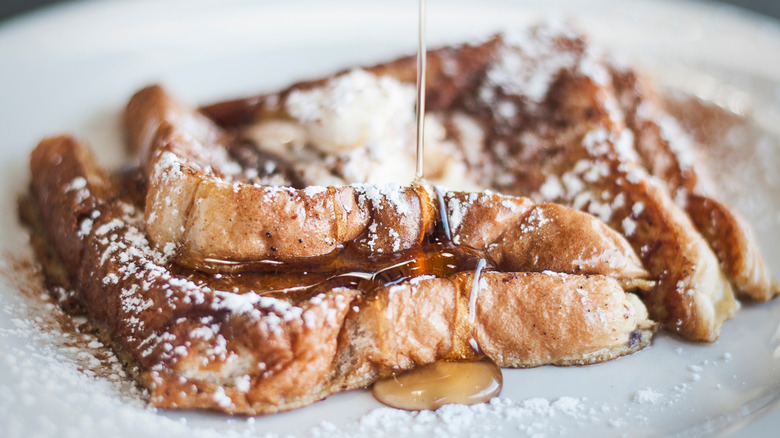 willmilne/Shutterstock
Whipping up French toast for a crowd just got easier, thanks to a new product that aims to reinvent this nostalgic breakfast dish one table at a time. In a press release, Nellie's Free Range Eggs — America's leading distributor of humanely raised free-range eggs — debuted an innovative new French toast mix that is shelf-stable.
The refrigerator-free mix is available in two flavors: Classic Recipe, which is flavored with notes of cinnamon and vanilla, and Chocolate, which is made with real cocoa powder and salted caramel (via the Nellie's Free Range website). Each pouch — which contains enough mix to coat 16-18 slices of French toast — is made with a dozen antibiotic- and hormone-free eggs. The mix itself is low in sugar and contains between seven and11 grams of protein per serving.
The shelf-stable mix is touted as a "first-of-its-kind" product that allows for the quick preparation of French toast without having to crack eggs. Home cooks simply add water or milk to the mix and dip their bread of choice into the batter before cooking the French toast in a skillet, oven, or air fryer. According to the company, this quick and easy product was developed to reflect the transformation in breakfast habits that has occurred over the last couple of years "as consumers shifted habits from eating breakfast on the go to enjoying their morning meal at home with family."
The new mix can accommodate different diets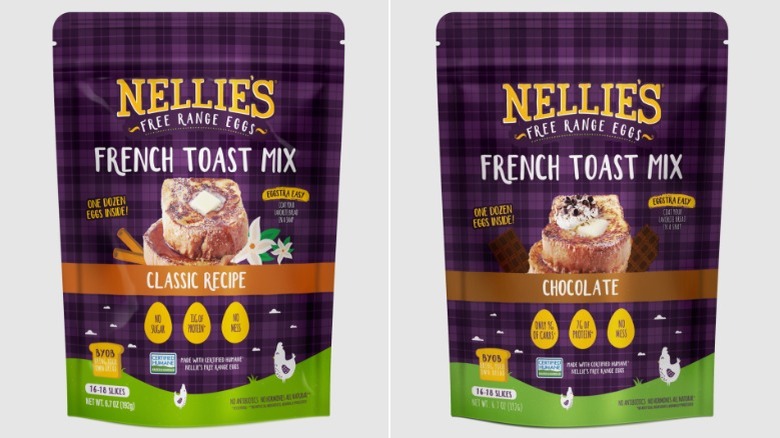 Nellie's Free Range
Per the press release, Erik Drake, CEO of Nellie's Free Range Eggs, expressed confidence "that consumers are going to love our French Toast Mix. Not only does it taste great, but it's the perfect product to keep on hand in the pantry for a quick, convenient, and stress-free" breakfast. Nellie's aimed to make its newest product as fuss-free as possible, requiring just one added ingredient and minimal cleanup. The pantry-safe French Toast mix is suitable for those who stick to gluten-free, dairy-free, paleo, keto, or low-carb meal plans. 
Online, a few customers have already begun raving about the new product, with one Amazon reviewer writing, "I love french toast but I literally NEVER make it because it feels like such a chore. Not to be dramatic, but the fact that i don't have to crack a bunch of eggs or go looking for random spices in my pantry anymore is truly a revelation." The reviewer also lauded the size, predicting that just one 6.7-ounce package would be enough for "a good couple months." The French Toast Mix flavors can be purchased on Amazon now for a suggested retail price of $12.99 per pouch.