Here's Why Your Cinnamon Rolls Are Too Hard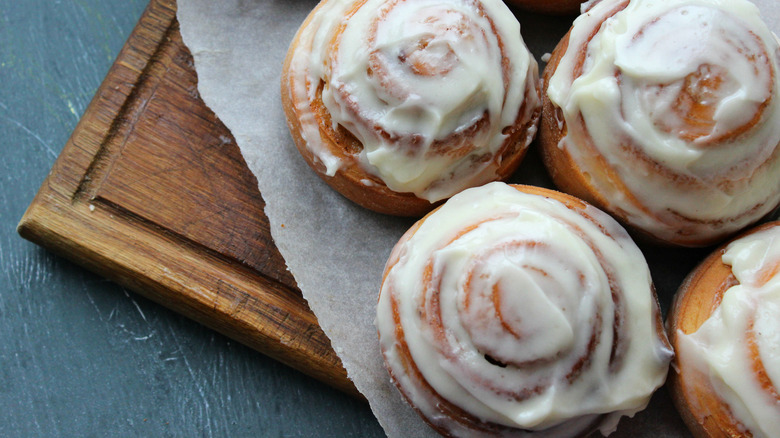 Ermolenko Aleksandra/Shutterstock
Fall is the perfect time to whip up some warm baked goods. Pair some warm pumpkin bread with a cup of tea in the afternoon or make some mini apple crumbles for a snack or to serve everyone their own personal dessert. For a warm and gooey treat, there's nothing better than a fresh, homemade cinnamon roll – even a copycat Cinnabon cinnamon roll recipe.
The best cinnamon rolls don't skimp on the filling and have a light, fluffy texture. A hard and tough cinnamon roll is always a disappointment, but if your cinnamon rolls are coming out too hard, there's a reason for that. The good news? It's a quick, easy fix.
You might be adding too much flour to your cinnamon rolls, and according to the Miss Vickie Pressure Cooker Times, too much flour can lead to drier dough, which then makes the rolls hard. Instead, the blog recommends adding just what the recipe calls for in terms of dough, and in this situation, if you add too much flour, try to scoop some out of the bowl.
Tips for making fluffy cinnamon rolls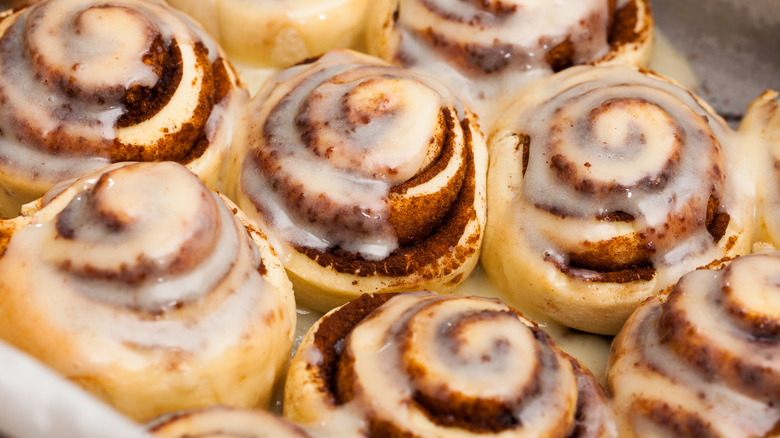 Iakov Filimonov/Shutterstock
To get the best cinnamon rolls, here are the mistakes that you want to avoid. While getting a fluffy texture is important, you can also make cinnamon rolls too doughy if you pack them too tightly in your baking pan. Make sure there's some space between each roll when you put them in the oven; they don't need to be right next to each other just yet!
According to Simply Recipes, butter is also another major component to fluffy cinnamon rolls, and you want room temperature butter that's still soft for the dough and the cinnamon-sugar filling. Need a microwave hack for room temperature butter? Just be careful not to keep it in there too long, because the butter still needs to be solid. For those who want to become cinnamon roll experts, Taste of Home has plenty of advice for making cinnamon rolls.
Looking to put a twist on your classic cinnamon roll recipe? Try some sweet sourdough cinnamon rolls, or bake up a batch of s'mores cinnamon rolls with a marshmallow topping.