How Antoni Porowski Upgrades His Box Mix Brownies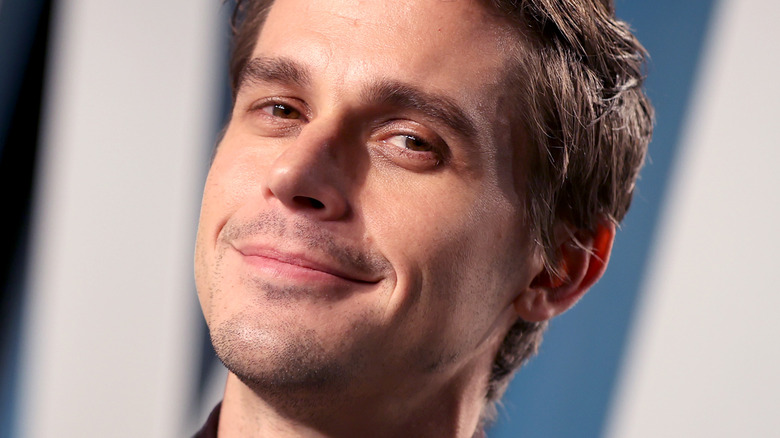 Rich Fury/vf20/Getty Images
Many fans of "Queer Eye" happily have a nosh and a sip when binge-watching their favorite Netflix series, and Antoni Porowski is always serving some tasty, yet simple, advice on the show. While Porowski admitted to Hunker that baking isn't necessarily an everyday occurrence for him, sweet treats fresh from the oven are a great way to mark a special event. Whether it is making a celebratory cake for his dog Neon or just a diversion to the daily chaos, that homemade baked good is a reason to smile. And, like any special occasion, those baked treats should be far from boring and bland.
Recently, Porowski partnered with Betty Crocker to help celebrate the brand's 100th anniversary. As he told Delish, he recalls baking those boxed brownie mixes with his sisters. While they purposefully undercooked the brownies for crispy edges but a gooey center, those baking moments seem to be filled with sweet memories. Even if he thought that everyone puts frosting on brownies, Porowski has a simple trick to make any box mix brownies spectacular. Whether the extra ingredients are in the pantry or require a raid of the kids' Halloween stash, or a trip to the store, this simple baking hack is the flavor upgrade that everyone will crave.
Antoni Porowski adds coffee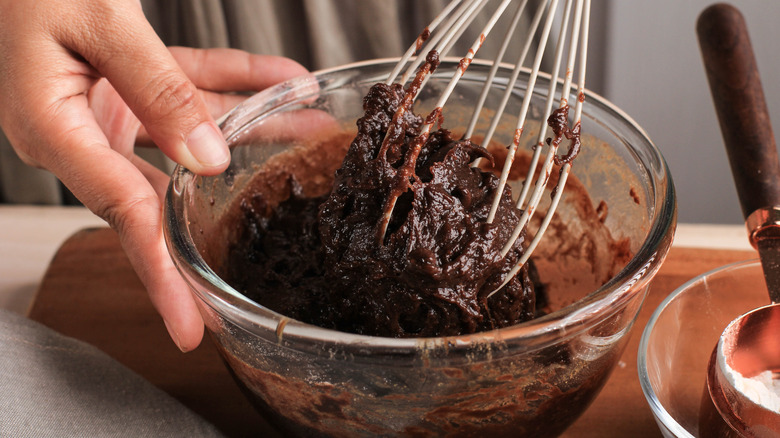 Ika Rahma H/Shutterstock
While many pantries have box mix brownies stocked on the shelf, those classic baked treats can use a little flavor boost. Although many home bakers have a variety of hacks or secrets, Antoni Porowski shared two ways of making a big, bold brownie statement. As told to Hunker, Porowski recommends substituting leftover coffee for water in the ingredient list. Borrowing this idea from Ina Garten, the coffee tends to "round out" the chocolate flavor. The ingredient swap doesn't make the brownie coffee forward, rather it balances the rich chocolatey goodness of the brownie.
For a more indulgent brownie, Porowski recommends adding candy bars, chips, or even pretzels to the mix. As he told Delish, Porowski likes to make recipes his own. Adding other ingredients to the brownie batter is fun for him. While the CVS aisles hold a bounty of options, the idea is a simple one that any home baker can borrow. From a sweet and salty mix to caramel and peanut butter, the options are numerous. With Halloween around the corner, this idea can avoid you having leftover candy into the new year. Making those box mix brownies go from blah to bodacious is all about that little extra.