Copycat Wendy's Pretzel Bacon Pub Cheeseburger Recipe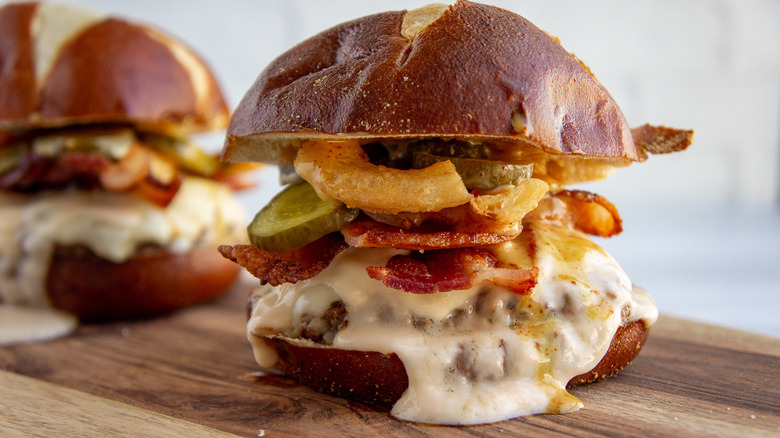 Mikayla Marin/Mashed
For fans of Wendy's pretzel bacon pub cheeseburger, It's a sad day when you pull up and realize it's no longer on the menu. Perhaps someday it'll be back, but for now, recipe developer Mikayla Marin from The Flour Handprint has a homemade solution. Her copycat pretzel bacon pub cheeseburger recipe features all the same elements, right down to the beer cheese. Her goal with a burger like this with so many layers, was to simplify the steps, but still deliver on big flavor and satisfying, juicy burger with every bite.
The step by step guide to recreating this fast food favorite will help you transform simple ground beef into a square-shaped burger dream. Don't be intimidated by the ingredient list, as Marin has key tips and tricks for making the process easy and fun, with a few shortcuts along the way. Best of all, you don't need to get in your car to go get one.
Gather the ingredients to make a copycat Wendy's pretzel bacon pub cheeseburger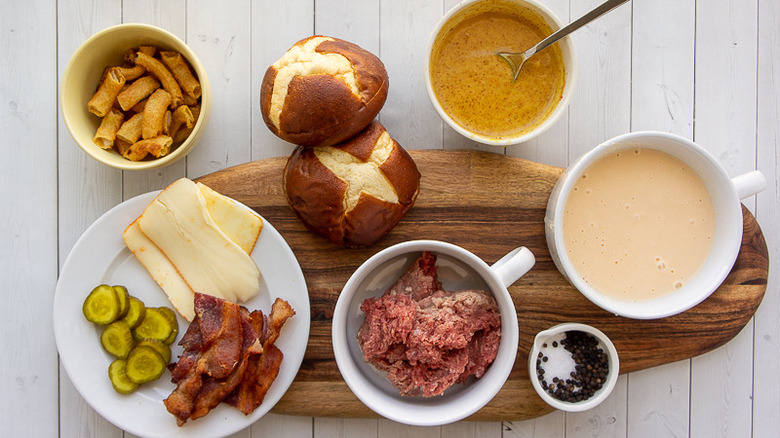 Mikayla Marin/Mashed
There are a lot of delicious layers in this burger, and it all begins with a couple of pretzel buns. Between them, there's the iconic square-shaped ¼ pound patties, some slices of crispy Applewood bacon, dill pickles, muenster cheese, and a generous handful of onion strings. In addition to those fairly simple burger ingredients, there are two sauces as well: a smoky honey mustard sauce and a gooey beer cheese sauce, which will help amp up the flavors. Marin will walk us through how to make the sauces, but suggests a few shortcuts for other ingredients to reduce the prep time for these burgers. She recommends precooking bacon, even microwaving it, before you tackle the burger and sauces. It's also easy (and tasty) to grab a bag of your favorite frozen onion rings and get them baking to crispy perfection. Then it's just a quick chop to make onion strings and add them to your burger.
Make the smoky honey mustard sauce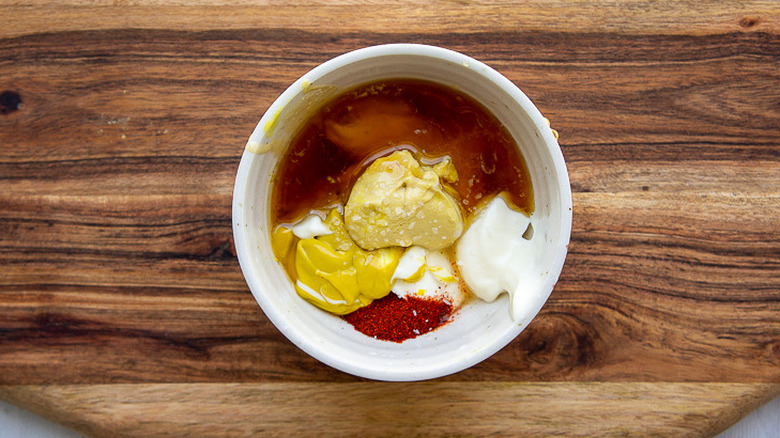 Mikayla Marin/Mashed
A smoky honey mustard sauce is shockingly easy to make with just a few pantry ingredients, but getting the ratios right is key. You'll need 2 tablespoons of mayonnaise, ½ tablespoon each of yellow and Dijon mustard, 1 tablespoon of honey, ½ teaspoon of lemon juice, and ¼ teaspoon of smoked paprika to make the magic work. Once you have these ingredients measured out, simply combine them in a small bowl to make the sauce. If you have any extra, it tastes great as a dipping sauce for the rest of that bag of onion rings.
Prep the patties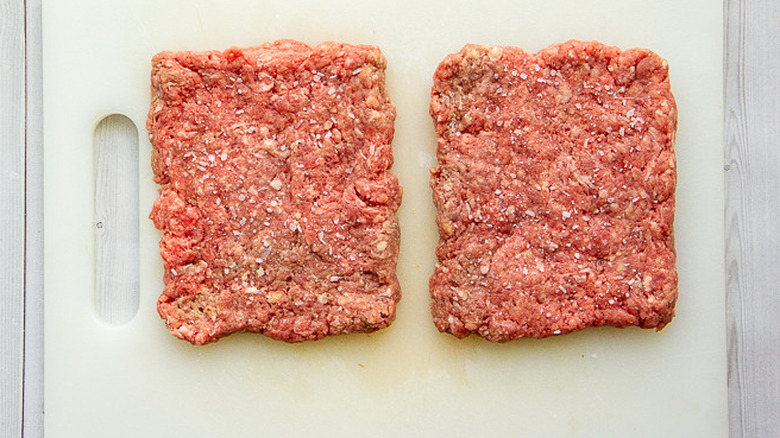 Mikayla Marin/Mashed
Before you jump into the beer cheese sauce, Marin says it's best to get the burgers shaped, pickles sliced, and everything else prepped and ready to go. This way, you only have to cook the burgers after the sauce is done, and everything goes together hot.
To form the ¼-pound square burgers, you start the way you do for a traditional cheeseburger. Form a ball and press it down. Each burger is then molded into a square shape, just do your best to keep the thickness even across it. Then, press a deep indent into the middles with your thumb to reduce shrinking, and season with salt and pepper. Once you form the patties, go ahead and set them aside.
Make the beer cheese sauce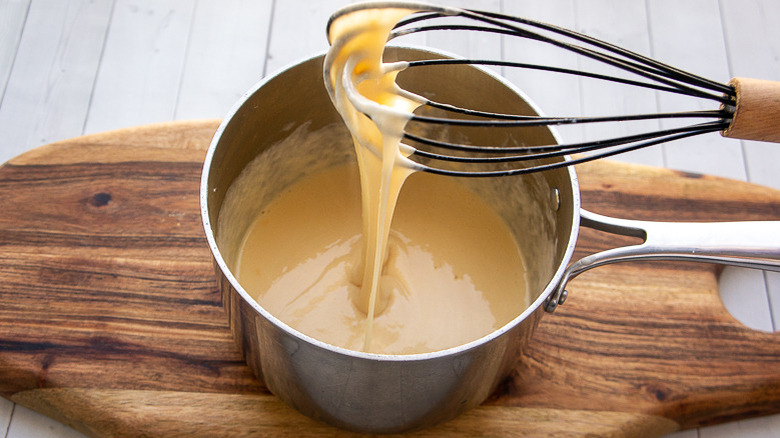 Mikayla Marin/Mashed
To make the beer cheese sauce, you're essentially going to be making a fondue. Don't worry — it's a lot simpler than it may seem. Start by shredding a cup of white cheddar and ¼ cup of yellow cheddar cheese. You'll want to be sure to shred it yourself, as pre-shredded cheese won't yield a smooth sauce. Next, melt the butter in a saucepan and then add in the flour. Whisk over low heat for two minutes, and then once the color changes from white to cream colored, add in a pinch of salt and start adding in the beer. Marin recommends using a light beer, so the flavor doesn't overwhelm the rest of the burger. She used a very light lager, but says anything you like to drink is going to be a winner for you. Since this uses only a few ounces, you even get to drink the rest while you cook.
Once all the beer is added, drop in the cream cheese and stir until it melts. Then, add handfuls of cheddar, stirring between each addition, until all
the cheese is smoothly combined. If the sauce is too thick for you, add another splash or two of beer to thin it out to your liking. Keep it warm in a low oven, or know you may have to put it back over low heat and stir a little to loosen it up when it's time to eat.
Cook the burgers and top with muenster cheese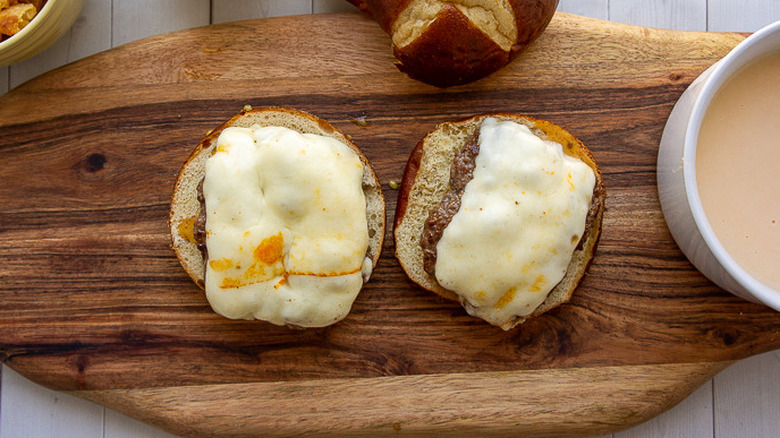 Mikayla Marin/Mashed
After making the beer cheese, cooking the burgers is a snap. Heat a nonstick pan over medium heat and when hot, lay in the seasoned beef patties. Cook for three minutes on the first side for a medium to medium well burger, or four minutes for well done.
Flip the burger and add the slices of muenster cheese on top of each. Cover the pan with a lid and let the burgers cook another three to four minutes, depending on the temperature you like your burgers cooked. Then slide them out of the pan and onto the waiting pretzel buns.
Build the burger and enjoy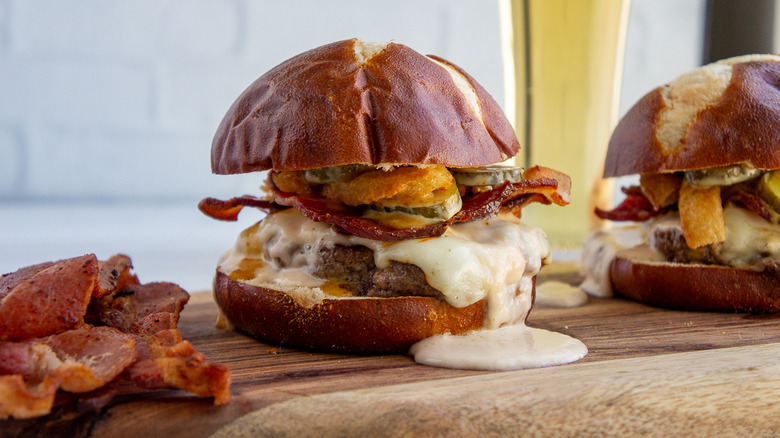 Mikayla Marin/Mashed
With cheesy, gooey patties ready to go, it's time to assemble all those flavorful layers. First goes the beer cheese sauce, and Marin added a generous dollop and let the gooey cheese ooze over the burger. Then layer three pieces of bacon on each burger, top that with a handful of onion strips, and finally add the pickles.
Smear a generous tablespoon of smoky honey mustard on the top bun and close that baby up. You now have a delicious copycat version of Wendy's pretzel bacon pub cheeseburger you can dig into immediately — no drive-thru required!
Copycat Wendy's Pretzel Bacon Pub Cheeseburger Recipe
This copycat pretzel bacon pub cheeseburger recipe features all the same elements as the Wendy's favorite — right down to the beer cheese.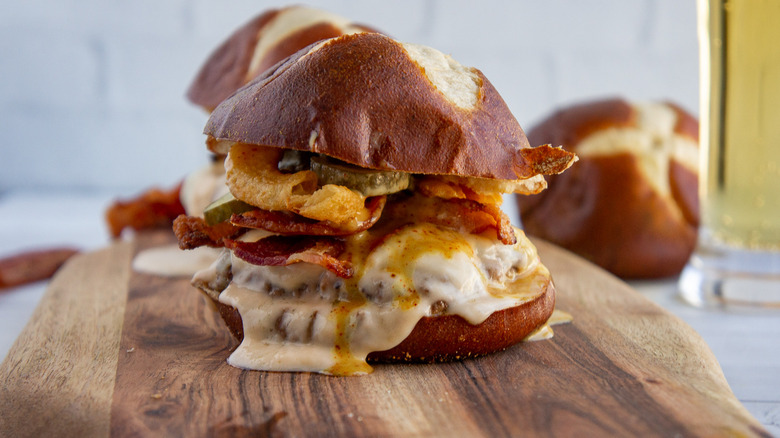 Ingredients
2 tablespoons mayonnaise
½ tablespoon yellow mustard
½ tablespoon Dijon mustard
1 tablespoon honey
½ teaspoon lemon juice
¼ teaspoon smoked paprika
½ pound of ground beef
salt, to taste
pepper, to taste
2 tablespoon butter
1 tablespoon flour
3 ounces light beer
2 tablespoon cream cheese
1 cup white cheddar cheese, shredded
¼ cup cheddar cheese, shredded
2 slices Muenster cheese
2 pretzel buns
6 slices cooked bacon
4 onion rings, chopped
8 pickle slices
Directions
Make the honey mustard sauce by combining mayonnaise, both mustards, honey, lemon juice, and smoked paprika in a bowl.
Form the patties by shaping ¼ pound of beef into two squares and seasoning them with salt and pepper.
Add butter into a saucepan and melt over low heat, then add the flour. Whisk until a smooth paste forms and cook for 1 to 2 minutes, stirring constantly.
Add in the salt and slowly whisk in the beer until a smooth liquid forms.
Whisk in cream cheese until completely melted.
Slowly add in handfuls of the cheddar cheese until it's all completely melted. Keep warm over lowest heat possible.
Preheat a nonstick pan and place seasoned beef patties in over medium heat. Cook for 3 to 4 minutes.
Flip and add the muenster cheese slices. Cook another 3 to 4 minutes, until desired internal temperature.
Add the burger with cheese to the pretzel bun, then add a spoonful of beer cheese, 3 strips of bacon each, a small handful of onion rings, and 4 slices of pickles each.
Top with top bun spread with a little more honey mustard. Serve immediately.
Nutrition
| | |
| --- | --- |
| Calories per Serving | 1,257 |
| Total Fat | 95.1 g |
| Saturated Fat | 43.2 g |
| Trans Fat | 2.6 g |
| Cholesterol | 257.5 mg |
| | |
| --- | --- |
| Total Carbohydrates | 39.0 g |
| Dietary Fiber | 1.9 g |
| Total Sugars | 12.9 g |
| Sodium | 1,675.2 mg |
| Protein | 58.0 g |