Think Twice Before Ordering This Costco Food Court Favorite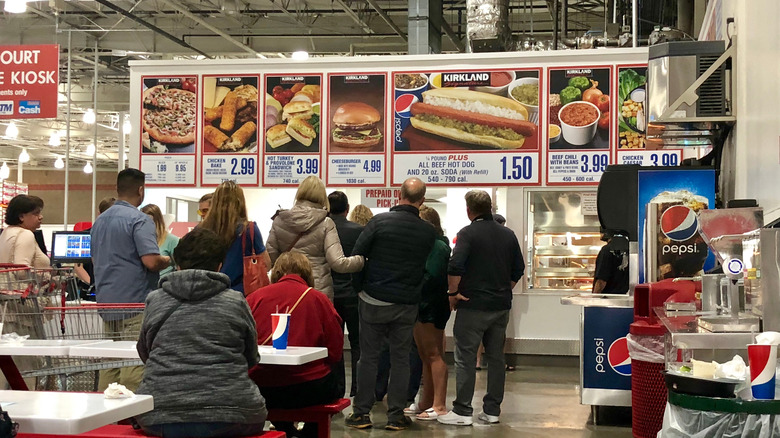 Cassiohabib/Shutterstock
Shopping at Costco is an experience, to say the least. Sure, it can be fun to wander aimlessly through the store and peruse the various seasonal treats while munching on free samples, but having to navigate through the huge crowds of people as you determine the big-box retailer's best deals is also known to cause feelings of anxiety and exhaustion. Whether you enjoy your weekly visits to the wholesale retailer or find them to be a chore, making it through another Costco run is something to celebrate, and what better way than indulging in a post-shopping treat than at their infamous food court? 
The chain's $1 billion-a-year in-house eatery offers a variety of comforting foods like gooey, cheesy pizza, and hot dogs for less than the cost of a pack of gum, and you certainly deserve to treat yourself to something after pacing up and down all those aisles (via MoneyWise). Yes, the Costco food court is the proverbial pot of gold at the end of the Costco rainbow, but while it's easy to be blinded by all the delicious snacks on the menu, there is one item in particular that you should think twice about before picking up on your way out of the store. 
Costco's new churros are 'inedible' calorie bombs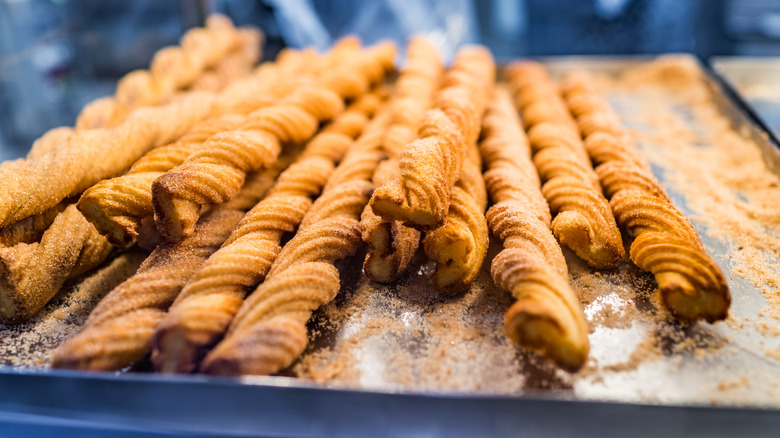 Kristi Blokhin/Shutterstock
"Avoid the churros," registered dietician, Diana Gariglio-Clelland, told Eat This, Not That!. "While they may seem like a steal cost-wise, these churros are just fried bread with a ton of added sugar." We know what you're thinking — how bad can one of Costco's Twisted Churros really be? Clelland said that ordering the food court's soft-serve frozen yogurt is a better option than the cinnamon sugar-coated treat. Not only do these fried dough sticks pack a whopping 570 calories each, but they also contain 20 grams of fat, 550 grams of sodium, 88 grams of carbs, and 25 grams of sugar. 
That last number should be particularly alarming, as it maxes out the recommended amount of added sugar that the American Heart Association suggests women should take in on a daily basis, and nearly does the same for men as well. Along with their less-than-stellar nutrition facts, MoneyWise reports that Costco's churros underwent a bit of a makeover during their pandemic-induced hiatus, and customers aren't exactly loving the changes. "I'm going to go ahead and say it: their churros are AWFUL. If you inhale them when they're warm, they're maybe a B," one Redditor said, while another declared them to be "inedible." Though the $1.49 price tag on a Costco churro is tempting, you're probably better off ditching it for something a bit healthier.