Walmart Shoppers Are Loving These Iridescent Glass Mugs
When you're in search of things for the kitchen — whether it's a new dinnerware set, a fancy Le Creuset Dutch oven, or a gorgeous marble cheese board — you likely think of specialty home decor stores like Crate & Barrel, Williams-Sonoma, or Pottery Barn. If you're on a budget, you may lean more towards Home Goods or Ikea. One place you might overlook, however? Walmart.
The massive retailer is known for its famously low prices and it has an ample selection of home goods, especially for the kitchen and dining room. Don't be fooled by the low prices — some of the pieces look surprisingly chic and much more expensive than they actually are, as noted by The Kitchn. One such product? A new line of iridescent glass mugs that has shoppers excited on Instagram. Here's what you need to know about the new release — and where to find them to add to your own kitchen or bar cart.
They cost less than $4 apiece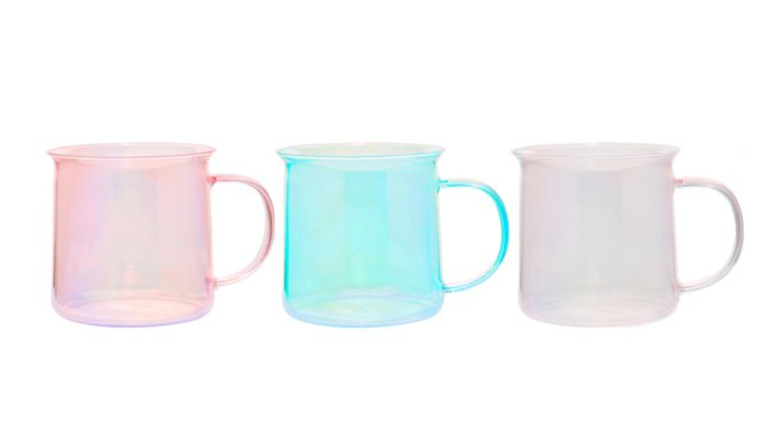 Walmart
A recent Instagram post by Walmart fan account @walmartgems brought the iridescent glass mugs to shoppers' attention, garnering nearly 5,000 likes in just 24 hours. The mugs are made by Mainstays, which is Walmart's lower-priced brand, and cost just $3.96 apiece. Available in three muted colors (green, pink, and clear), they're made of heat-resistant and microwave-safe borosilicate glass and hold up to 18 ounces of your favorite beverage. The thick glass also means your drink of choice will stay warm as you sip.
The mugs have a high 4.5-star rating on Walmart's website. Many reviewers rave about how lightweight yet sturdy the glass is and how the mugs are a perfect size for everything from coffee to soup. They also praise its looks, with one person saying, "The colors are absolutely beautiful." Others add that it's become their favorite mug. The fan behind @walmartgems agrees, writing, "These pictures don't do them justice, they're so much prettier in person!"