Disney Turkey Leg Recipe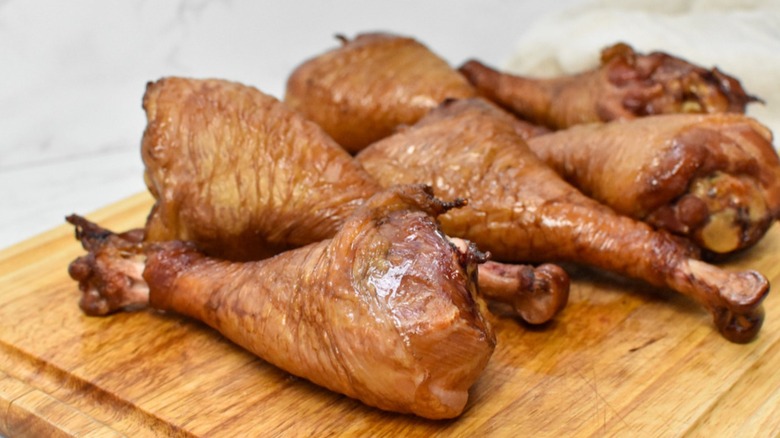 Stephanie Rapone/Mashed
When we say turkey leg, what comes to mind? It might be some Old King Cole type chomping away as he swigs from a flagon of ale at a medieval feast. Historically, this is wrong in so many ways. For one thing, The Atlantic says turkey farming didn't really become a thing in Europe until the 16th century, so this meat missed the Middle Ages by a mile. Nonetheless, turkey legs are a crucial component of the pseudo-historical fantasia that is every Renaissance Festival ever. They are also a favorite at Disney parks where they are not passing themselves off as period-appropriate but merely as delicious, filling fair fare. No argument there!
Recipe developer Stephanie Rapone says she has never had a Disney turkey leg (nor a Renaissance festival one, for that matter), but her husband has tried the Disney version, so he served as " the official taste tester." Rapone tells us she arrived at this recipe by modifying a turkey brine recipe she was already using for Thanksgiving to make it more Disney-esque, and according to her taste-tester, it seems she nailed it. He says these turkey legs "definitely remind him of Disney — they taste almost like ham, which is the flavor profile that the Disney turkey legs are known for."
These are the ingredients you'll need for the turkey legs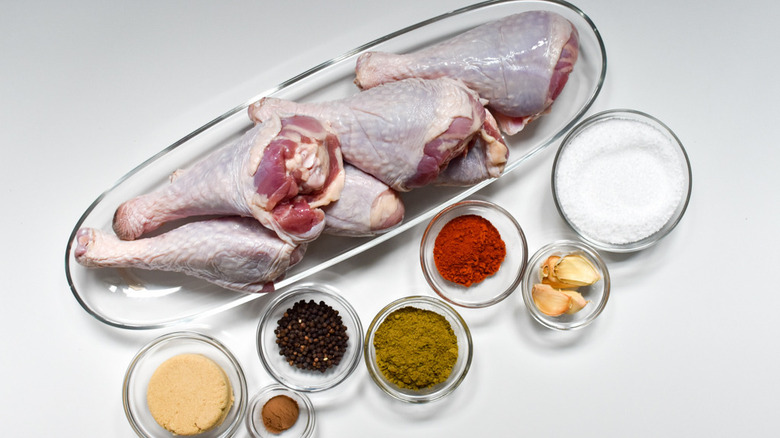 Stephanie Rapone/Mashed
This recipe is made with six turkey legs (regular-sized ones, not the giant monster legs you see at fairs and festivals). Rapone does say, though, that "This brine will work for up to 12 drumsticks [and] can be doubled for 24 drumsticks." To make the brine, you'll need brown sugar plus a bunch of spices and seasonings: kosher salt, fresh garlic, poultry seasoning, smoked paprika, whole black peppercorns, and allspice.
The turkey legs will soak in brine overnight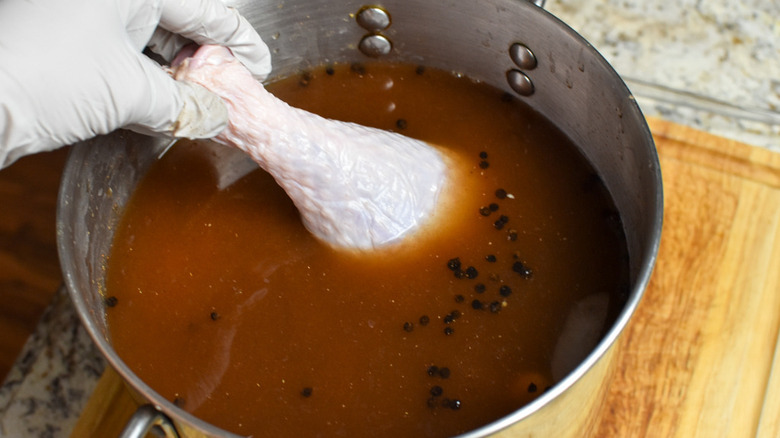 Stephanie Rapone/Mashed
Boil eight cups of water to a boil, then add the salt and sugar and stir until they've dissolved. Peel the garlic cloves and smash them so they release their essence, then drop them into the brine. Stir in the rest of the spices. Now take eight cups of ice cubes and drop those into the brine, stirring until they melt.
Soak the turkey legs in the brine, and stick the pot in the fridge to sit overnight. You can actually let the legs brine for up to 24 hours if you're a real do-it-aheader. Once they are sufficiently brined, take them out of the liquid and pat them dry with a paper towel. As the brine is a) way salty and b) infused with raw poultry, you'll need to discard it.
You'll need a smoker to cook these turkey legs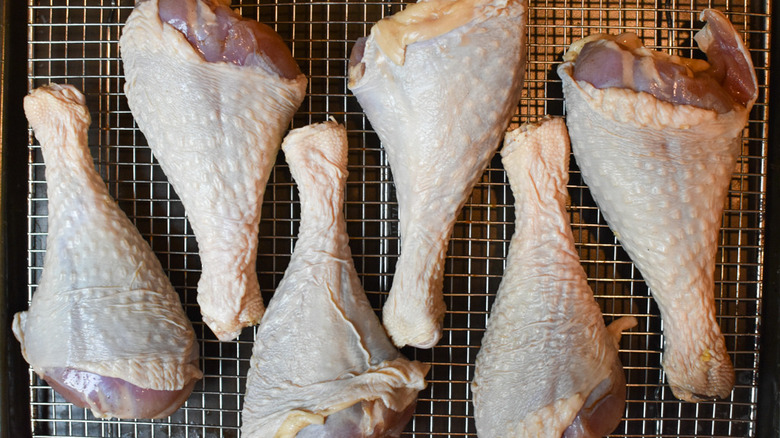 Stephanie Rapone/Mashed
These turkey legs are smoked, which is going to require a smoker. While Rapone used a large outdoor smoker, she says that you could probably make them in an indoor stovetop smoker, as well. She does say that "They might not get quite as dark of [a] color on them, but the brine and smoke flavors would still be on point."
Add the wood and the fuel source to the smoker and heat it to 275 F. As to what wood you should use, Rapone tells us, "Cherry wood will give the darkest color on the turkey, but any smoking wood will work well." She also adds that "if you have a hanging rack and hooks for your smoker, tie butcher's twine around the end[s of the turkey legs] and hang [them] to smoke. If you don't, they can be smoked on a rack."
The turkey legs will need to smoke for one to two hours or until a meat thermometer inserted into the thickest part reads at least 160 F. (You don't want the thermometer to go over 180 F, though, or the turkey will be overcooked.)
These turkey legs can make for a versatile meal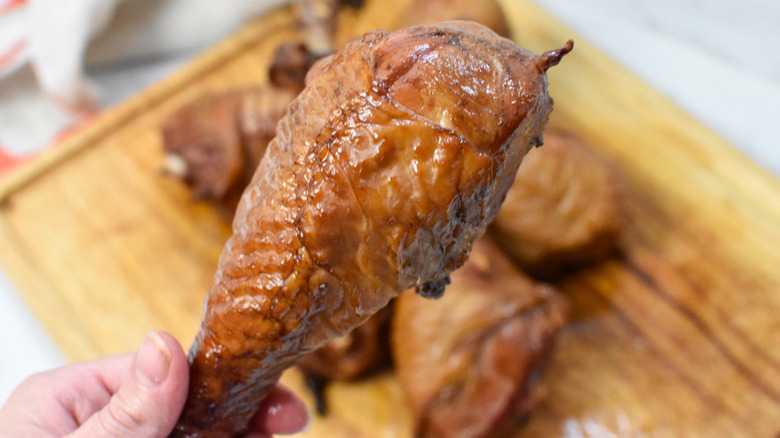 Stephanie Rapone/Mashed
Rapone says to serve these legs right away. If you want to have the full Disney experience, you should eat them while standing in as long a line as you can muster up. (Maybe take them to the DMV?)
If you'd rather have them as part of a sit-down meal, though, you may want some sides. Rapone suggests, "In the fall and winter, roasted squash or your favorite potatoes is a really great option," adding, "In warmer weather, going picnic-style with potato salad would be delicious." She says the leftovers are also tasty — she herself is partial to using smoked turkey meat over pasta in an alfredo sauce. Oh, and of course, you should save the bones for what she describes as "the BEST turkey stock."
While these turkey legs really don't need any dipping sauce or condiments since the smoke flavor stands on its own, Rapone does say there may be one exception to this rule. She says these turkey legs "are a great option for a small Thanksgiving [because] it frees up the oven for other things and it's just fun to watch everyone chomp on a big turkey leg for the meal." In such a case, she says, "a little gravy to dip them in would be yummy!"
Disney Turkey Leg Recipe
You don't need to go all the way to Disney just to get their famous turkey legs. Learn how to make them in the comfort of your own home.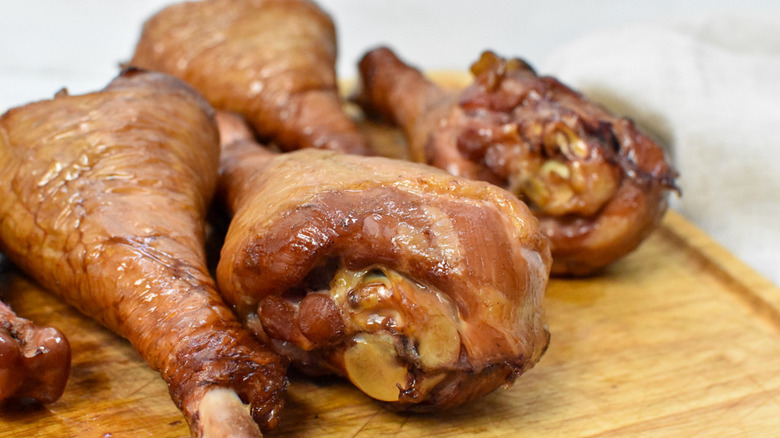 Ingredients
1 cup kosher salt
½ cup brown sugar
5 garlic cloves
⅓ cup poultry seasoning
2 tablespoons smoked paprika
2 tablespoons whole black peppercorns
1 teaspoon allspice
6 turkey drumsticks
Directions
Bring 8 cups water to a boil.
Add the salt and brown sugar to the boiling water and stir until fully dissolved.
Smash and peel the garlic cloves and add to the brine.
Stir the poultry seasoning, smoked paprika, peppercorns, and allspice into the brine.
Add 8 cups of ice to the brine and stir until melted.
Add the turkey legs to the brine.
Brine the turkey legs overnight or up to 24 hours.
Remove the turkey legs from brine and rinse, blotting dry with paper towels.
Heat smoker to 275 F.
Smoke the turkey leg for 1 to 2 hours until a thermometer inserted into the thickest part of the meat reaches 160 to 180 F.
Serve the smoked turkey legs immediately.
Nutrition
| | |
| --- | --- |
| Calories per Serving | 577 |
| Total Fat | 25.1 g |
| Saturated Fat | 7.0 g |
| Trans Fat | 0.3 g |
| Cholesterol | 291.9 mg |
| | |
| --- | --- |
| Total Carbohydrates | 18.2 g |
| Dietary Fiber | 1.9 g |
| Total Sugars | 12.1 g |
| Sodium | 882.2 mg |
| Protein | 72.2 g |