Trader Joe's Fans Are Psyched For The Return Of Its Salted Caramel Hot Cocoa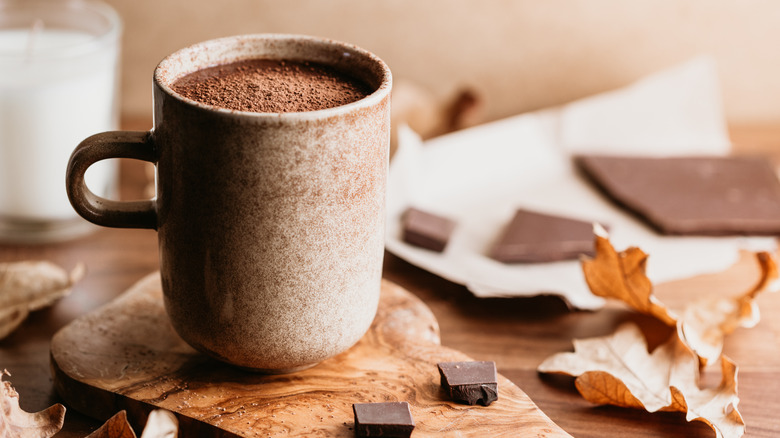 Edalin Photography/Shutterstock
While many of Trader Joe's most iconic year-round items have built cult followings – ranging from the beloved everything but the bagel seasoning to cauliflower gnocchi and mini vanilla ice cream cones — occasionally a seasonal product comes along that immediately captures the hearts of grocery shoppers everywhere. Recently, news of the return of one such limited-time product got TJ's fans buzzing.
The Instagram account @TraderJoesList, which shares the latest and greatest finds at the store with its whopping audience of 1.7 million followers, recently shared a post touting the company's Salted Caramel Flavored Hot Cocoa, with the caption: "IT'S BACK. SALTED CARAMEL HOT COCOA. Just in time for those chilly fall moments! Just add some marshmallows and fuzzy socks and you'll be cozy cozy!"
The sweet-and-savory cocoa mix, which made its debut in 2017, per Delish, was described by the retailer as "warm, liquid manifestation of our ever-popular Dark Chocolate Sea Salt Caramels." The flavored powder comes in a 10-ounce canister, containing eight servings of hot chocolate. The ingredients list includes sugar, coconut creamer, and, of course, cocoa.
In no time, the Instagram post has quickly racked up 13,000 likes as of publication, as well as hundreds of comments from users excited about the return of the popular product.
Instagram fans are even sharing tasty hacks for this hot cocoa mix
People are gushing over the return of Trader Joe's Salted Caramel Flavored Hot Cocoa as seen in this Instagram post. Commenters have swiftly shared their praise for the product, like @keepitcleannaomi who wrote, "I just made this for my daughter last night and she loved it!" Meanwhile, user @KaraJBush shared a tasty hack for the hot chocolate mix, writing, "This is my favorite. I add a spoon of TJ's Caramel sauce as well."
Numerous Instagram users also advised fellow hot cocoa fans to add the product to their morning routine — one Instagrammer suggested, "Guys, try it in your coffee. I'm telling you ... and you don't need much." User @novakca0606 also wrote in the comments, "I added some espresso to it! So tasty!"
Elsewhere on the internet, reviews of the cocoa are equally glowing, with one reviewer writing, "This is, by far, the best hot cocoa mix ever created. I can drink this every day if I lived very close to a Trader Joe's and bought dozens of cans of this. I'm tellin' y'all, this stuff is the truth and I truly do not recommend purchasing online because the resellers will triple, quadruple the price."
However, some critics also have taken issue with the healthfulness — or lack thereof — of the sweet treat, like Instagrammer @cejae.ree who wrote, "20g of sugar though. I'm out." She of course is referring to the 20 grams of added sugar in each serving of the powdered drink, which amounts to 40% of an adult's daily recommended sugar intake. Still, the overwhelming majority of shoppers appear to be excited for the return of the festive drink, recognizing that the holiday season is the best time of year to treat yourself to a warm, chocolatey mug of caramel-flavored goodness.