Nestle's New Candy Is Made With Nut Butter Fans In Mind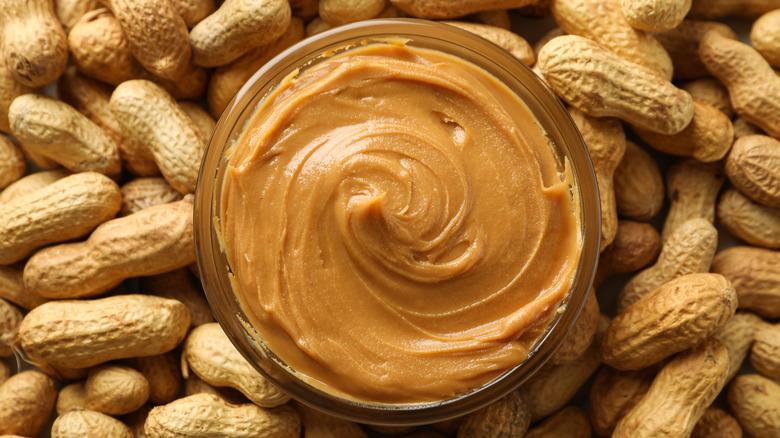 AtlasStudio/Shutterstock
Nut butter fans just might have a new go-to indulgence thanks to an iconic chocolate company's latest confection. In a press release, candy giant Nestlé announced the debut of a nutty new product unlike any of the brand's other chocolate bars. The brand-new Nestlé Rallies Nut Butter Bombs are made with real almond, cashew, and peanut butters coated in the company's signature milk and dark chocolates.
The new sweets are made with no artificial colors, flavors, or preservatives. Due to the lack of preservatives, these nut butter-filled treats will be stocked in the semi-refrigerated produce and dairy aisles of stores that will be carrying them. According to Nestlé, chilling the Rallies will allow them to "maintain freshness and flavor."
For the initial launch, customers will have the chance to taste two different flavors of the treats. The first flavor, Brownie Almond Butter, contains almond butter, dark chocolate, and crunchy almond pieces in a creamy milk chocolate shell. The second option, Salted Cashew Butter, features a sweet-and-salty combination of cashew butter encased in a dark chocolate shell. In anticipation of the Nut Butter Bombs success, Nestlé has also teased a third flavor of the bars set to hit stores in early 2022: Raspberry Peanut Butter bars with creamy peanut butter and raspberry pieces coated in dark chocolate.
The new bars are only available at one popular retailer for now
"Nestlé Rallies offer a delicious treat with less added sugar than consumers are used to finding in similar snacks. The indulgence is a grab-and-go option and a fresh, elevated take on a traditional treat," said Michael Darman, innovation manager at Nestlé USA, in the press release. "From the initial bite into the chilled chocolate shell to the rich, smooth textures of the nut butter filling, we're providing a treat that combines delicious ingredients to help consumers take on their day."
According to Nestlé, the Rallies bars contain 40% fewer added sugars than the leading nut butter chocolate candies, providing tons of rich, chocolatey flavor with less of a sugar crash. Each package of the chocolate-coated bars contains three bite-sized nut butter bombs for a suggested retail price of $2.49.
Currently, Nestlé Rallies are only available online and in-store at Hy-Vee supermarkets. However, Nestlé plans to expand the retail presence of the chocolatey bars over the next few months and headed into the new year. Customers who just can't wait to find the Nut Butter Bombs at their local store can visit the Nestle Rallies website to snag a box for themselves.