Emeril Lagasse's Graveyard Pudding Takes Dirt Cake To The Next Level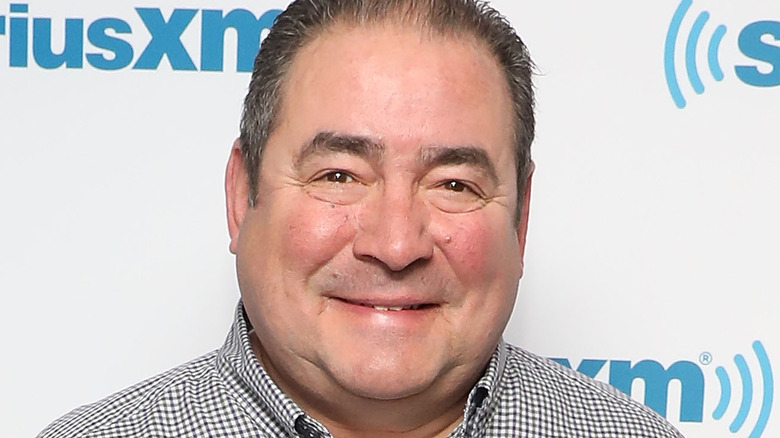 Taylor Hill/Getty Images
If you're looking to whip up a Halloween party treat that embodies the vibes of the spooky season, Emeril Lagasse has you covered. The chef recently shared a ghoulish creation on his Instagram page that's show-stopping enough for a special event — yet easy enough for beginners (AKA, people who would rather not spend the weekend painstakingly frosting cookies and icing cakes). As a bonus, Lagasse's dessert will definitely have you feeling nostalgic for your youth: a time when dirt cakes reigned supreme.
For those who may not remember, dirt cake is an American childhood classic and an easy combination of chocolate pudding, cookie crumbs, and edible critters, such as gummy worms. Combined, these simple ingredients mimic a pot of dirt with some creepy crawlies making guest appearances inside, explains The Takeout.
Similarly, Lagasse's "graveyard pudding" recipe requires ingredients that you may already have in your pantry or can easily pick up at the nearest grocery store. If you're interested in recreating the delight, just gather some unsweetened and bittersweet chocolate, sugar, egg yolks, cornstarch, milk, butter, vanilla, heavy cream, and Oreo cookies, as well as any buggy decorations you'd like to include.
How to make Lagasse's graveyard pudding at home
Lagasse's graveyard pudding recipe, shared on Instagram, begins with homemade chocolate pudding. The mixture is thickened with egg yolks and cornstarch, whisked thoroughly until lump-free, and chilled to set — which means you can make it hours ahead of your Halloween bash. After that, it's all about the assembly. Lagasse's photo features the dirt cake in a white ceramic dish, but you could use any serving vessel of your choosing. Combine the pudding with crushed Oreos and whipped cream to give it a fluffy texture with surprising crunchy bits, then top the chocolaty creation with more cookie dust and gummy worms. 
Lagasse levels up the classic dirt cake recipe not only by making his pudding from scratch, but also by adding whipped cream "ghosts" prowling about the spooky soil landscape. You can get creative with the decoration aspect; if you want to embellish your dirt dessert a bit more, you can toss on your favorite chocolates and gummies, like Haribo's 2021 Halloween candies featuring snakes, skulls, and skeletons. "Bam that looks good!" one fan commented on Lagasse's post, putting the chef's signature catchphrase to good use.