Padma Lakshmi's Hilarious Pumpkin Tweet Is All Of Us In 2021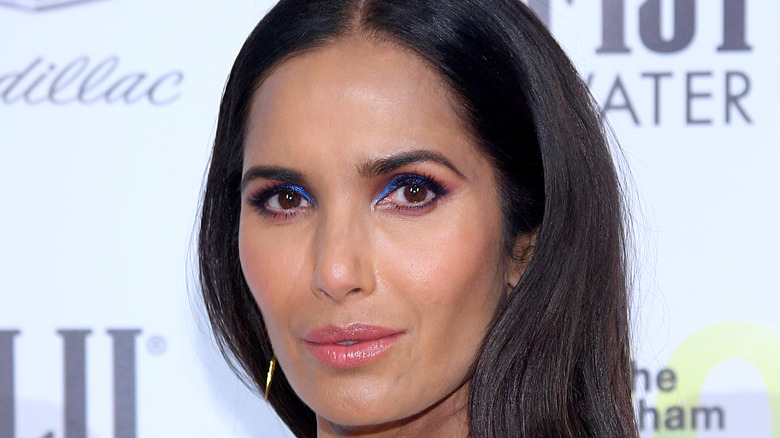 Dimitrios Kambouris/Getty Images
You probably know Padma Lakshmi from her long-time hosting gig on Bravo's "Top Chef," or from one of her best-selling books. On her website, you can also see a roundup of all of her achievements and it's quite astounding. Lakshmi has been nominated for an Emmy as well as noticed for having raised awareness and led campaigns as an activist with organizations such as the Endometriosis Foundation of America (EFA), which she co-founded, and the American Civil Liberties Union (ACLU), for which she served as Artist Ambassador.
It's been a big year for Lakshmi too with her new show "Taste the Nation" debuting to much acclaim on Hulu, earning a second season and a nomination for a Gotham Award for Best Breakthrough Series, via Hollywood Reporter.
On top of it all, she can add another line to her résumé: Twitter comedian. All jokes aside, Lakshmi showed a bit of her funny side on the social media platform with a pumpkin-themed Tweet that calls us all out on our commitment to celebrating Halloween this year.
Padma Lakshmi's comically relatable Halloween Tweet
Padma Lakshmi re-Tweeted a photo of a sad pumpkin originally posted by Saffron Ann, and added a caption of her own — and it's hilariously on point.
The photo was of a small, slightly dilapidated-looking pumpkin carved with a face. The carved pumpkin looks like it's starting to collapse in on itself, and the mouth of the face looks a little downturned. The general mood of the gourd's expression can only be described as "meh." The original Tweet labeled the photograph with the caption, "When you've had a rough year but you're trying hard to enjoy Halloween."
Lakshmi re-Tweeted the pumpkin photo and added her own caption that reads, "Like looking in a mirror." And she's totally right. It's extremely relatable that, in 2021, after we've all been dealing with the intense past couple years, we will continue to celebrate the joyful things against all odds. Even if on the inside we feel exhausted and exactly like that sad little pumpkin, we still have Halloween to look forward to! Even when life is a bit overwhelming, the joys of celebrating with family and friends can still shine through.