Valerie Bertinelli Fans Are Freaking Out Over Her Pumpkin Donuts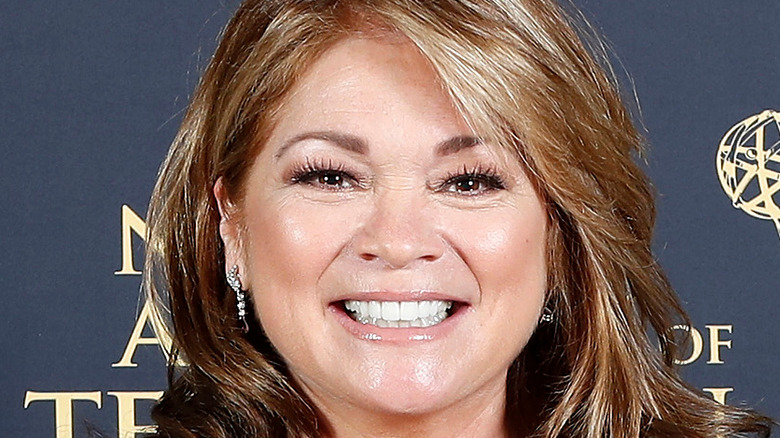 Joe Seer/Shutterstock
There's no better tell-tale sign of fall than the appearance of pumpkins, and along with that, pumpkin-flavored everything in restaurants, cafés, fast-food chains, and supermarkets. Starbucks turns the pumpkin flavoring into an iconic latte, McDonald's turns it into a créme pie, IHOP puts a spin on its classic pancake stacks with pumpkin pie spices, and the Cheesecake Factory even turns the pie into, well, a cheesecake (via Menu And Price).
Celeb chefs also have their own way of turning classics into pumpkin pie-inspired dishes. Rachel Ray, for example, uses pumpkin flesh and seeds for a savory pumpkin pasta (as seen on her website), and Ree Drummond makes tons of pumpkin soup each fall, as she notes on The Pioneer Woman site. Even the Barefoot Contessa likes the flavor of pumpkins in a cupcake (per her recipe). For the award-winning actress turned Food Network star Valerie Bertinelli, her go-to pumpkin-based fall recipe happens to be donuts.
On October 26, Bertinelli shared with her fans a recipe for baked pumpkin donuts on Instagram. And these are no ordinary donuts, as she wrote in the caption. They are "basically pumpkin pie as a doughnut!" she wrote.
Fans love Valerie's trick for making these tempting pumpkin donuts
Sharing her Baked Pumpkin Donut recipe with her fans on Instagram, Valerie Bertinelli confessed that her mother always fried homemade donuts. However, she thinks that these treats don't always need to be fried because they're essentially just crispy cakes, meaning, they're just as good baked. Plus, they're a touch healthier that way.
The trick that did it for Bertinelli's fans, however, was her use of a special baking tray in the shape of a row of donuts. These sweet treats are notoriously hard to roll so the fact that the celebrity chef enlightened the world about the existence of a special tray clearly had fans freaking out. As she noted, the tool is a much easier way to bake them, and they taste just as good as the fried ones. As one person said in the comments, "Oh I am ON this. Buying the donut molds tomorrow!" and another exclaimed, "Omg just ordered my donut trays! Can't wait to make [them]."
To finish off her special seasonal treat, Bertinelli adds a generous cinnamon sugar sprinkle. As she told fans, you can basically get the best of two worlds with this recipe — pumpkin pie and donuts all rolled into one delicious fall treat. Safe to say, fans couldn't get over how delicious these treats looked. One comment pretty much summed up everyone's thought after seeing the images: "I am SO HUNGRY now."