The Big Problem Trader Joe's Fans Have With Its Cheesy Seasoning Blend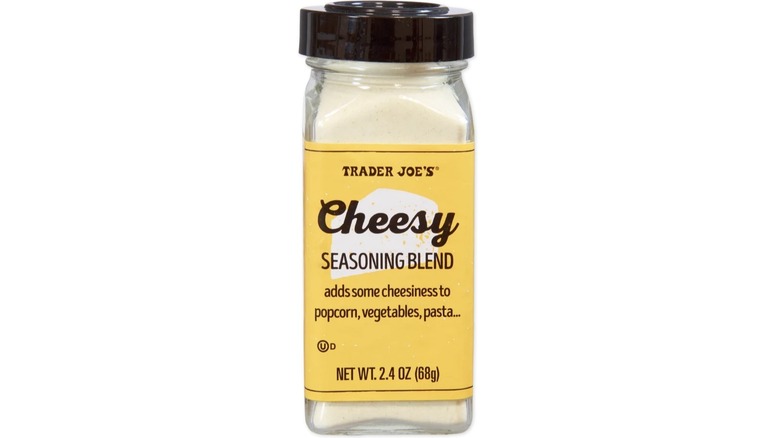 Trader Joe's
When it comes to adding a dash of flavor to anything you cook, Trader Joe's has you covered. The grocery chain's Everything But the Bagel Sesame Seasoning Blend ranks as a fan favorite. The Everygirl praised the Mushroom & Company Multipurpose Umami Seasoning Blend and South African Smoke Seasoning Blend as some of the best options.
The company has a pattern of keeping products fresh and rolling out new offerings (via Thrillist), so when Trader Joe's introduced its cheesy seasoning blend, fans went wild. Instagrammer @traderjoeslist weeks ago on one of their shopping trips and got fans excited for the spice's potential on popcorn or as a replacement to salt. Patrons have now gotten the chance to sample this seasoning blend for themselves and the excitement has started to wear thin.
Another Instagram account just sampled the item and left a scathing review. The post reads, "Cheesy Seasoning Blend: 5/10 NEW ITEM I was SO excited for this brand new cheesy seasoning blend because I absolutely love cheesy popcorn and thought this would be perfect! However, it didn't taste all that cheesy to me. In fact, the main flavor I tasted was garlic, onion, and rosemary. It tasted to me like a less flavorful Everything but the Leftovers! I put a ton on my popcorn to try this seasoning out and barely tasted any cheese at all, unfortunately. This seasoning was pretty average to me and I would not get it again when looking for a cheesy seasoning."
Some found this Trader Joe's seasoning underwhelming
Followers tended to agree with the Instagram post. Responses poured in that ranged from "Didn't taste cheesy at all" all the way to "Yesss just overwhelmed with garlic" (via Instagram). One person matter-of-factly agreed with the review, saying, "I agree. It was decent but don't think I'd go out of my way to repurchase again." But a different commenter did not like it on popcorn, stating, "Yesss the garlic and onion is way over powering and 100% not what I want my popcorn to taste like." Overall, people found the garlic and onion flavors of the powder too overpowering and it didn't live up to its cheesy expectations.
When you have to pick up a new Trader Joe's seasoning, keep these reviews in mind before reaching for this latest product. While the allure of a cheesy seasoning sounds great, many have found the product disappointing. With reviews like this, we might not see the cheesy seasoning blend enter the pantheon of Trader Joe's great spice mixes anytime soon.