Battle For The Bird: Release Date, Judges, And More - What We Know So Far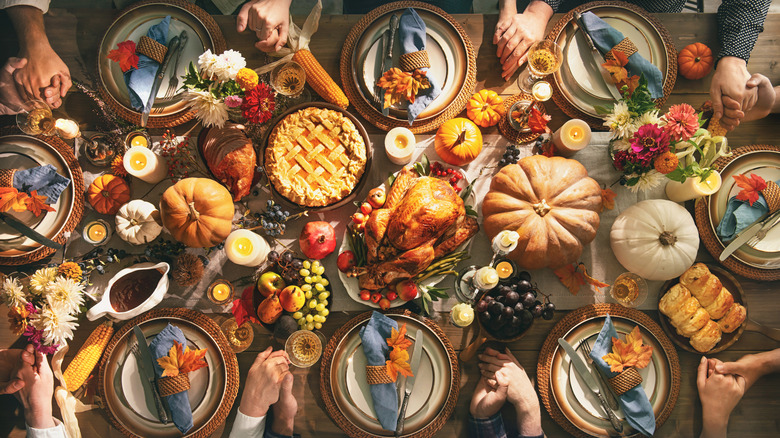 Alexander Raths/Shutterstock
Thanksgiving-themed cooking shows have gotten more love in recent years. Giada De Laurentiis started hosting "Ultimate Thanksgiving Challenge," a competition that pits chefs head-to-head while they whip up creative spins on classic Thanksgiving menu items (via the Food Network website). No one can deny that this show tapped into an audience hungry for more autumnal-themed cooking competitions. If you loved this show's fun takes on turkey and stuffing, you can't afford to miss a new show that takes this idea to the next level.
According to a press release sent to Mashed, fans of Thanksgiving cook-offs can look forward to "Battle for the Bird," a new seasonal cooking competition on discovery+ and Food Network. The show pits two kitchen teams against each other as they try to create the best holiday spread. The winner gets to bring home the grand prize of $10,000, a cash reward big enough to truly inspire anyone to slave over a hot stove. With so much on the line, you know each team plans to give it their all and won't stop until they show off their ultimate Thanksgiving recipes.
What's the release date for Battle for the Bird?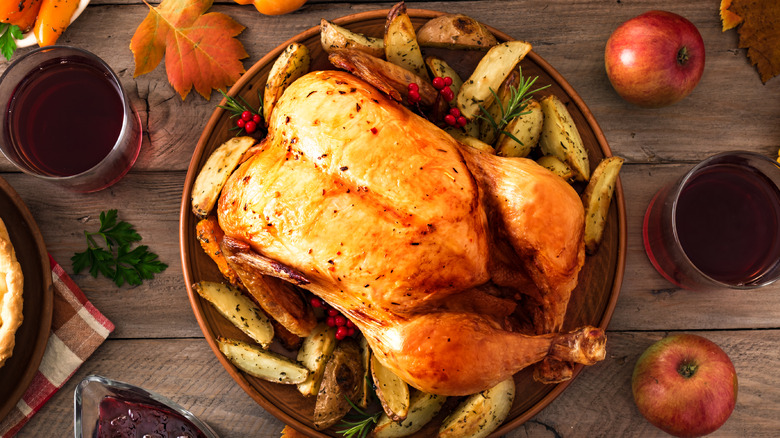 Oksana Mizina/Shutterstock
According to Food Network's website, the new series drops on November 14 at 10 PM ET. If you can't manage to catch the show when it airs, plan to catch the episode on discovery+. The show appears to be a one-off mega special that pits a Friendsgiving celebration against a full-on family, so once the first episode airs, you might have to catch reruns to relive the fun. Food Network hasn't released an episode schedule yet, so you may only have the chance to catch the show leading up to Thanksgiving Day. 
With any luck, the show might attract a wide enough audience to make a comeback next year, but the word's still out on this elusive show that has yet to receive much press. With any luck, the action-packed drama of two massive kitchens trying to whip up the best holiday spread can get you to tune in, or at least help inspire your upcoming menu plans.
Who will judge Battle for the Bird?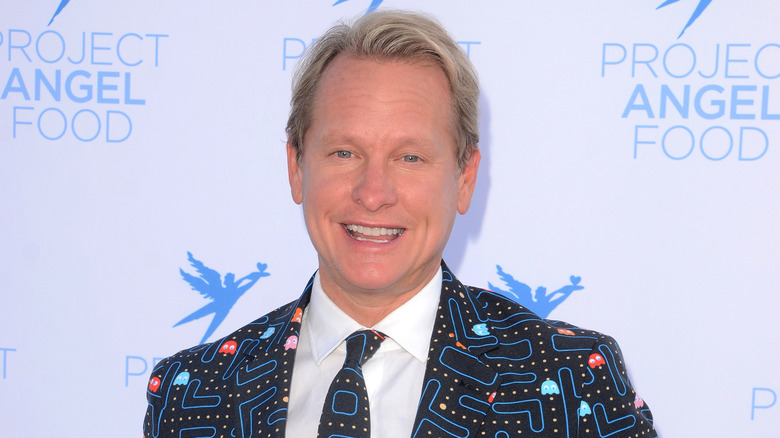 Kathy Hutchins/Shutterstock
According to the press release sent to Mashed, you can expect Anne Burrell and Carson Kressley to judge and mentor both teams during "Battle for the Bird." You couldn't ask for a better pair to lead viewers through this once-in-a-lifetime cooking competition. According to Burrell's website, she has released New York Times bestselling cookbooks and appeared on "Iron Chef," "Worst Cooks in America," "Secrets of a Restaurant Chef," and "Chef Wanted." With a track record like that, it helps to have someone with Kressley's has the television chops.
According to Kressley's personal site, Kressley made his name as one of the hosts of "Queer Eye for the Straight Guy" and went on to perform on "Dancing with the Stars." He has also acted in movies like "16 to Life," and "It's Christmas, Carol," and written books focusing on self-motivation. This positive duo can truly make "Battle for the Bird" great and might even attract a few viewers who just want to enjoy them. Either way, they will be the beaming faces of this inspirational cooking show that promises to test the skills of families and friends and at the very least. It sounds incredibly entertaining.