The Big Problem Fans Have With Martha Stewart's Friendly Falcons Pic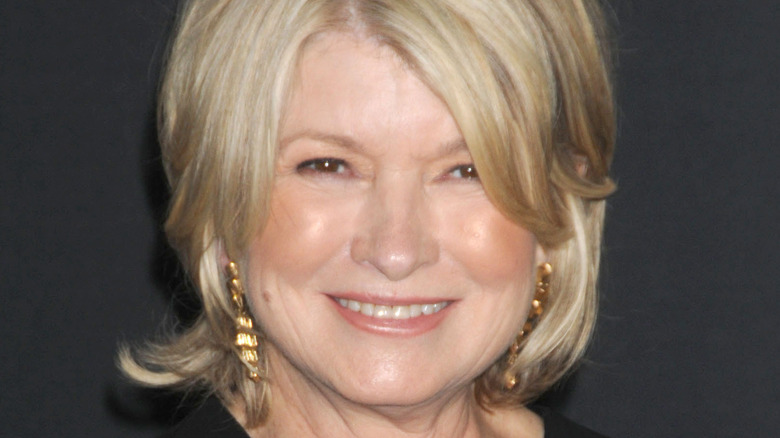 Featureflash Photo Agency/Shutterstock
Martha Stewart has been a part of the celebrity chef and lifestyle scene since the 1980s, according to Biography. The media mogul has done it all – written books, created a media empire, has her own line of cookware, and the list goes on. During the pandemic, Stewart kept us all sane with her Martharita and morning cocktail selfies. Stewart has the energy of a 20-year-old, so you might want to think twice if you think she has plans of slowing down. This woman is on fire. Recently, Stewart revealed on Instagram that she was in Dubai "at the @Iafastro this week for @deepspacefoodchallenge," and it appears that she is having a good time.
The author of Martha Stewart's "Very Good Things: Clever Tips & Genius Ideas for an Easier, More Enjoyable Life" shared her travels, posting photos of her flight aboard Emirates, with a flight attendant serving her caviar and pouring her a glass of champagne. Stewart wrote, "@emirates knows how to do it!!! Twelve hours go by too quickly with such great service and such lovely food!!" But these aren't the only moments she shared from her journey. In fact, Stewart was able to capture what at first glance is just a beautiful photo of several majestic falcons waiting in the airport with their owners. However, not everyone saw the photo the same way.
Some thought the falcons should be set free
Stewart shared a photo via Instagram from her travels and it gave a whole new, arguably darker meaning to the phrase, "birds of a feather flock together." As the lifestyle GOAT pointed out, some falcons were hanging out together, waiting for their flight. She wrote, "A funny thing happened on the way to check in @emirates. A group of falcon trainers with many falcons were waiting for their flight to Pakistan to compete in the fine and ancient art of @falconrylife. They were friendly- the men and their falcons!"
Some people gushed about the birds, with one calling the scene "adorable" and another declaring that it was "a treat seeing them." But not everyone was happy about the photo. Various users expressed sorrow over what they considered unhappy lives. One of Stewart's followers wrote, "They are beautiful but this is so sad. Imagine a dog tied up the same way." Another fan also voiced their disapproval of the falcon post, responding, "Beautiful but more beautiful flying free in its natural habitat. These are intelligent amazing creatures being held captive at the will of others it's sad to me." But at least one person seemed to suggest the falcons didn't have it so bad. The commenter sounded more impressed that the birds were flying first class, writing, "So the falcons wear blinders and fly first class? What am I doing wrong with my life?"