What Costco Fans Are Saying About This Latte And Frappe Mix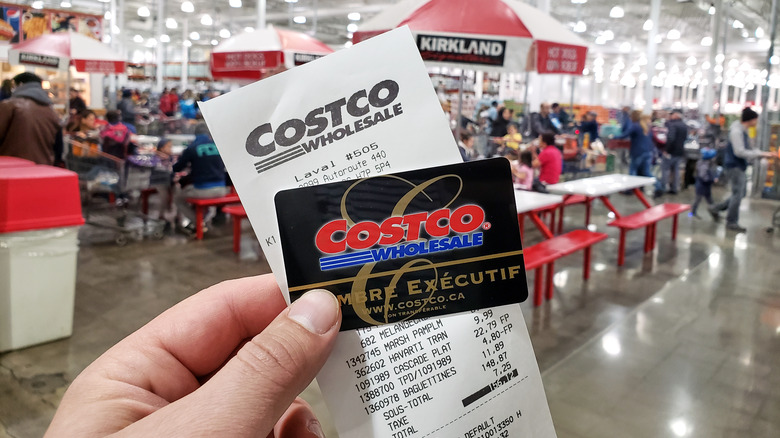 dennizn/Shutterstock
Since it first opened in 1983 in Seattle (via Insider), Costco has grown to become more of a destination than simply a store. Similar to Target, the wholesale retailer isn't just a place to run errands — it's now a place to go and peruse for hours on a lazy Sunday afternoon. One of the primary draws of Costco is the food. Sure, there are samples around almost every corner in the grocery section and some of your favorite brand names available in bulk, but there are also products exclusive to Costco that have garnered cult followings.
Some of those must-have treats include the budget-friendly Kirkland wine, the infamous macaroni and cheese bucket, and the juicy rotisserie chicken. Customers are always on the hunt for the latest and greatest items at Costco so, when one person found a new latte and frappe mix at the retailer, people on social media had a lot of opinions.
Customers have mixed reactions to the new coffee product
Over the weekend, Costco fan account @costco_doesitagain posted a picture of a newly released latte and frappe mix on Instagram. Made by the Frozen Bean brand, the mix is a caramel macchiato flavor and is made with pure Arabica coffee. It also has twice the amount of caffeine of a standard cuppa (according to the package). It also says it can be enjoyed hot or cold, perfect for year-round sipping.
People on social media had mixed opinions about the new coffee product. "I tried this recently and it's so freaking good omg," one person said, while another chimed in that's it "way better" than a Keurig cup. However, not everyone was impressed. Some people called out the fact that it contains artificial sweeteners in the form of Splenda and "only' 9 grams of sugar," giving it a thumbs down. The good outweighed the bad, though, in terms of comments, so it may be worth hunting down at your local Costco.