Alton Brown's 'Beat Up' Watch Leaves Instagram With Questions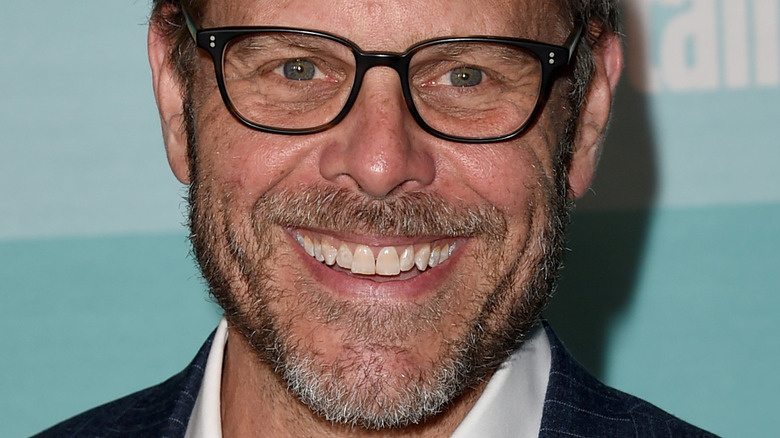 Jason Merritt/term/Getty Images
Everyone has their obsessions and fetishes — even celebrity chefs. Just ask Andrew Zimmern, who likes to collect mustard, of all things. And then there's Rachael Ray, who revealed to Delish that a pitbull — and we are not talking about the singer — is her "kryptonite." Ray called this dog "the kindest, most sensitive member of our family." Ina Garten shared with Oprah Daily that she like cake stands. Garten said, "I absolutely adore white cake stands. Every time I see one, I'm like, I have to have that." Garten went as far as to call herself "a cake stand hoarder," per Hamptons Curbed. And don't forget Alton Brown. The "Good Eats" host may have one of the most time-consuming obsessions of them all — literally.
The host of "Cutthroat Kitchen" confessed to Men's Journal he is a watch addict. That's right, the type you wear around your wrist. Brown said, "I'll be really honest: I've been a watch geek my whole life, from the very first Timex that my dad gave me when I learned how to tell time. I learned mostly because I wanted a watch, and I've been that way always. My ravenous appetite for vintage timepieces is... it's like crack. It's bad. I have a problem and cannot stay away. I have to very much limit myself." Well, recently Brown posted about his newest timepiece, and this gem definitely has his Instagram followers chatting. 
Alton Brown's Rolex has become a conversation piece
Alton Brown took to Instagram to share his latest find and it definitely is a conversation starter. In fact, Brown's followers are filled with questions. The photo, which has received about 6,300 likes as of this writing, is of a beat up Rolex, and Brown wrote, "My obsession with beat up watch faces continues. This one found by @wannabuyawatch #watchgeek #vintagerolex." It's definitely nice that he still finds beauty in something that has been worn and loved by someone else, but Brown's followers are curious how the dial or face of the watch became so worn.
One fan of the celebrity chef wrote, "I'm not sure how that would happen? I've been wearing mine since the late 80's and the face is still as new as the day I bought it." Another wanted to know, "What material degrades in this way?" And still another asked, "Tell – how does this happen inside of an oyster case?" to which someone kindly explained, "Oxidation. Oyster case is waterproof not airtight." But one inquisitive commenter asked the all-important question of Brown, "Would you get it repaired/replaced or keep as is?" Brown has not announced his plans for this addition to his beloved watch collection, but forget the old Rolex, we can't help but wonder if he is a fan of the 80s Swatch!