Thomas' Is Giving Away 1,000 Bags Of Chocolatey Mini Croissants. Here's What To Know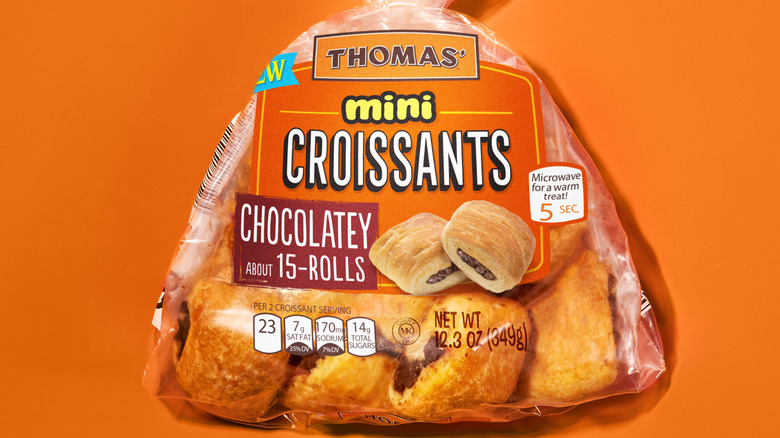 Thomas'
Last year, Thomas' debuted mini croissants. This year, they have followed up with Chocolatey Mini Croissants.
"These prep-free and easy options are bolstering our on-the-go offerings and transforming breakfast and snack time, creating a delicious, mess-free option packed with possibilities," Eduardo Zarate, Senior Director of Marketing for Thomas', explained in a press release. The possibilities largely revolve around whether you heat the breakfast desserts in a microwave for five seconds or don't. With 15 rolls per bag, though, you have plenty of chances to try them hot or not, as well as introduce any further ingredients you deem necessary.
The suggested price from the press release is $4.69 but Simple Most reports that you can buy the mini chocolate croissants at Target for $3.49. Considering that Brand Eating found the plain mini croissants to be an enjoyable mouth-cram in 2020, the added chocolate probably makes the buy worth it. But, of course, you can't beat getting the same product for free.
How to get free mini chocolate croissants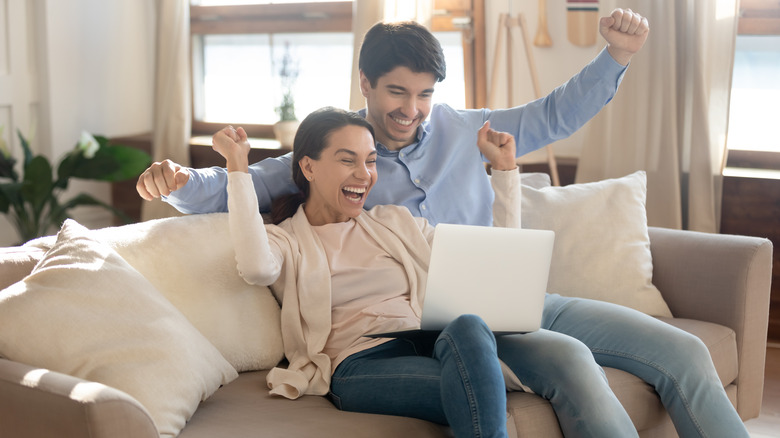 fizkes/Shutterstock
To celebrate the launch, Thomas' has instituted a giveaway that will run until November 14.
To enter, all you have to do is fill out a form found via a link in the brand's Instagram profile. In the announcing post, Thomas' explains that 1,000 people will receive a bag of the mini chocolate croissants. Moreover, 25 people will win a "Croissant-erie" set, which consists of a serving board, a set of ramekins in Thomas' branded orange, a set of serving utensils, and 10 bags of the mini chocolate croissants. 
If the reaction to the post is anything to judge by, you still have a chance to win. As of writing, only 159 people have liked it. That said, the comments are uniformly stoked at the idea of free stuff. Unless interest spikes, you have a relatively good chance of trying the latest product in Thomas' croissant line for free. Even chocolate croissants aren't that sweet.