The Internet Is Losing It Over This Raisin Mac And Cheese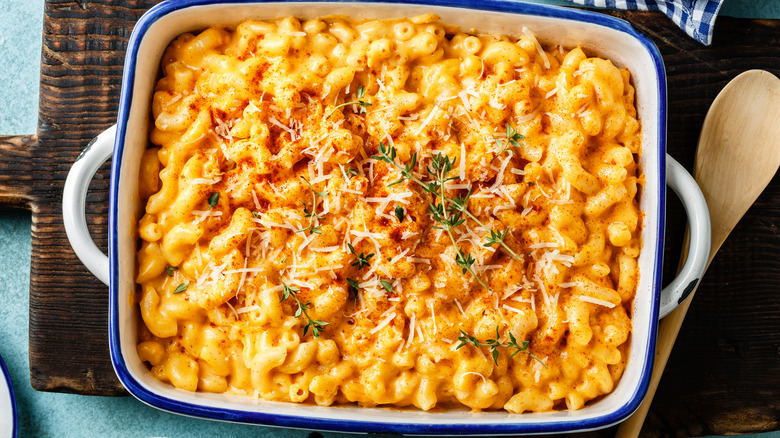 Sunny Forest/Shutterstock
Mac and cheese is a beloved dish that can cause some serious food fights. The cheesy staple has inspired "Cravings" cookbook and website creator Chrissy Teigen, for example, to throw some serious shade at her husband, John Legend. The ire was mainly due to feedback that people like Legend's recipe better than hers, and per Popsugar, the cooking diva just doesn't understand. "Everyone is allllllways asking, begging John to make his mac and cheese and if I may be frank here for a moment: I DON'T GET IT," she wrote. "I will admit, I like it too, but I prefer a creamy, saucy mac." 
Ina Garten, AKA the Barefoot Contessa, tops her mac and cheese with tomatoes and breadcrumbs; Alton Brown's recipe on Food Network calls for adding a bay leaf and paprika; and Sunny Anderson uses cayenne and pepper jack cheese to add a little spice to her own version, per Food Network. Such a simple dish really allows for creativity, but to some people, there are limits. One mac and cheese party foul is raisins, according to feedback on a recent TikTok video.
Raisin mac and cheese is kind of like noodle kugel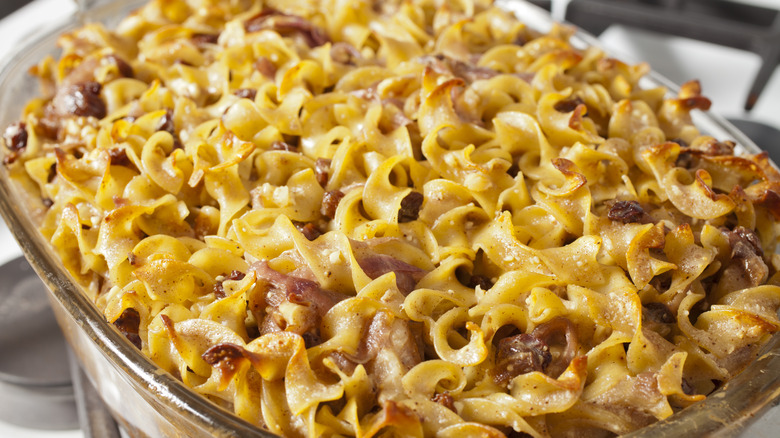 Brian Yarvin/Shutterstock
In a video shared on TikTok, a woman says she is setting out to one-up the version of mac and cheese that her husband once ate in Georgia because he had said it was the best he had ever tasted. Demonstrating her recipe that "nobody can compete with," she places a block of cheddar in a baking dish, adds uncooked macaroni, milk or cream, water, and seasonings before baking it until she has a cheesy sauce going. Things get controversial when she takes the dish out of the oven and adds raisins, which has the Twitterverse aflame.
One Twitter user responded to the recipe with, "I'm usually welcoming on my TL of many different opinions; however if y'all choose to put raisins in your Mac and cheese, all bets are off, HANDS WILL BE THROWN! you don't EVER mess with Mac and Cheese! It's sacrilege PERIOD!" Even the Sun-Maid raisin brand responded with a "WTF" gif (via Twitter). To be fair, some famous figures have sung the praises of mac and cheese with raisins, including Drake. Plus, the combination is reminiscent of some variations on Jewish noodle kugel, which often has noodles, cheese, and raisins. You can't knock it until you try it.