Trisha Yearwood's Stunning Bobbie Gentry Tribute Is Turning Heads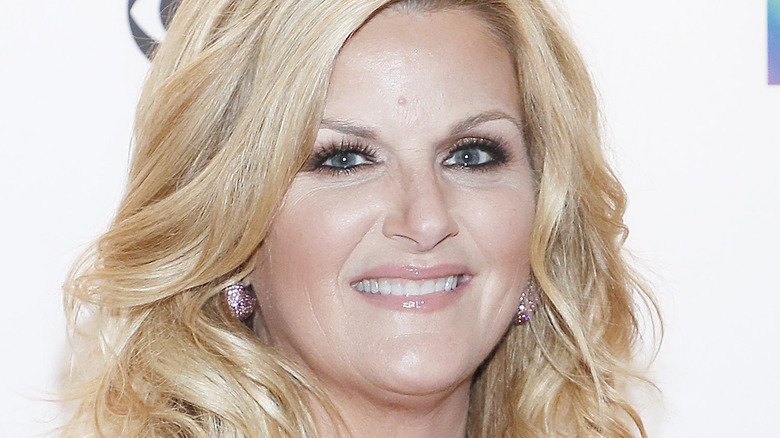 Paul Morigi/Getty Images
You could argue that no one in country music combines icon and mystery as much as Bobbie Gentry. She'll be remembered for as long as we keep playing recorded music for her 1967 hit "Ode to Billie Joe," which reached No. 1 — not on the country chart but the big Billboard Hot 100 chart (via Billboard). Radio DJs at the time didn't know who the woman behind "Ode to Billie Joe" was, or whether her haunting song ("Billie Joe MacAllister jumped off the Tallahatchie Bridge") was country, soul, or funk, according to The Guardian. "I just sing Southern," Gentry said.
Born in the Mississippi Delta region, according to Highway Queens, Gentry wrote Southern, too. She not only performed "Ode to Billie Joe" but she wrote and produced the record, too, although men were known to try to steal the credit. Being a woman with wide-ranging talent made her path to success more challenging. "It's difficult when a woman is attractive; beauty is supposed to negate intelligence — which is ridiculous," she said.
By 1971, Gentry had stopped recording, and by 1981 she had left the stage for good. And she didn't show up to Nashville's Music City Center on November 1, when she was inducted into the Nashville Songwriters Hall of Fame, so she missed Trisha Yearwood's performance of "Ode to Billie Joe" at the ceremony, too.
Trisha Yearwood honored Bobbie Gentry by performing Ode to Billie Joe
Bobbie Gentry is famously reclusive, so Billboard said it was no surprise she didn't show up to the Nashville Songwriters Hall of Fame induction ceremony. She's not on Instagram either (via Highway Queens), so she probably won't even see Trisha Yearwood's "ode to Bobbie G." on the social media platform. In the Instagram photo, Yearwood is looking in a mirror, her blonde hair combed back and high in the same manner as Gentry's raven hair on her album covers. "It was an honor to sing such an iconic song," Yearwood wrote in her Instagram caption.
Among Yearwood's 1 million Instagram followers you'll find fans of her country music alongside fans of her food-celebrity self. Yearwood has written bestselling cookbooks and hosts the long-running TV show "Trisha's Southern Kitchen" (via Food Network). Even fellow Food Network celebrity Alex Guarnaschelli dropped into Yearwood's Instagram comments to offer up a "Beautiful" and a fire emoji in response to her "ode to Bobbie G." post.
"Stunnnnning!" @reallykelireilly commented. "I bet you owned that song." Finally, Instagrammer Sammie Jo Olson must have taken one look at the country and food-show superstar's hair when they commented, "Ms. Yearwood understood the assignment."