This Simple Dish Is Adele's Specialty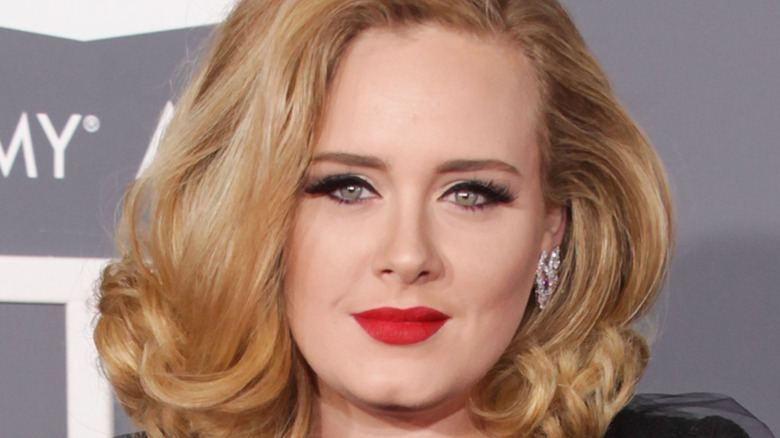 DFree/Shutterstock
Adele has made quite the comeback in 2021. To start, the 33-year-old singer made history when she appeared on the cover of both American Vogue and British Vogue (no other celebrity has ever been on the front of both magazines, according to USA Today). She also released her first new song in years, "Easy On Me," which Billboard reports was Spotify's most-streamed song in a single day ever when it came out on October 15. The popular tune was just a teaser of what's to come in the next few weeks, as Adele announced she will drop her long-awaited next album, "30," on November 19.
While music may be Adele's first passion, a close second is food. In a YouTube video where the pop singer sat down with Vogue, she confessed that, despite her recent weight loss, "I know everything there is to know about food. I eat so much food." And, when it comes to cooking said food, there's one dish in particular that Adele says is her specialty. 
Adele is a big fan of spicy pasta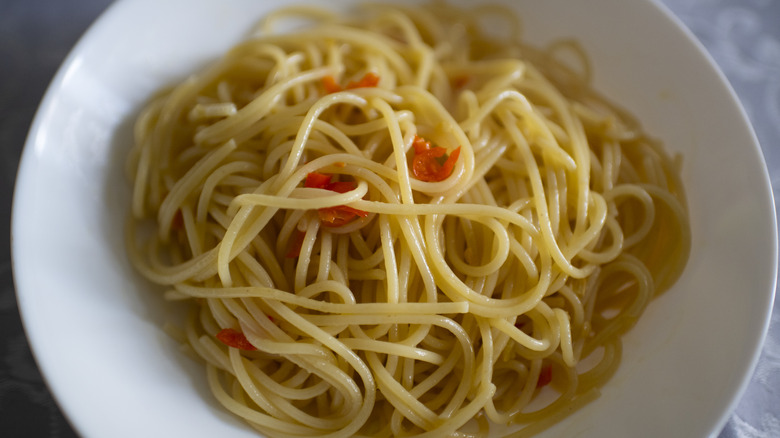 Stefano Guidi/Getty Images
After appearing on the cover of Vogue, Adele sat down with the magazine to do the Ultimate British Taste Test. In the YouTube video, she did more than just sample food — she also revealed the one food that she's a pro at cooking. "I do make an incredible — even Italians I know have said this — I make an incredible spicy pasta," she confessed. While she didn't go into detail about what said "spicy pasta" consists of, if it tastes as good as she sings, we'd love to try it. That isn't the only thing she's good at cooking, either. Adele said "no one makes a greater fish pie" than she does (via Food Network).
However, Adele also admitted that other than her pasta dish — and, apparently, her fish pie — she isn't a whiz in the kitchen. "I learnt to cook on my own," the Grammy Award winner revealed in the video with Vogue. "I was on my own maybe when I was like 18, maybe two months and I was getting loads of takeaways and it was just costing too much money so I think I read '30 Minute Meals' by good old Jamie Oliver and that's how I learnt the basics of cooking."