The Strangest Food Combo Requests Uber Eats Received In 2021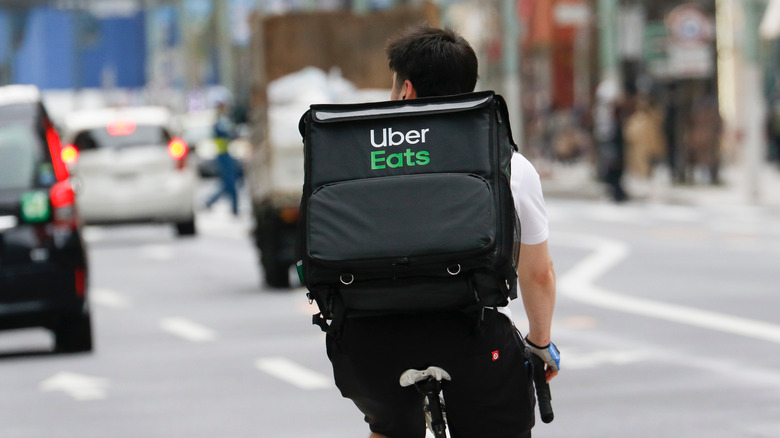 Rodrigo Reyes Marin/Shutterstock
Diners have discovered a ton of weird food pairings that somehow go great together. Olive oil and ice cream, bananas and bacon, and blueberries and steak all compliment each other and result in some iconic flavor hybrids, per Eat This, Not That!. While these items have some credibility, adventurous diners have gone above and beyond recently on Uber Eats in the search of new flavor combos — and the platform just had to share them with us.
In a press release sent to Mashed, the 3rd Annual Uber Eats Cravings Report reveals "the most popular, most unusual, and some of the wackiest delivery requests of the last year," with the company divulging some of the weirdest food combos that made it onto the food delivery platform in 2021. Prosciutto and pickles, bell peppers and cream cheese, and ice cream and hot sauce ranked as some of the stranger combinations, but they couldn't touch the iconic pairing of watermelon and yellow mustard. This food marriage made waves on TikTok when it was trending earlier this year and divided many viewers in the process. 
Meanwhile, others using Uber Eats ordered a weird pair of spaghetti and ketchup, while some found the combo of honey and burgers irresistible. And there's even more truly strange mashups that Uber Eats drivers had to deliver.
Uber Eats users have raised the bar on weird food
If those flavor hybrids made no sense, wait until you get a taste of what flavor combos ranked as the strangest. In the statement sent to Mashed, some diners found ways to combine macaroni and cheese with fish, while others ordered hot dogs covered in peanut sauce. You might never expect it, but some creative diners even topped off their pizza orders with sauerkraut. All of these items pale in comparison to the strangest Uber Eats flavor mashup of 2021, however — yogurt parfaits and Hot Cheetos. This combo isn't new either. Food Network reports that patrons of Yogurtland can top off their frozen yogurt creations with Hot Cheetos for a unique flavor and texture combination that has some foodies scratching their head.
So, the next time you want to embrace some new tastes, take a book from these Uber Eats trailblazers and fearlessly embrace any flavors you might want to try. While you might not find stranger combos than yogurt and Cheetos or fish and mac and cheese, let your imagination run wild and your item might even make it onto the Uber Eats list of strangest food combos of 2022.