Aldi Just Released Its Advent Calendars And The Internet Is Freaking Out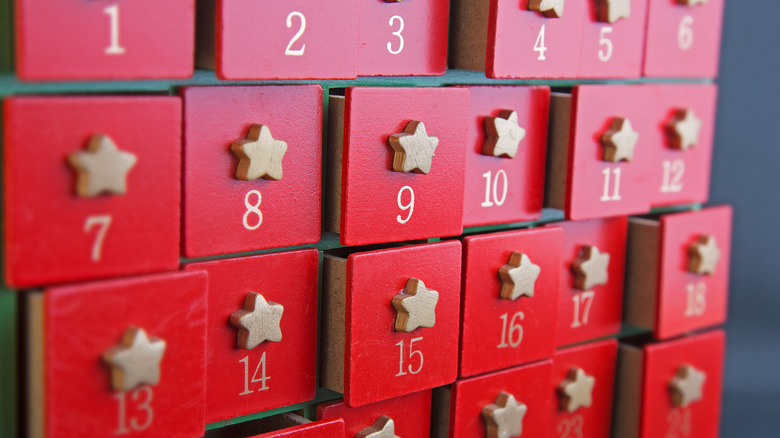 Mahony/Shutterstock
On November 3, Aldi's 2021 advent calendars finally hit the shelves of participating Aldi stores, USA Today reports, and not a moment too soon. The release has been so hotly anticipated that we're almost surprised Aldi didn't come out with a pre-advent calendar collection advent calendar. Head to the location nearest you for wine calendars, cheese-filled countdowns, and even some selections for pets and kids.
Although we have not yet stood in line to shop for Aldi's advent calendars (as many apparently did, according to a discussion on Reddit), we do happen to know that Aldi's advent calendar shelves are most definitely not empty. In fact, the situation is quite the opposite. Stores are positively stocked with new advent calendars for 2021, as can be seen in an Instagram post from Aldi superfan @aldifavoritefinds. Earlier today, the account announced to its 231,000 followers that Aldi's annual advent calendar day had officially begun, and the internet is freaking out.
Act fast if you want any Aldi advent calendars
Fans are ogling at the sheer volume of Aldi's 2021 advent calendar inventory, which becomes evident when you look at the six Instagram photos posted by @aldifavoritefinds. From the post alone, we count well over a dozen different calendar styles, including a Vista Bay wine advent calendar and a Santa-themed Lego advent calendar — not to mention the unseen varieties that will continue to come out in November and December, according to Aldi's website.
Once this massive inventory is depleted, Aldi will not be replacing it or offering holds on any items. In addition, if you're in the market for one of Aldi's boozy advent calendars, you'll need to shop for it in-store since it won't be available for delivery or pickup, and the limit for these is two per customer. That's right, there are a lot of rules regarding Aldi's increasingly popular calendars, so if you want some of your own, be prepared to act fast and possibly stand in line.