Is Guy Fieri Really Officiating Kristen Stewart's Wedding?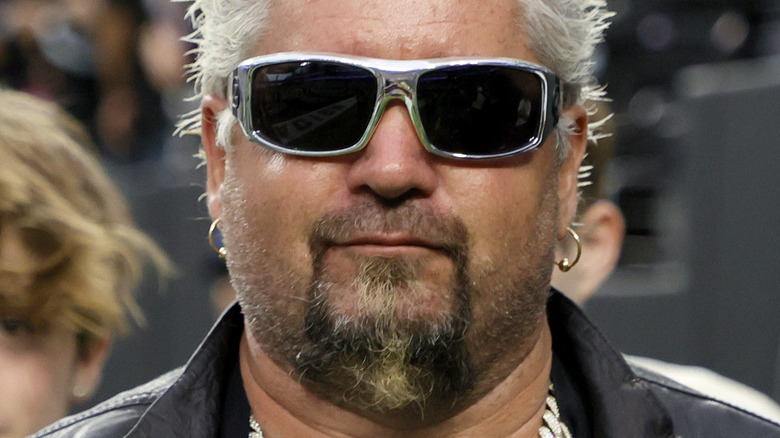 Ethan Miller/Getty Images
While few likely imagined that Guy Fieri, star of Food Network's "Diners, Drive-Ins, and Dives," was even familiar with "Twilight" star Kristen Stewart's body of work, it might come as a shock that Fieri received an offer to officiate Stewart's wedding to screenwriter Dylan Meyer (via CNN). How on earth did the paths of these two entertainment juggernauts cross?
Well, it turns out Stewart had mentioned that she would love for Fieri to officiate her wedding, and in a recent appearance on "TODAY" that's making the rounds on Twitter, hosts Hoda Kotb and Savannah Guthrie surprised Stewart with a video of Fieri. In the clip, he says that, if she needs a "sweet, spiky-haired officiant" for her wedding, he's "all in."
"Is he joking?" Stewart asked. And, while it might sound like a joke, Fieri actually has a lot of wedding experience — and we are not just talking about his marriage to wife Lori.
Guy Fieri has officiated many lesbian weddings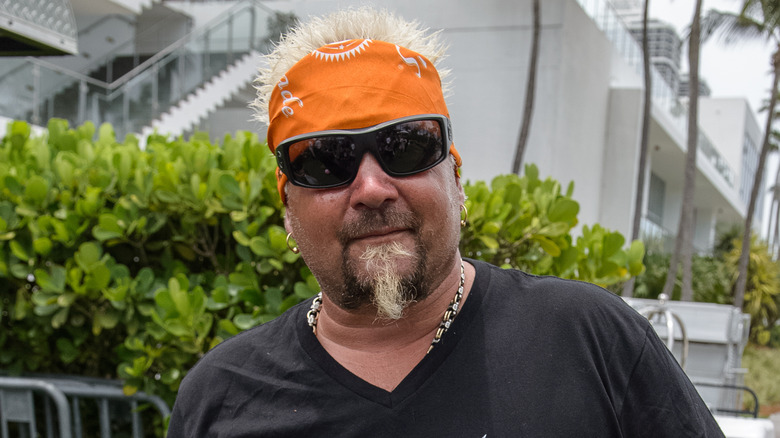 Jason Koerner/Getty Images
When Florida lifted its ban on same-sex marriage in 2015, chef Art Smith knew what he had to do. He started organizing a massive wedding for 101 gay couples, and he decided it would take place during the South Beach Wine & Food Festival. The icing on the wedding cake (which, it turns out, was made by "Ace of Cakes" star Duff Goldman)? Guy Fieri would officiate (via The Hollywood Reporter).
Fieri presided over the ceremonies at the James Royal Palm Hotel and married the 101 gay couples. He said he did it to honor his late sister, Morgan, who tragically died of metastatic melanoma in 2011 (via Film Daily). Morgan was a lesbian, but she sadly died before the U.S. Supreme Court legalized gay marriage in 2015. 
After the ceremony, Fieri tweeted that it "was an honor to be part of such an amazing day for so many loving couples." Is it only a matter of time before he's an integral part of another lesbian wedding?
Guy Fieri confirmed he's not joking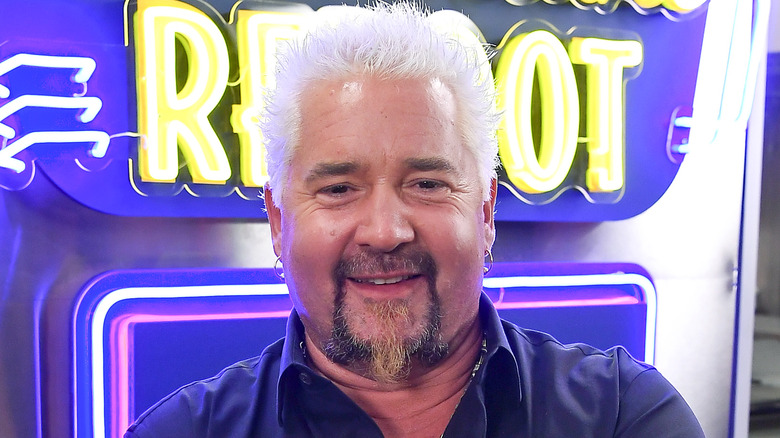 Steve Jennings/Getty Images
Now that we know how much experience Guy Fieri has, it seems more realistic that he really could officiate Kristen Stewart's wedding. And there's evidence that both stars are genuinely interested in making it happen.
After watching Fieri's video, the hosts of "TODAY" asked Stewart if she really was serious about wanting him to officiate her wedding, and she said "absolutely." Stewart then asked, "Do you know where he lives? Does he live in LA? We should talk about this."
Well, Fieri must have watched the clip, because when "TODAY" tweeted out the video, he replied, saying "Oh that offer is legit!" Fieri knows Stewart is serious, and Stewart now knows Fieri is serious about officiating her wedding, too. Could it happen? We can only wait and see, but we think this would be a match made in Flavortown. Maybe he will even share clips from the ceremony on his new Flavortown TikTok account!