The Reason There Are 2 National Donut Days Each Year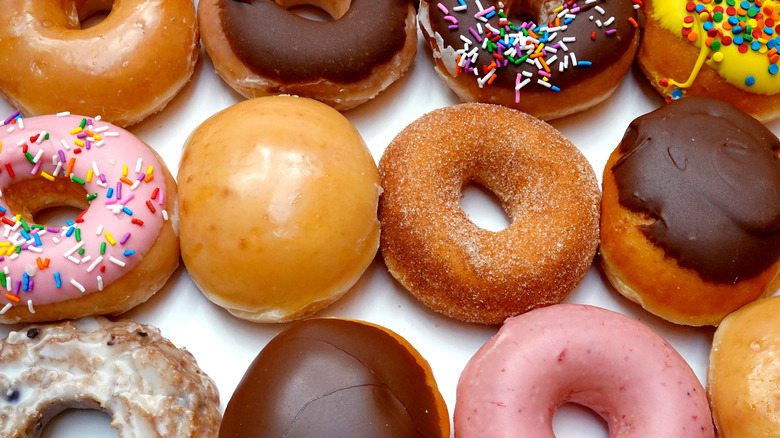 Scott Olson/Getty Images
Truth — Americans love donuts. Whether it's a classic Krispy Kreme glazed donut or a Dunkin' donut, people consume mass amounts of the delicious desserts for more than just breakfast these days. According to a survey by National Today, 96% of Americans confess they like donuts and about 10 billion donuts are produced and sold in the U.S. every single year. There are hundreds — maybe even thousands — of flavors available on bakery and grocery store shelves, from chocolate to Boston Creme to Homer Simpson's favorite strawberry frosted.
To celebrate our love of all things sugary, carby, and doughy, National Donut Day was created. However, you might be confused if you Google it and find two reported dates for the annual celebration: June 4 (or rather, the first Friday of June) and November 5. Which one is correct? Which is the real National Donut Day? Turns out they're both valid holidays honoring the sweet treat. And, more surprisingly, it turns out there's an actual reason behind the double-date dilemma. Here's what you likely didn't know about the history of National Donut Day in the U.S.
National Donut Day has military origins dating back to WWI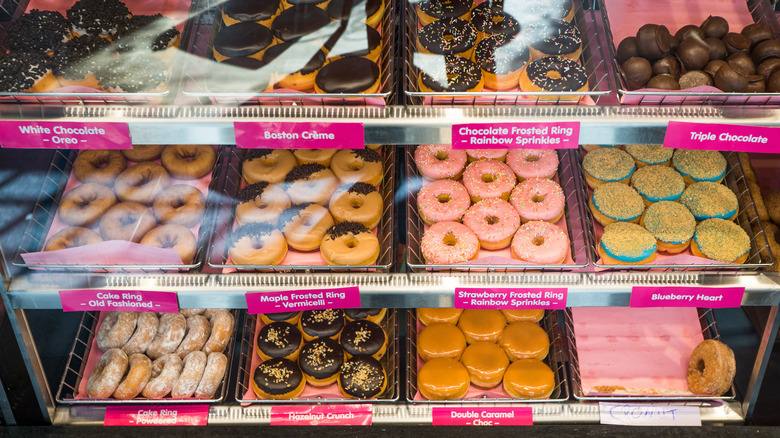 Polarpx/Shutterstock
While both June 4 and November 5 are official National Donut Days, many people consider the June date to be the original. It began in the 1930s during WWI, when The Salvation Army sent more than 250 women to the front lines in France to feed hungry soldiers (via Mental Floss). Their dish of choice? Donuts, because they were fast and easy. Later, to recognize these national heroes, The Salvation Army created the first National Donut Day in early June to raise awareness and funds for the efforts.
As for how the November 5 date came to be? No one is really quite sure. In fact, National Day Calendar admitted, "Within our research, we were unable to find the creator of the November 5th National Doughnut Day (via Boston.com)." However, Mental Floss reports that a food writer — and "food holiday historian" — by the name of John Bryan Hopkins speculates that a retail outlet may have made it up, putting it close to Veteran's Day on November 11, as a way to honor those who have served our country, similar to the O.G. Dough Lassies of the '30s.