Jamie Oliver's Biggest Critic Isn't Who You'd Expect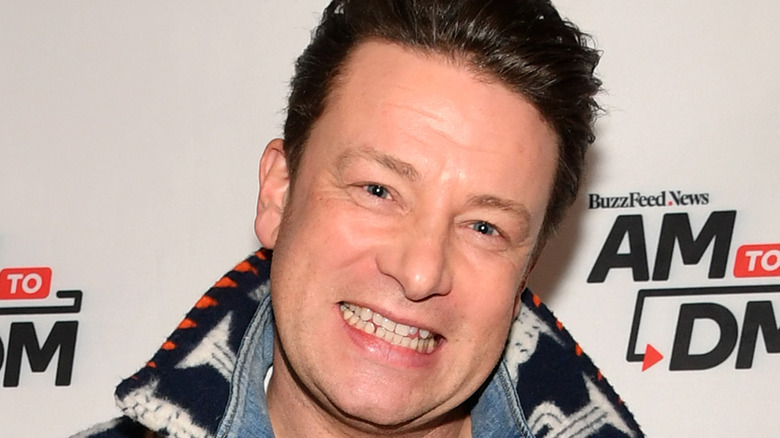 Slaven Vlasic/Getty Images
Celebrity chefs that have young kids are just like the rest of us — they have to deal with the struggle of their children not liking the food they make. Kids can be extremely picky about foods and textures. According to Frontiers in Pediatrics, a study of 120 children between the ages of 2 and 11-years-old revealed that 39% were considered to be picky eaters. Simply put, kids have preferences — and even if your dad has his own cooking show, you may not like the food he makes. Just ask Jamie Oliver.
The culinary personality made his name as "The Naked Chef," cooking up meals that didn't feel like they came out of a fancy restaurant, but rather from a home kitchen. He quickly found success and, per Hello Magazine, even went on to do voiceover work in 2011 for many kids' favorite cartoon show, "Phineas and Ferb." Sounds like a cool dad so far, right? 
Over the years, Oliver has published more than 20 cookbooks, and lately, he has been making the media rounds to talk about his newest one, "Together: Memorable Meals Made Easy." But, during his interviews, Oliver reveals that it's a little family member that is actually the harshest critic when it comes to the food he prepares.
Oliver often gets shamed by a 5-year-old
Oliver revealed on "The Kelly Clarkson Show" (as seen on YouTube) that his son River can be quite the critic when it comes to the recipes and meals his famous dad cooks. It's difficult to believe, especially when you look at River's sweet cherubic face, but apparently looks can be deceiving! The British chef said during the interview, "He gives me the most grief when I cook food. He just says, 'I hate it! I hate it! Ahhh!' And then when he puts it in his mouth, then he sort of comes around. A 5-year-old shouldn't make me feel so bad but then he builds me up." 
Per Female First, Oliver also shared with "The Chris Moyles Show on Radio X" that River's review of his food really puts a damper on filming. Oliver said, "My youngest son River, who's now 5, was 4 at the time and he's got such an amazing personality. But every time I cook food he tells me how disgusting it is." Oliver humorously went on to further share that River's brutal honesty almost singed Oliver's confidence. The dad of five said, "He's like the worst customer ever. We had 16 hours to turn the show around every day. In the end, I was getting so much abuse from my 4-year-old it nearly broke me twice."