Instagram Is Loving Buddy Valastro's Silly Family Picture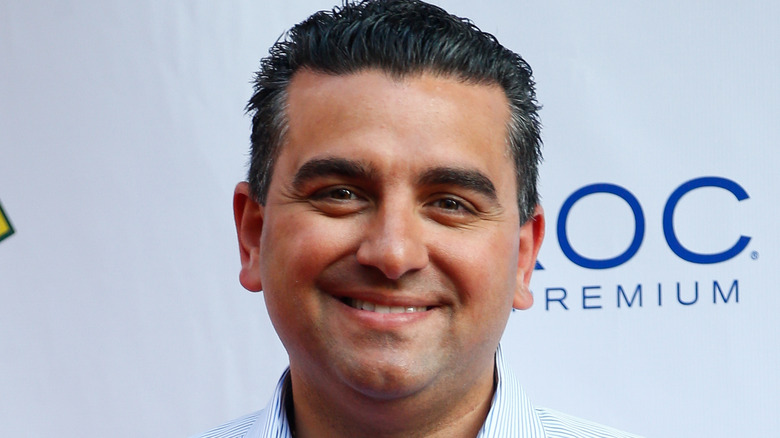 Debby Wong/Shutterstock
The world may know him as the "Cake Boss," but to his children, Buddy Valastro is much more: he's dad. In addition to decadent cakes and some selfies with other stars, the celebrity chef's Instagram account can feel like an old photo album with strategically placed precious memories. His 4.2 million followers aren't complaining about his family-oriented posts, either. Last week, Valastro posted a behind the scenes family photo sesh that had hundreds of fans talking, along with a whopping 351,000 likes (via Instagram).
Valastro's talent for designing cakes is as undeniable as his love for his family. In a 2015 interview with Business News Daily, he shares, "Family is very important to me, and the bakery is a big part of who we are." That statement remains true to this day as Carlo's Bakery still caters to the community (and beyond), and Buddy continues to share the importance of family with his fans. His latest Instagram post may be a little on the sloppy side, but with over 46,200 likes in under 24 hours, fans are still eating it up. 
The Cake Boss and his daughter enjoy dessert before dinner
The silly Instagram post of Buddy and his daughter Sofia shoving a pastry into their mouths is everything we imagine the Valastro family does during family dinners. "It's always a special Saturday night when you can still be silly at dinner," the post's caption read.
The two are eating at Buddy V's Ristorante, Valastro's restaurant at the Venetian Hotel in Las Vegas. They seem to be having dessert first, as their entrees look untouched, and we imagine that even just the thought of having cake before pasta has many tummies rumbling.
Followers took to the comment section, of course, where you will find many hand clapping and heart emojis, as well as fans who expressed their love of the restaurant. Plus, as per usual, a few trolling jabs. Some honorable mentions: "My daughter and I ate there back in May. The food is outstanding!!!," "My favorite restaurant in Vegas. Hands down. My wife and I go every time we're there.," and "First dessert then dinner! Ever!!"
There is just one thing we can't get past... What is that dessert? Funnel cake? Cannoli? Zeppoli? Whatever it is, we want some!