Panera Is Giving Customers Free Coffee For The Rest Of 2021. Here's How To Get Some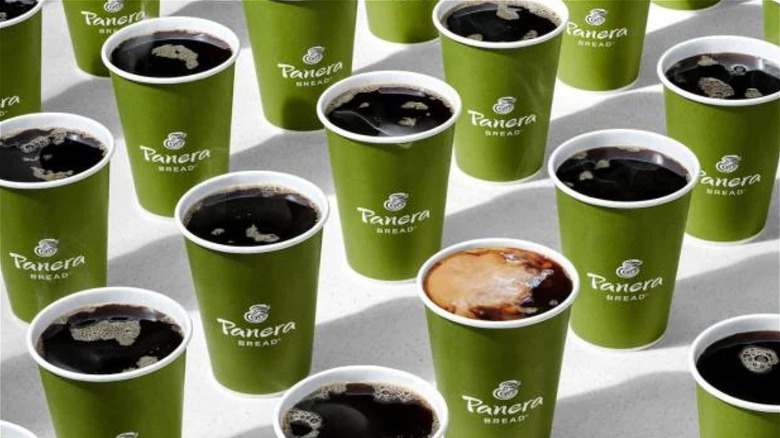 Panera Bread
Who doesn't love a good cup of coffee? Whether your preference is hot or iced, with cream or black, with sugar or au naturel, the dark, rich flavor of java — and the caffeine boost it provides — is something we crave on the regular. And while we love making coffee at home, sometimes the day gets away from us and we find ourselves grabbing some joe on the run.
Luckily, the amount of restaurants, cafés, and fast-casual spots that offer good-quality coffee seems to be increasing daily. From Dunkin's coffee-packed menu, which Mashed survey participants recently declared their favorite choice for their caffeine hit, to Peet's Coffee to worldwide juggernaut Starbuck's, a steaming or icy cup of coffee is never too far out of reach.
And if you like the coffee at Panera Bread, the fast-casual spot serving up a variety of wheaty loaves, sandwiches, and cookies daily, here's your heads-up: The nationwide chain is offering a limited-time-only coffee subscription service for free. Read on to learn how to grab unlimited free coffee from now through the end of the year.
Sign up for MyPanera+ for unlimited free coffee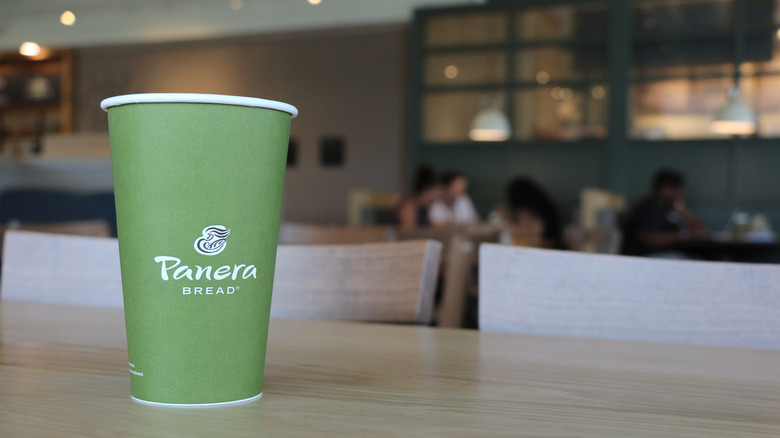 Deutschlandreform/Shutterstock
Founded in St. Louis, Missouri in 1987, Panera Bread has since expanded to more than 2,100 locations in 48 states and Washington, D.C. (via Panera Bread). So, chances are, you've got a Panera near you. And, if you've ever stepped inside, you've likely enjoyed some of the fast-casual chain's popular lunch and snack options, such as its creamy mac and cheese and its add-in-packed Kitchen Sink cookie. And when you've polished off your meal, you may have indulged in a cup of the chain's coffee, which is surprisingly good.
If you want to cash in on free, unlimited coffee at Panera, now's your chance. The chain is offering unlimited cups of hot or iced java, or hot tea, to customers who sign up for its new MyPanera+ Coffee subscription service, available online. Through New Year's Eve, subscribers will be able to fill up on any flavor of hot or iced coffee, or any flavor and size of hot tea and will be eligible to refill their cup every two hours. The limited-time-only freebies end on New Year's Day, when the subscription will cost $8.99 a month, plus tax. So if you love coffee, don't delay, and check out this offer today.