Guy Fieri Dishes On Working With Sammy Hagar On DDD - Exclusive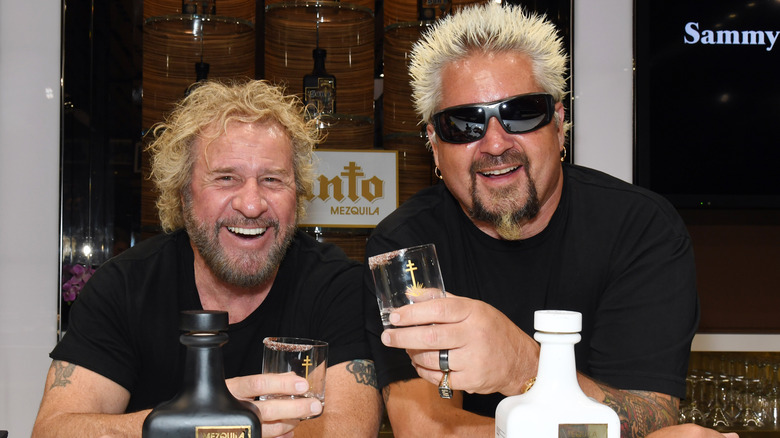 Ethan Miller/Getty Images
Eating and drinking your way across the country all on your own can get lonely. So, it's no surprise that Guy Fieri has brought along close friend and Santo Spirit business partner Sammy Hagar for multiple stops on the Mayor of Flavortown's "Diners, Drive-ins and Dives" food tour over the years. While the two have spent plenty of time together for both work and leisure situations, Fieri admitted during an exclusive interview with Mashed that it is still intimidating being in the presence of his rockstar pal.
"Well, when you get a chance to work with a legend and somebody that you admire ... I can't say that I still do not get starstruck," said Fieri. Apparently even an $80 million contract with the Food Network won't boost your confidence when you're standing in the presence of the solo sensation and former Montrose and Van Halen front man.
The Red Rocker has joined Fieri on not one, not two, but three episodes of his friend's smash Food Network series over time, and each opportunity proved to be an important learning experience for the celebrity chef. "'Diners, Drive-Ins and Dives' is my thing. It's my, "[I] Can't Drive 55," explained Fieri. "When I watch Sammy, I understand now how musicians do it. Very similar to how chefs do it. You listen, you pay attention. You figure out what the tempo is. You find out where we're going with this, and then you start going."
The most memorable time Sammy Hagar appeared on 'Diners, Drive-Ins and Dives'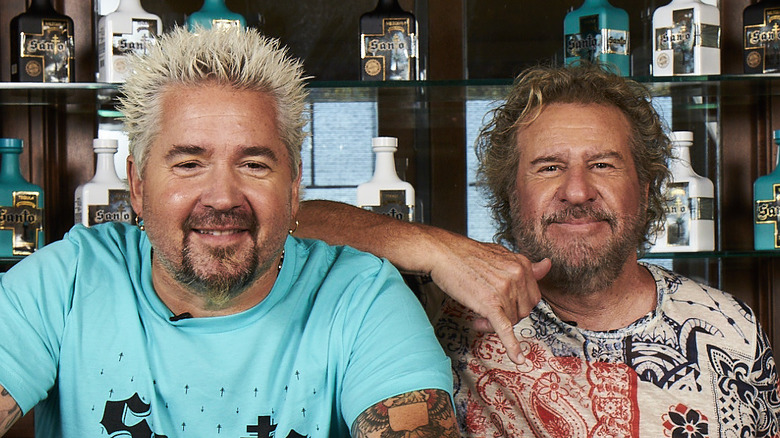 Phillip Faraone
Hagar first appeared on Fieri's 'Triple D' series in 2013 during the show's 18th season, when the celebrity chef went international with a stop in Cabo San Lucas, Mexico for the "South of the Border" episode (per IMDb). Hagar famously owns the Cabo Wabo Cantina in the Mexican resort town, so a guest appearance was inevitable. 
Then, in Season 31, Hagar made a memorable appearance at a Waltham, Massachusetts diner called In a Pickle (per Patch), where he and Fieri enjoyed the restaurant's famed Toro Loco Burger and Pumpkin Bread French Toast. But, it was a stop in Hawaii for the show's "Chicken Trifecta" episode in Season 26, according to Food Network, which brought together Hagar and legendary drummer Mick Fleetwood, that stands out the most to Fieri. "I remember when we were in Maui and we did Mick Fleetwood's joint," he recalled. "At any given time, I could've just left and gone to the beach and let Sammy just continue to run the show."
So, does Hagar — who hosts his own show, "Rock & Roll Road Trip" on AXS TV — actually have the chops to replace his friend and take the lead on "Diners, Drive-Ins and Dives"? According to Fieri, it wouldn't be out of the question. "He's so talented," Fieri said. "He's a really great cook, a great chef, and [he] gives me all the accolades in that category. But he sends me more pictures. I have not sent him one song that I have written or played, yet he has sent me probably 200 to 300 pictures of dishes that he makes, and he crushes it. An artist is an artist, and a leader is a leader. Sammy is all those things."
Watch "Diners, Drive-Ins and Drives" and Guy Fieri's multiple other shows virtually every time you tune into the Food Network. And be sure to catch Sammy Hagar doing what he does best — rocking out with his friends — at his current Las Vegas residency at The Strat. To get a taste of Fieri and Hagar's premium Santo tequila (available in blanco, reposado, and the mezcal-blended Mezquila), head to the Shop Santo Spirit website and grab a bottle or three.