This Is The Perfect Pie Crust, According To Andrew Zimmern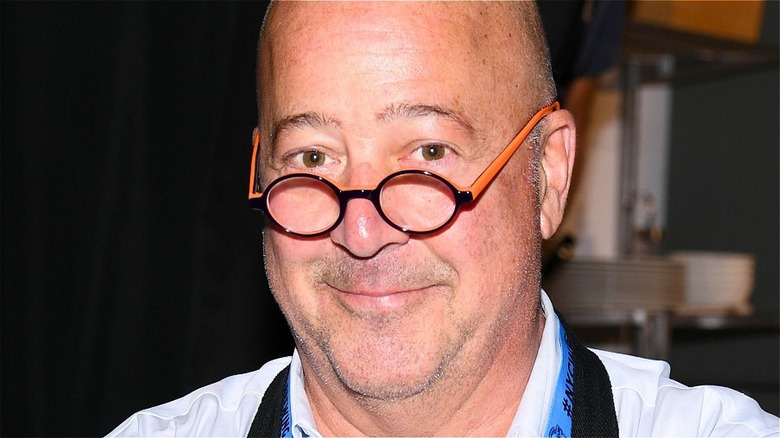 Dave Kotinsky/Getty
Are you familiar with Andrew Zimmern? Perhaps best known for his former Travel Channel series "Bizarre Foods," this horse-rectum-eating food daredevil has distanced himself from extreme eating since 2018 when the show was canceled. Since then, the chef and television personality has switched to sharing foods that are more widely appealing than cow placenta on his active Instagram feed as well as his video-packed YouTube channel: think cheesy chive biscuits, barbecue chicken, mac & cheese, and more.
When Zimmern offers food advice, we listen up. From his recommendations on how to cut back on food waste to why to make breadcrumbs at home to how to repurpose leftover artichoke heart oil, we love the chef's kitchen tips and tricks. So when he recently shared a recipe for perfect pie crust, we and many of his social media followers were all ears. An Instagram post showing visual highlights from a pie crust tutorial garnered more than 24,000 likes and may have made just as many stomachs rumble. 
The perfect pie crust uses high-gluten flour
Who doesn't love a delicious fruit- or custard-filled pie? If you dig this sweet pastry, there's a good chance your favorite part is the crust, which also happens to be tricky to make. Luckily, Andrew Zimmern has come to the rescue with a recipe from his friend Michelle Gayer, the pastry chef behind the former Twin Cities dessert spot, the Salty Tart (via Eater Twin Cities). In an Instagram post, Zimmern called the recipe "the perfect pie crust," one that's "flaky, buttery and has superb mouth feel."
In the recipe on Zimmern's website and an accompanying YouTube video tutorial, Gayer shares some of her secrets for a foolproof crust. One of them? High-gluten flour, which she says adds chewiness to the crust. Other touches include a full pound of butter that is cut into cubes for easier mixing, a little bit of sugar for sweetness, and a bit of white vinegar for flakiness – a method Gayer picked up from her grandmother. Zimmern uses his hands to work the butter through the dough – easy-peasy – then chills the rounds of dough before rolling them out into discs. The finished result, transformed into a caramel apple pie, looks like something that would last for approximately six seconds in a household.