Justin Bieber's New Tim Hortons Collab Features 3 New Timbits Flavors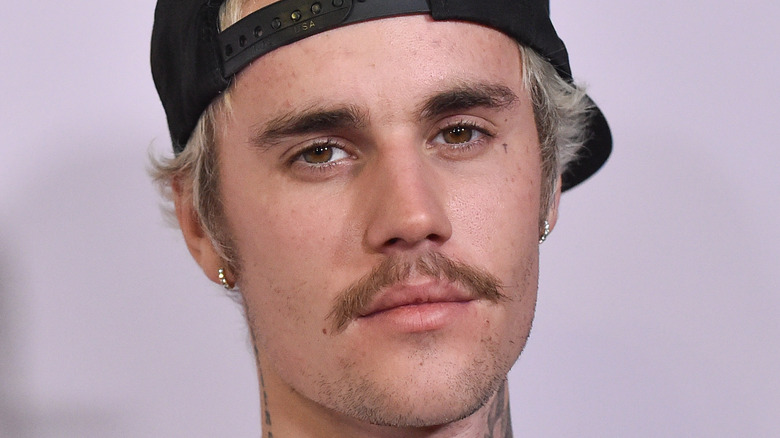 DFree/Shutterstock
Looking for something sweet to indulge in this holiday season? This one's for all the Beliebers out there. 
"What Do You Mean?" you may be asking. Well, folks, iconic pop star and Ontario native Justin Bieber, who has released dozens of crowd-pleasing, chart-topping hits over the years, has officially partnered with Tim Hortons for the Canadian coffee chain's new celebrity menu campaign. 
According to Marketing Dive, Tim Hortons has been struggling on the sales front as a result of the COVID-19 pandemic. To take a page out of other fast-food chains' marketing playbooks, such as McDonald's "Famous Orders" and Burger King's "Keep It Real Meals," Tim Hortons has made the strategic move to incorporate celebrities into its menu in an effort to win the hearts of younger audiences. And for the brand's collaboration with Bieber, the menu features a few new tasty menu items as well as a line of co-branded merchandise that combines the two Canadian icons, according to a press release. Tim Hortons also announced the partnership on Instagram with a photo of JB, who is well-known as one of the franchise's biggest fans. Not to mention, there's also a Tim Hortons x Justin Bieber commercial for the collaboration, starring none other than the Biebs himself.
What will the Tim Hortons x Justin Bieber collaboration entail?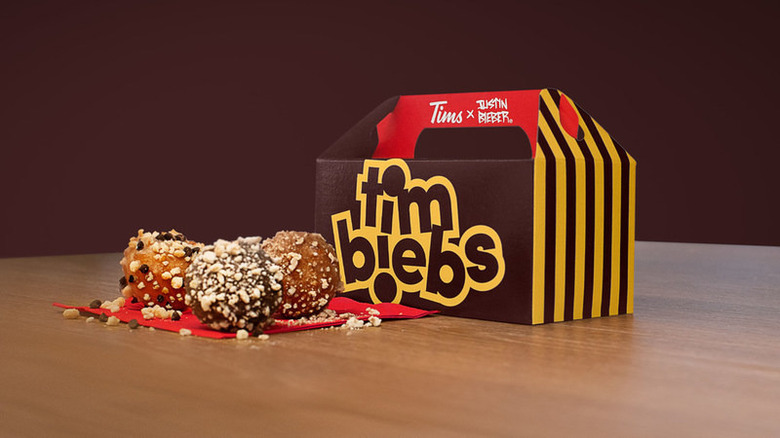 Introducing: Timbiebs! (Yes, that is indeed a portmanteau of Timbits and Bieber.) A Timbit, for those who aren't keen on Canadian sweets, is a bite-sized doughnut made with fried dough and coated in all the sugary goodness you can imagine, according to the Tim Hortons website. The three Timbiebs flavors, according to the product's press release, are: Chocolate White Fudge, Sour Cream Chocolate Chip, and Birthday Cake Waffle, will launch in participating Tim Hortons locations in the U.S. and Canada on November 29. You can also snag some new Timbiebs swag starting the same day, although details on the specific products that will be available have not been revealed just yet.
Bieber has been vocal about his love for Tim Hortons over the years. In fact, "Doing a Tim Hortons collab has always been a dream of mine," Bieber said in the press release. "I grew up on Tim Hortons and it's always been something close to my heart." He even worked with head chef Tallis Voakes to brainstorm new flavors for customers to enjoy. Plus, "What's amazing about working with Justin is he has an authentic, lifelong relationship with Tims and he was so invested in working on Timbiebs and our future plans together," said Hope Bagozzi, Chief Marketing Officer for Tim Hortons. 
We love a killer collab!