This Is NBA All-Star Klay Thompson's Go-To Shake Shack Order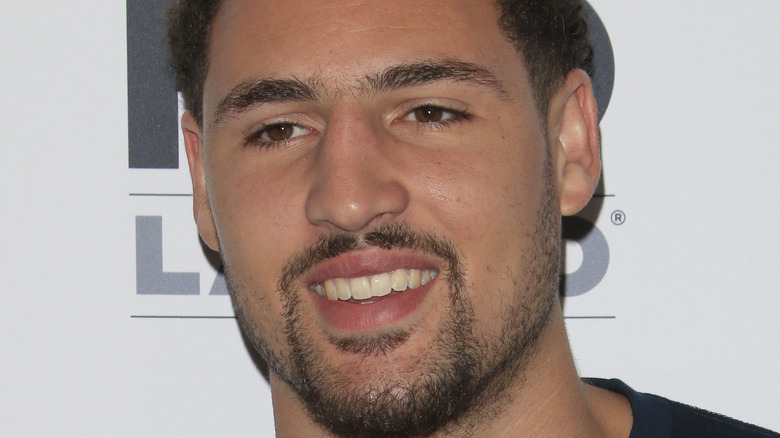 Kathy Hutchins/Shutterstock
When the NBA started awarding three points for baskets made from at least 23 feet and 9 inches (i.e., beyond the designated three-point mark on the court's flour, per Jr. NBA), how could they ever have foreseen the likes of Klay Thompson? 
The three-point shot, which is known colloquially as a "trey" (according to Merriam-Webster dictionary), was introduced during the 1979-80 season as a way of upping the ante on shots made from what's considered a "long distance" (prior to that, every basket was worth two points). Thompson holds the NBA record for the most treys made in a single game (he is ahead of the former record-holder, NBA hotshot Stephen Curry, by one). 
Klay's signature "catch-and-shoot trey" — the "Klay Trey," if you will has helped lead the Golden State Warriors to success during the second half of the 2010s, according to the NBA. Unfortunately, Thompson has been in rehab following an injury, so fans aren't sure whether and when he might be back on the court for the 2021-22 season, reports NBC Sports.
What we know, however, is that you can get your own "Klay Trey" at Shake Shack starting right now.
The Shake Shack "Klay Trey" hits a three with a "swish"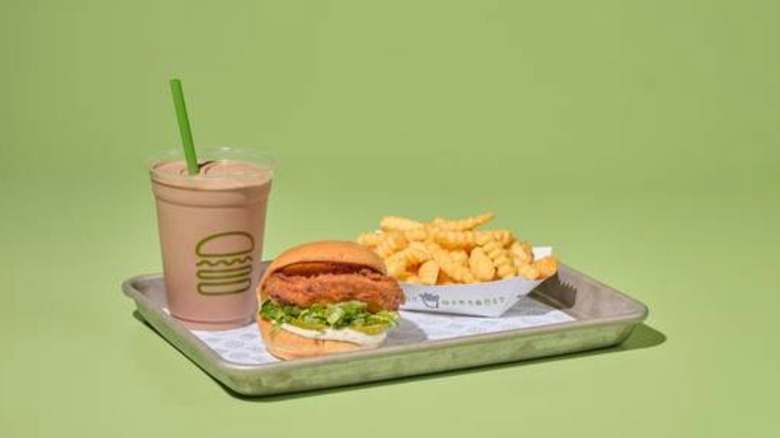 Uber Eats
Basketball fans have reason to be optimistic about Klay Thompson's return to the NBA at some point during the 2021-22 season, thanks to a tweet appearing on the NBA on ESPN Twitter feed yesterday ("There is a real confidence in [whispers around the league] that, especially by the end of the season, that Klay is going to be BACK back.") As fans wait to see how that story develops, Shake Shack and Uber Eats have teamed up to deliver some immediate "Klay Trey" gratification, according to a press release sent by Shake Shack to restaurant trade publication Fast Casual. 
Like his signature on-court three, the edible "Klay Tray" is a "three-piece bundle," in this case, consisting of a whole white meat Chicken Shack sandwich, crispy crinkle cut fries, and a classic chocolate shake – which Thompson collectively refers to as his "favorite" three-piece bundle of all. Ordinarily, this combo would cost $18, but from now through Saturday, November 14, it's just $11 when you order through Uber Eats.
"I'm pumped to partner with Uber Eats and Shake Shack to introduce the Klay Trey," Thompson said in a statement. "I use Uber Eats all the time, and I hope you will too, plus you can ... win some exclusive swag as an added bonus." Thompson appears to be referring to the fact that some Uber Eaters will also receive a mini-hoops or bucket hat with their Klay Treys.