What Julia Child Really Thought About Dan Aykroyd's SNL Skit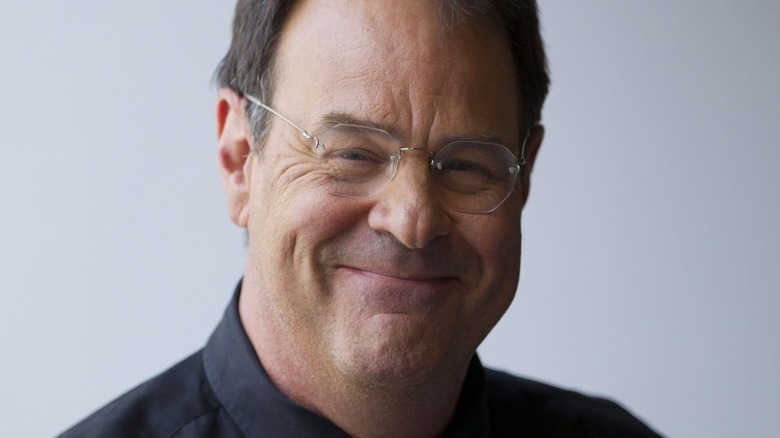 Bloomberg/Getty
If you're impersonated on "Saturday Night Live", it's official: You're either famous or infamous. The new documentary "Julia" confirms that Julia Child's fame was definitely positive and well-earned. She was the exuberant and beloved cook that millions of viewers welcomed into their homes as the host of "The French Chef" and author of "Mastering The Art Of French Cooking." According to The Village Voice, in 1978 Child's "Mastering" cookbook had been on shelves for 17 years and her show on the air for nearly as long — that was when "Saturday Night Live" decided that it was Child's turn to be immortalized on the iconic sketch show, in a hysterical parody featuring actor Dan Aykroyd. 
The now-famous skit about Child, shared by "SNL" on their YouTube Channel, begins with Aykroyd in a brown wig, poufy blouse, and apron, mimicking Child's high-pitched and warbling voice. Aykroyd's "Julia Child" attempts to debone a chicken for the audience, but instead slices into her hand. Stage-gore ensues as blood gushes over the counter and on Child herself, before she collapses on top of her chicken several minutes later; the live audience roared at the sketch. My Little Bird shares in an excerpt from the book "The French Chef in America," written by Child's great-nephew Alex Prud'homme, that Child and her husband Paul happened to be watching the show that night, unaware that she was about to be parodied. After it aired Child's friends called her house anxious to hear what she thought. 
Dan Aykroyd was actually a huge Julia Child fan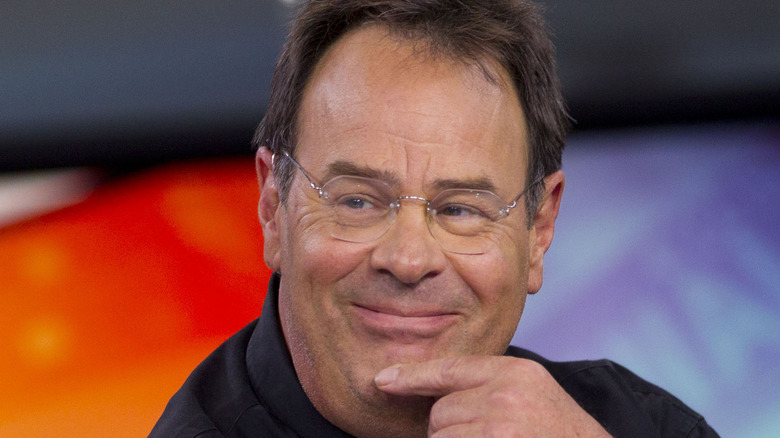 Bloomberg/Getty Images
Celebrities of all walks need thick skin when watching "Saturday Night Live" skits about themselves. E! shares that while many like Martha Stewart and Paula Deen say they love their impersonations, others like Mark Wahlberg and Carole Baskin were not amused. So what did Julia Child think of Dan Aykroyd's impersonation of her? In the new documentary "Julia", Child says "It was very funny, we loved that!" Chef Sara Moulton shares in the film that Child had a videotaped copy of the skit that she would play for dinner party guests. In the book "The French Chef in America" (shared by My Little Bird) author Dorie Greenspan says that at one gathering Child acted out the entire skit for her friends, complete with a cry of "Save the liver!" at the end.
Aykroyd's impression of Child in the sketch, shared on the "SNL" YouTube channel, is hilariously on point, from voice to mannerisms. In the film "Julia" former WGBH floor manager Alex Pirie says that on her show Child "could ad lib endlessly. "SNL" writers clearly noticed this too, because in the skit she offers a steady stream of stories and instruction (like telling viewers to use chicken liver as a coagulant) even as her blood flies across the kitchen. Aykroyd said of his impression, "It came from a place of total respect for Julia Child. I was a huge fan of hers, of course. It was a tribute."
Jacques Pepin says the sketch was inspired by Julia Child's real-life accident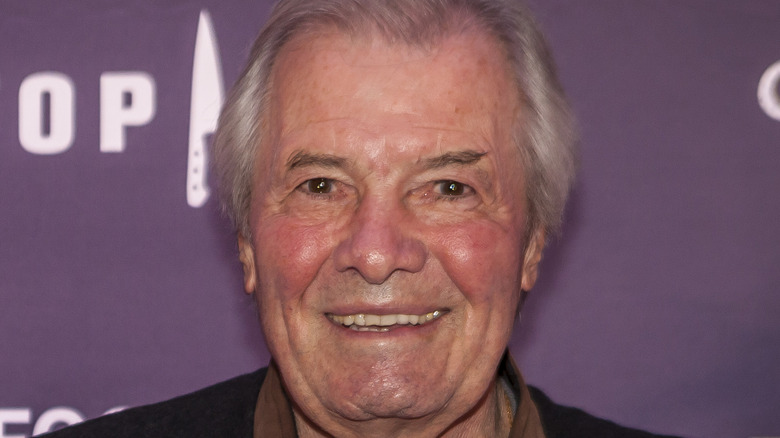 Nick Tininenko/Getty Images
Over 40 years later the "Saturday Night Live" skit with Dan Aykroyd as Julia Child is still hilarious, but what viewers may not know is that it was inspired by a real injury Child sustained just a month before. In the documentary "Julia," Child's friend and collaborator chef Jacques Pepin shares that minutes before the pair were to appear live on "The Tomorrow Show" with Tom Snyder, Child sliced the tip of her finger off while dicing shallots. Child insisted that they would still go on air. On the show Child let Pepin do the cooking while explaining her bandaged finger to the audience. "After the show we went to the hospital," Pepin says. "She had five sutures." Child appeared on "The Johnny Carson Show" the next night where she chuckled with Carson about the injury and assured him that none of her finger had ended up in the recipe. 
In an excerpt of the book "The French Chef In America" shared by My Little Bird, Aykroyd says that he and "SNL" writers saw the episode of Snyder's show and thought it would make a funny sketch. What surprised Aykroyd was that the writers didn't want the part to be played by a female "SNL" cast member, but wanted Aykroyd himself to dress up as Child. "I looked like a busty version of my mother," he said.