Trisha Yearwood Turns Heads With Sultry CMA Look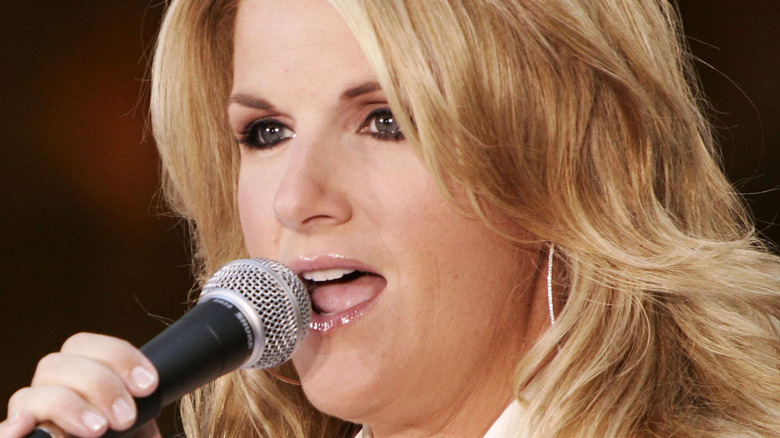 Everett Collection/Shutterstock
Musician and cookbook author Trisha Yearwood has won over many hearts with her music and her love for food. As per the Food Network, Yearwood is the author of cookbooks such as "Home Cooking With Trisha Yearwood," "Georgia Cooking in an Oklahoma Kitchen," and her latest, "Trisha's Kitchen," which she dished about with us. She has also entertained her fans with a cooking series of her own, "Trisha's Southern Kitchen." 
Yearwood is also someone who makes the effort to connect with her fans. She has over a million followers on Instagram and constantly shares updates about her life. She even wants fans to cook with her! Yearwood often posts photos of her adorable dogs, Millie and Emmy, and has even shared behind-the-scenes glimpses from her shows as she gets ready to face the camera. Her fans love her for it. A commentator praised her team, writing, "Glam squad knocked it out of the park!!" Another fan complimented Yearwood, writing, "Love you & the way you have fun with the glam — you have it naturally in all ways — including that glow from within."
Well, Trisha Yearwood delighted her fans yet again with her latest update from the CMA Awards (via Instagram).
Her fans can't get enough
Trisha Yearwood looked stunning at the 2021 CMA Awards, dressed in a black sparkly dress and rocking bold, smoky eye makeup (via Instagram). She also posted a photo of herself with fellow singer Jennifer Hudson, where she wrote, "Backstage at the CMA Awards tonight to introduce the FIERCE @iamjhud, as she honors the Queen of Soul, Aretha Franklin."
Fans loved her look, and a commentator especially complimented Yearwood on her beautifully styled hair. Another Instagram user mentioned how her look was rather glamorous. The country crooner also shared another photo of herself from the show, thanking her entire team for their hard work and writing how great it is to work with a team she adores. Meanwhile, another fan missed hearing Yearwood sing at the awards ceremony, writing, "Gorgeous! Wish we would've heard your beautiful voice!" Hopefully, Yearwood will grace her fans with her beautiful voice soon.