The Classic Dessert Andrew Zimmern Recommends For A Cozy Thanksgiving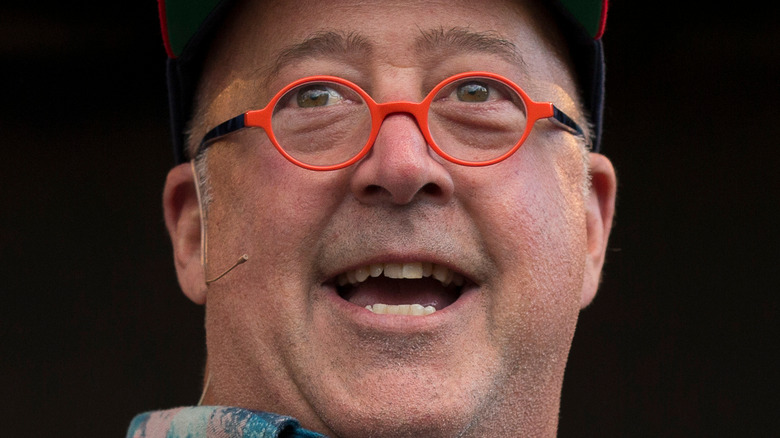 Sterling Munksgard/Shutterstock
For anyone with a sweet tooth, dessert is often the best part of a Thanksgiving feast — you may even limit your turkey consumption a little bit to ensure you have enough room to sample all of the sweet treats available. Perhaps you prefer the classics that are constantly served up for Thanksgiving, such as pumpkin pie and pecan pie. Or, maybe you like to incorporate your favorite autumnal flavors in more creative ways, whipping up a pumpkin layer cake or pecan brown butter cookies. For chef, television personality, and cookbook author Andrew Zimmern, however, there's one classic dessert that's a must serve if you want a cozy Thanksgiving — bread pudding.
In the lead-up to the festive occasion, Zimmern took to Instagram to share his dessert recommendation with his 992,000 followers, calling bread pudding "so delicious" and "an irresistible dessert." He included two delectable shots of bread pudding close-ups, including a classic version as well as a luxurious chocolate version, served up with a small pot of creme fraiche. One Instagram user was all about the recommendation, calling bread pudding "one of my favorite winter desserts."
Here's how the celebrity chef makes his.
Andrew Zimmern's secret ingredient for the perfect bread pudding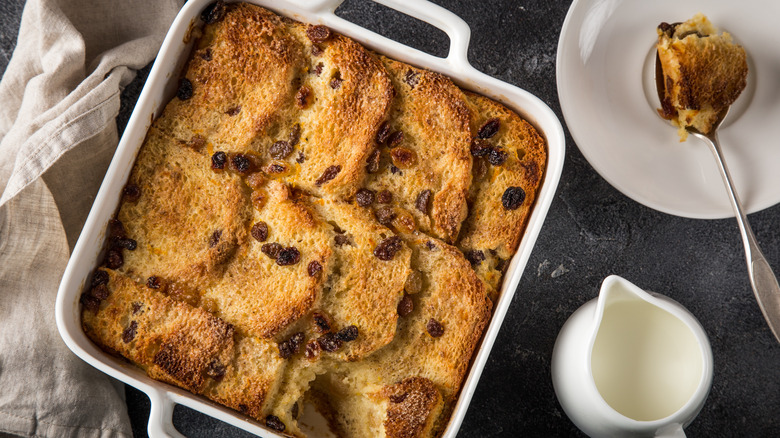 Anna Shepulova/Shutterstock
Andrew Zimmern even offered his audience a little guidance, linking to all the bread pudding recipes he's shared on his website. There are several sweet options depending on your preferred flavors, from a rum bread pudding with boozy fruit and rum sauce to a chocolate bread pudding to a classic bread pudding with whiskey sauce (his secret ingredient).
In addition to Zimmern's own preference for the treat, there are a few more reasons you may want to consider bread pudding for Thanksgiving dessert. The first is that there's a lot of flexibility in terms of the flavors and sauce, so you can still find a way to work in your preferred Thanksgiving flavors. For example, My Baking Addiction has a pumpkin bread pudding recipe for those who can't conceive of a Thanksgiving dinner without some type of pumpkin-flavored treat.
It's also a fantastic option because of how easily it can be prepared in advance, which is a huge benefit when you need all the kitchen space for the cornucopia of savory dishes you're trying to whip up for your Thanksgiving feast. According to Williams Sonoma, if you want to serve up bread pudding fresh baked from the oven, you can assemble everything a day in advance and refrigerate it, baking it in the next day or two. For an even easier process, you can bake it in advance and then just heat it up when it's time to serve.