Costco Shoppers Would Put This Dip On Just About Anything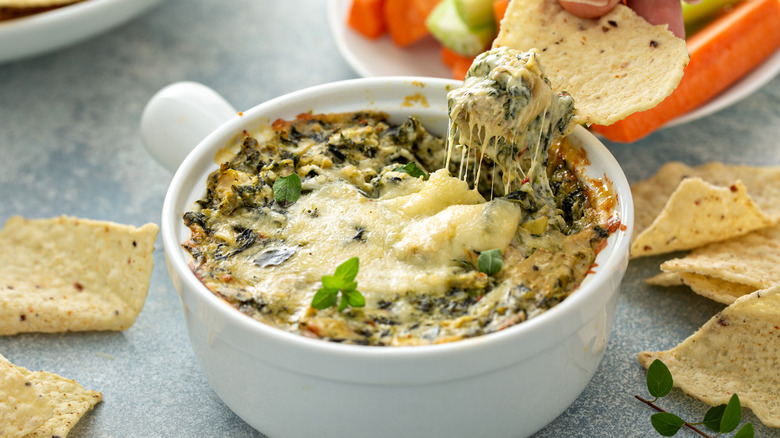 Elena Veselova/Shutterstock
Most football fans know that a gameday meal is not complete without some kind of chips and dip. If you've ever been to a Super Bowl party, you've most likely enjoyed a spread of queso, spinach and artichoke dip, or some other type of cheesy dish meant for dunking and sharing. In 2016, the Specialty Food Association predicted a 17% increase in the chip and dip category from 2015 to 2020, and based on the sheer number of dip options available at grocery stores and restaurants, that estimation may have been correct.
Whether you prefer to buy dips from Trader Joe's or try your hand at easy dip recipes in your own kitchen, you're probably a fan of swiping chips into a delectable condiment. If that's the case, you'll be excited to learn about one particular dip from Costco, which shoppers say is so good, they will put it on anything — really.
Bad breath, great flavor
Costco has had quite the year of foodie innovations, from blinged out cookie kits to a kicking vegetable seasoning that just might turn even the pickiest eaters into health-food fans. But its newest innovation is one their customers perhaps never knew they needed, and it is really catching their attention on Instagram. Fan account @costcobuys recently shared some tempting photos of the Good Foods brand caramelized onion and Gruyère dip, which they noted "looks SO GOOD!" They asked followers about their suggestions for what tasty food to dip inside, and they delivered with their tips.
Answers ranged from standard to unexpected, but the general consensus was, "Um, everything." Responses included, "My face. I'd dip my face in it," "I feel like I should slather it on my body," and a more realistic, "Melt it on the stove and toss pasta in it." Whatever you decide to do with this sweet, complex, and cheesy delight, it seems very clear that you can't go wrong.