The Problem Fans Have With Christmas Cookie Challenge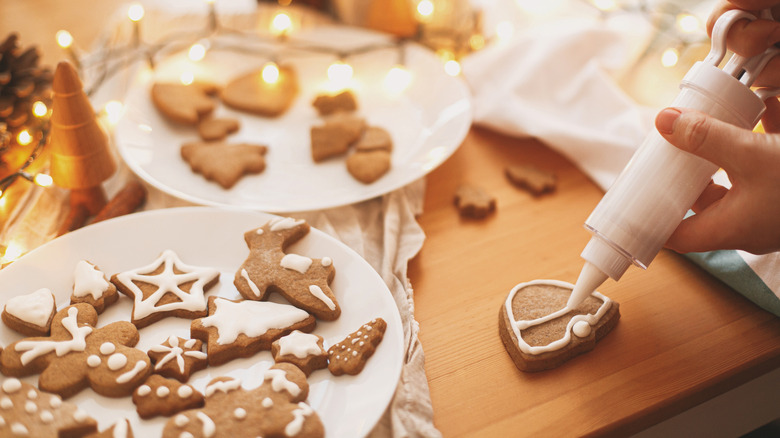 Bogdan Sonjachnyj/Shutterstock
As any Food Network fan knows, whenever any holiday starts getting closer on the calendar, from Easter to Halloween to Christmas, a variety of culinary competition shows themed around that particular festive occasion begin popping up on the channel's schedule. For Christmas, a season so defined by baking all kinds of sweet treats, there are a variety of baking-centric programs, including "Christmas Cookie Challenge."
From whipping up a Christmas village puzzle out of interlocking cookies to crafting life-size Christmas stockings, the contestants are tasked with some pretty demanding feats of baking (via Food Network). However, with just a couple episodes of the latest season having been released, many viewers took to the Food Network subreddit to share their thoughts — and most of the feedback had nothing to do at all with the sweet treats the bakers were coming up with, or even the parameters of the challenges or the show (via Reddit).
Instead, fans were less than convinced that hosts Eddie Jackson, the Season 11 winner of "Food Network Star," and Ree Drummond, also known as The Pioneer Woman, were the right fit for the judging roles. Both hosts have been successful in their own ventures, particularly Drummond, who has grown a culinary and lifestyle empire from the seed of her humble ranch blog. However, it seems that fans aren't loving them as the judges for the festive cookie competition.
What fans are saying
On November 12, Reddit user MinimumDish kicked off the conversation by saying that he or she felt Jackson and Drummond "seem so awkward in their judging" and that they "don't have much chemistry together." While it may seem like the hosts are just a minor part of the show, with the main focus being on the bakers and their innovative creations, apparently the hosting issues were enough for the original poster to find the show "hard to watch."
MinimumDish inquired what the rest of the Food Network subreddit users who may have watched the show thought about the duo, and the majority seemed to agree with the original poster. Many felt that Jackson, who is best known for his meat-centric and healthy eating recipes, simply wasn't quite qualified to judge baking. And, while Drummond is cheerful and comfortable interacting with her family members and friends on her own show, many expressed that she seemed fairly stiff, awkward, and had an unpleasant "monotone voice" on "Christmas Cookie Challenge." Others reiterated that it was largely an issue of chemistry between the judging duo.
However, that doesn't mean that all viewers felt the exact same way. In fact, Reddit user bookedwebstress commented that she "couldn't disagree more" and that "their chemistry is really cute." If you're a fan of holiday baking shows, you just might want to check "Christmas Cookie Challenge" out and judge for yourself.