Here's What Happened To Obvious Wines After Shark Tank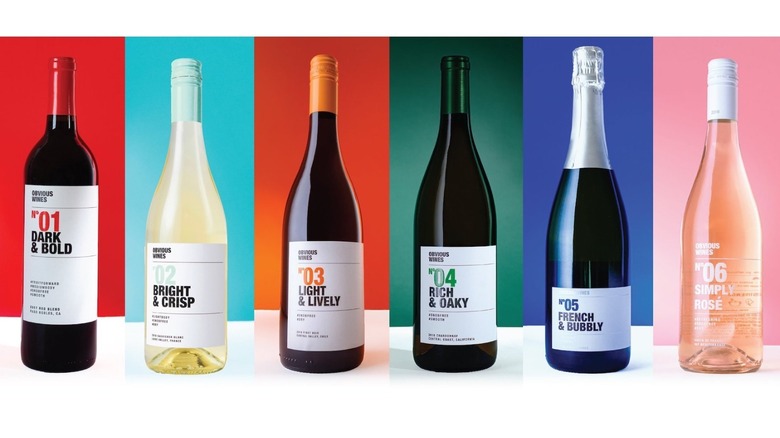 Obvious Wines
Part of the American dream is the belief that everyone can accomplish their goals successfully with hard work. Entrepreneurs take a similar path with their businesses, chugging along as they develop something tangible from a distant concept. Of course, initial funding or lack thereof affects how much an idea can become reality. Shows like "Shark Tank" assist motivated individuals monetarily — but only if their venture is up to the judges' standards.
Brice Baillie presented his business Obvious Wines in Season 10, Episode 12 of the series, per Shark Tank Success. The French native recognized that for the average consumer, buying wine was often a confusing chore instead of a pleasant process. He didn't see why people should have to make a huge effort in order to understand a wine label sufficiently to make a selection. 
At the time, the entrepreneur had only just begun selling his branded wine locally. He requested $150,000 in return for 5% equity in his business. And ultimately, shark Lori Greiner offered $160,000 for 12.5%. Although Greiner's deal didn't end up going through, another investment allowed Baillie to expand his company, per the Shark Tank Blog.
What makes Obvious Wines special?
Since appearing on "Shark Tank," Obvious Wines has branched out to include six carefully sourced wines from sustainable, family-owned vineyards in California, Chile, and France. The wines are easily identified with the numbers one through six, along with two keywords to distinguish the style of wine inside. Instead of wondering if you're in the mood for Bordeaux or Burgundy, you can look at descriptors such as dark & bold, bright & crisp, light & lively, rich & oaky, and simply rosé. Plus, founder Brice Baillie already did the legwork in finding wines from wineries that value their land and ecological farming techniques.
Obvious Wines' tagline, "Because you shouldn't need a PhD to drink wine," points out the limited information about the contents generally provided on a bottle label. Part of Lori Greiner's interest in Baillie's business proposal was the absence of similar branding on the market (per Shark Tank Success). Unless you derive pleasure from poring over bottle labels and studying the characteristics that make each wine distinct, a straightforward approach is helpful.
The American public is on board and Obvious Wines are currently sold in multiple states, as well as online, according to Start Engine. The source notes that the company had over $1.3 million in sales in 2020 and showed a 50% increase at the beginning of 2021.
Obvious Wines has grown into a successful business
The Obvious Wines portfolio now includes seven wines, all of which are vegan and eco-friendly, including the newest release, Après Sol, an Italian sparkling rosé. The simple front-of-the-bottle labels have remained the same: easy-to-read and providing only essential taste profile information. The labels on the back of the bottles, meanwhile, give customers a little more background, such as where the wine is from, ideas for food pairings, and more tasting notes.
Founder Brice Baillie had some thoughts on why Obvious Wines has proven to be a successful business, telling Wine Business in 2019, "Most wines are intimidating to drink because they are targeting the connoisseur. Our straight-talking snob-free approach has made us incredibly popular across a broad range of casual drinkers, and our modern design and eco-friendly practices have resonated with patrons looking to develop their palate for wine in a more approachable way."
Even though Obvious Wines' "Shark Tank" deal with Greiner fell through, Baillie says appearing on the show was great for the exposure alone. "We [still get] emails from people who saw us," Baillie said (via 2 Paragraphs).