Instagram Is In Love With Guy Fieri's Newly Adopted French Bulldog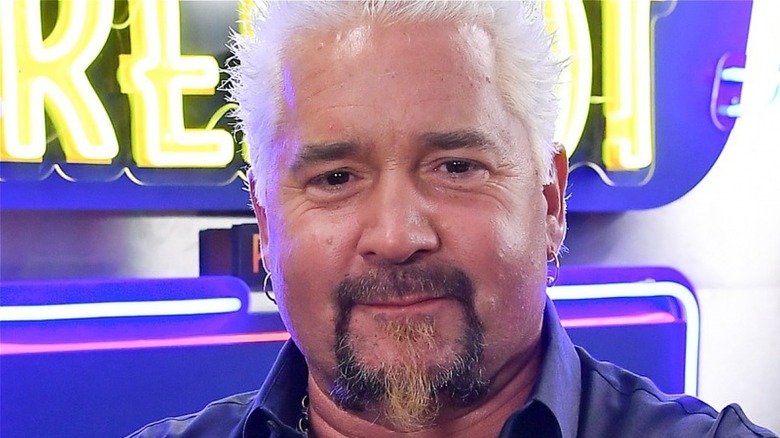 Steve Jennings/Getty
Celebrity chef and Food Network star Guy Fieri may be known for his bold personality and tough-guy looks, but it turns out that the host of "Diners, Drive-ins and Dives" is actually a real softie when it comes to animals. In addition to owning a Chihuahua named Smokey, a German Shepard named Cowboy, and a Mastiff named Roxy (via Dogster), Fieri also has some rather unique pets in the form of a pet tortoise named Pops, peacocks, and hundreds of goats (via The Washington Post). Sounds like a handful, even for the Mayor of Flavortown! Fieri apparently doesn't think so, as he's just added another member to his merry menagerie.
Fieri recently posted a video to Instagram and Twitter with the caption, "Introducing the newest addition to the Fieri Family ... CASH!" In the nearly minute-long video, we see Fieri presenting Cash, a year-old French Bulldog, on his own before he's introduced to the rest of the dogs. The dog was greeted with much sniffing and a sharp little bark from Smokey, which was not entirely unexpected by anyone familiar with the little dog's outsized personality.
Fans can't get enough of Cash
Guy Fieri's Instagram post has already received more than 20,000 likes and hundreds of comments by fans, including several other celebrity chefs like Alex Guarnaschelli, Maneet Chauhan, and Amanda Freitag. "Aww he's so cute!" writes one fan, while another one gushes, "Omg he is absolutely adorable." Many fans loved the name Cash and questioned whether it was after money or music legend Johnny Cash. Fans also loved the scene at the very end of the video, where an adorably tired Cash is asleep on Fieri's lap, gently snoring, with an apparent smile on his face. "That little snore at the end of the video is everything. Lol," writes an adoring fan.
Several commenters also recommended that Fieri look into getting Cash a harness instead of a collar. French Bulldogs are more likely to choke than other breeds due to their comparatively small tracheas and short snouts, making harnesses a safer option in some cases, as per French Bulldog Owner. Given his clear love for animals, we suspect Fieri will do what's best for the pup. Perhaps Cash can get a glitzy and monogrammed harness to match Smokey's blinged-out collar.