Bobby Flay's Mulled Apple Cider Is The Perfect Thanksgiving Mocktail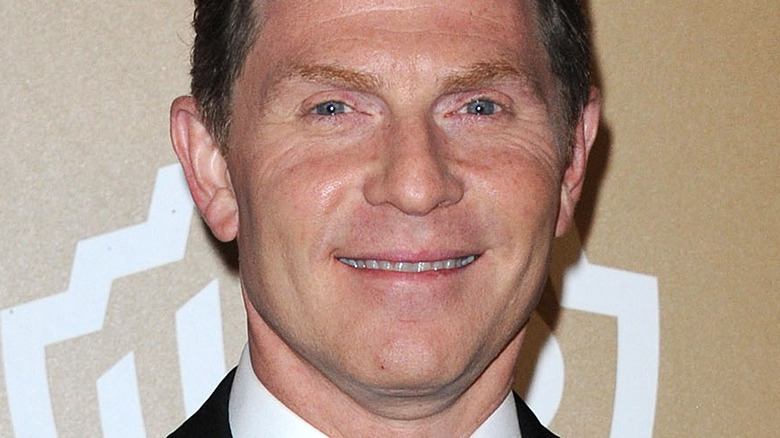 DFree/Shutterstock
If you're looking for advice on how to host the perfect Thanksgiving dinner, it's always a good idea to turn to experienced chefs like Bobby Flay. He has advice for anyone who is making a turkey for the first time, and if you need to keep your food warm, Flay has a tip that involves warm chicken stock. He also recently posted a piece of advice on his Instagram account, where he recommends having a drink ready for when your guests arrive for dinner.
Flay shared a photo of his mulled apple cider, which is topped with orange slices, and we think that the brightness from the citrus is such a great idea. Flay also mentions that this drink is "great for all ages" in the caption. Kids will probably love a sweet cider, and Flay writes that adults can enjoy this drink with some bourbon. But we think that this apple cider is the perfect option for a Thanksgiving mocktail that will warm everyone right up.
How to make Bobby Flay's mulled apple cider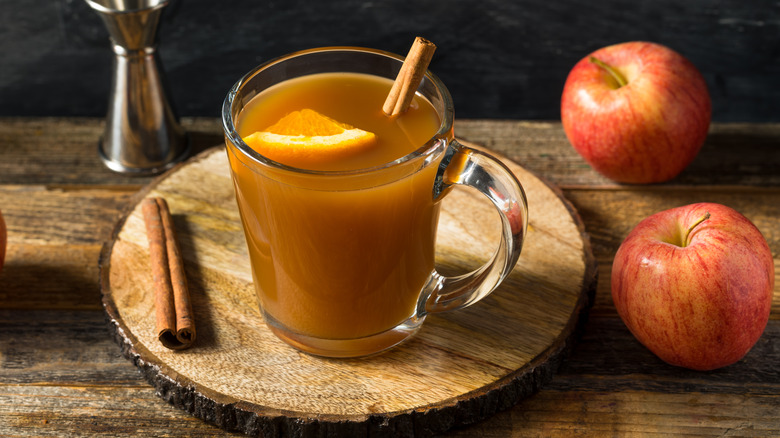 Brent Hofacker/Shutterstock
Wondering how to make Bobby Flay's Mulled Apple Cider? He breaks down the recipe on his website, and it's not difficult at all. Besides the cider itself, the other ingredients include spices like cinnamon sticks, cardamom pods, star anise seeds, whole cloves, and one orange that's been sliced.
Once you have all your ingredients, you just bring everything to a boil, then let the cider simmer on the stove for 10 minutes. That's it! With a recipe that's this simple, it's ideal for a busy day of cooking and prepping your Thanksgiving meal. While Flay presented this recipe as a "holiday hosting tip," which multiple fans thanked him for on Instagram, one person replied, "Guests? I'll make this just for me." 
Looking for more mulled apple cider recipes? We've got a slow cooker mulled apple cider recipe that's incredibly easy, and Ina Garten has a cider recipe that contains an unusual spice: black peppercorns. Like Flay's version, Garten's recipe for hot apple cider can be spiked. But you can also leave out the alcohol, and it'll be just as festive as a Thanksgiving mocktail.