For Making Salsa, One Food Processor Stands Above The Rest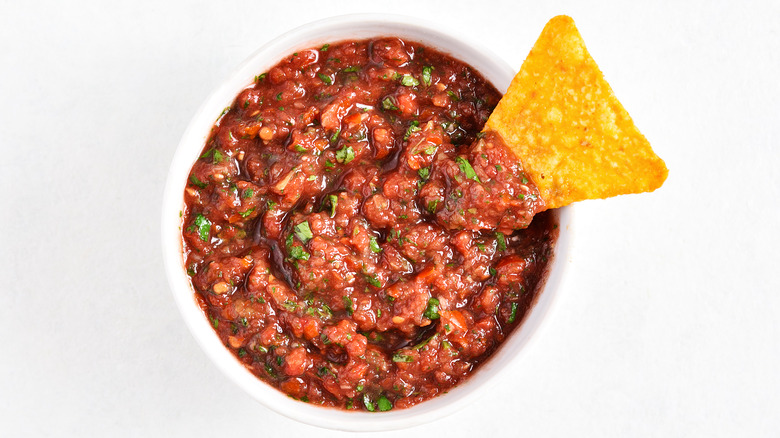 Tatiana Volgutova/Shutterstock
We may receive a commission on purchases made from links.
A fresh bowl of homemade salsa is truly in a league of its own. But considering how it's composed of raw vegetables and seasoning, it's shockingly easy to fumble. Too unevenly chunky, and it's awkward to scoop up with a tortilla chip; too pureed, you might as well call it gazpacho. Using your intuition in the kitchen is awesome, but even great chefs need the right tools to do their best. Luckily, there's an appliance that knows how to do the grinding and working so that you can always achieve perfect, restaurant-grade salsas for your dinner parties and game night spreads.
The Ninja BN601 Professional Plus Food Processor comes with a powerful 1000 watts motor, plus three different blade options tailored to accommodate either chopping, slicing, or blending purposes. Whether you like chunky pico de gallo, the smooth heat delivered from tomatillo salsa verde, fall somewhere texturally in between, you'll want to snag this food processor before your next salsa making marathon.
The best food processor for salsas and beyond
Over 3,000 people have rated the Ninja BN601 Professional Plus Food Processor on Amazon, giving it an overall score of 4.8 stars. Many of these reviewers shared they love using the kitchen tool for homemade salsas. One reviewer says, "Love this product. So easy and fast in doing my salsa. Cleaning was a wiz. Do recommend this item." Customers seem to enjoy getting some much needed control in their salsa's finished consistency. "I have tired making salsa time and time again, and it always turned out mushy with my old equipment," says another reviewer. "With this, I just throw in all my ingredients and pulse it to my desired chunk size. It's incredible! What took me an hour or two to prep, now just takes a couple minutes."
All that energy to blitz food to speedy perfection comes from the Ninja food processor's powerful motor. It's able to easily process a whole container of food, capturing even the trickiest tomatoes from the top of the processor bowl. That way, chunky salsas are fully and evenly chunky, while smooth salsas are lump-free. In addition to big batches of salsa, customers say this food processor is great for hummus, nut butter, shredding veggies and cheese — even cookie dough!
Quick, precise, and (importantly) easy to clean, the Ninja Food processor will grant your salsa wishes for $79.99 on Amazon.