Alex Guarnaschelli Always Had This Hungarian Cake On Her Birthday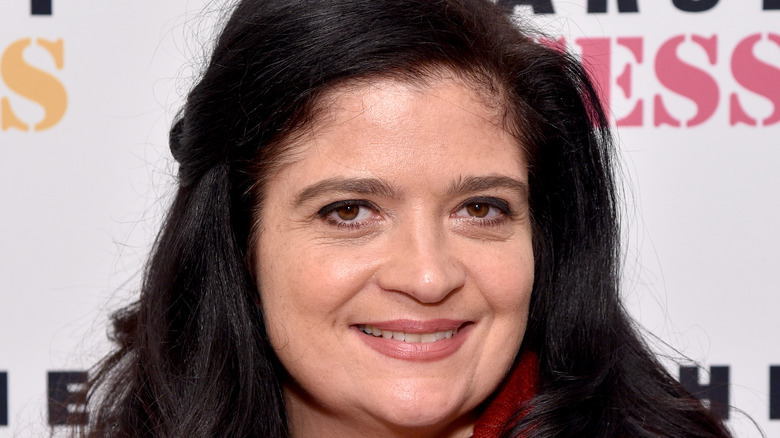 Bryan Bedder/Getty Images
Alex Guarnaschelli knows a thing or two when it comes to baking cakes. Per Trib Live, the celebrity chef grew up in a home with a mother who edited cookbooks for a living and a father who had a penchant for cooking Chinese food. The regular judge on Food Network's "Chopped" said, "I would say that it was the nonstop parade of cooking, eating and dialogue about food that led me inevitably toward cooking. It was destiny with only one path to take. I'd have to say the day my mom made a cheese soufflé was pretty dramatic. I couldn't believe food could taste so good."
As awesome as that cheese soufflé may have been, it's not the dish that takes Alex Guarnaschelli back to her childhood. That honor goes to another. According to Trib Live, the Hungarian cake, known as Dobos Torte, was her favorite birthday cake as a child. Now a mother herself, Guarnaschelli makes the special dessert for her daughter Ava. The "Supermarket Stakeout" host has even made a believer out of Giada De Laurentiis, who shared a YouTube video of Guarnaschelli preparing her "specialty" at a party.
It's all about the caramel
Guarnaschelli shared on Instagram that her Dobosch Caramel Chocolate Cake is something she thinks we all should add to our Thanksgiving Day menu. She wrote, "This was my childhood birthday cake for a reason. Dobosch means 'drum' in Hungarian & the hard caramel top makes the cake top resemble a drum." 
What exactly is this cake? Per Taste Hungary, the Dobos Torta is probably Hungary's most well-known layered cake. But the blog also notes it isn't the vanilla, chocolate, or caramel flavor that makes this cake unique. No, what makes it so dreamy is its presentation. And, it's not for the faint of heart or those who lack patience, because making Dobos torte is "labor-intensive."
But don't let that deter you from making this cake that Trib Live likens to a "crunchy candy bar." They also suggest using low heat when making the caramel sauce. This cake is definitely a show stopper and Guarnaschelli's fans are loving it. Her Instagram post has received close to 14k likes and one follower wrote, "A big slice of this with good, strong coffee (with real cream) for breakfast, PLEASE!" Another astute fan observed, "This looks like the cake version of Twix." But we love the person who just typed "yum" because that about says it all.