Slow Cooker Ratatouille Recipe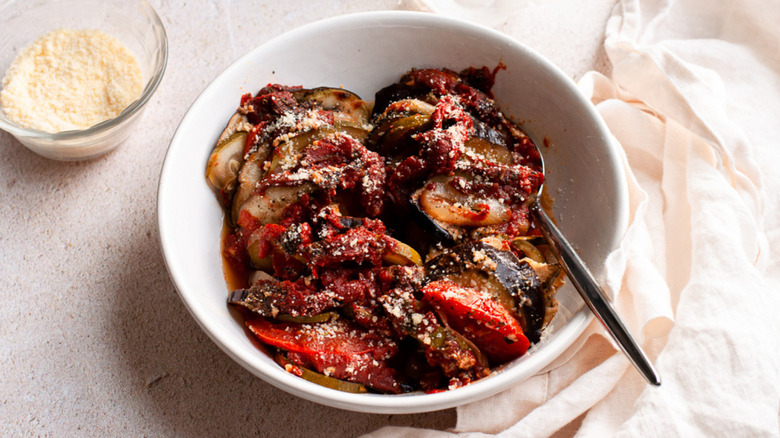 Christina Musgrave/Mashed
This slow cooker ratatouille is a dish that you probably didn't know you needed in your life. One of our favorite parts about this wonderful dish is that you get to use your beloved slow cooker to make it. Obviously, the slow cooker is one of the best kitchen tools ever invented, seeing as it quite literally does the work for you. This wonderful dish is jam-packed with veggies and a delicious red sauce of your choosing. Did we mention that it also has some Parmesan cheese? 
Recipe developer Christina Musgrave came up with this fantastic recipe that is sure to be a hit with family and friends. "I like how easy it is — it's a great side dish to throw in the slow cooker that everyone will enjoy," Musgrave raves. "I was inspired by ratatouille I used to eat as a kid, but I wanted to make an easier, [more] approachable version."
Keep reading to find out how to make this delicious recipe, and get a heaping serving of veggies in your diet!
Gather the ingredients for your ratatouille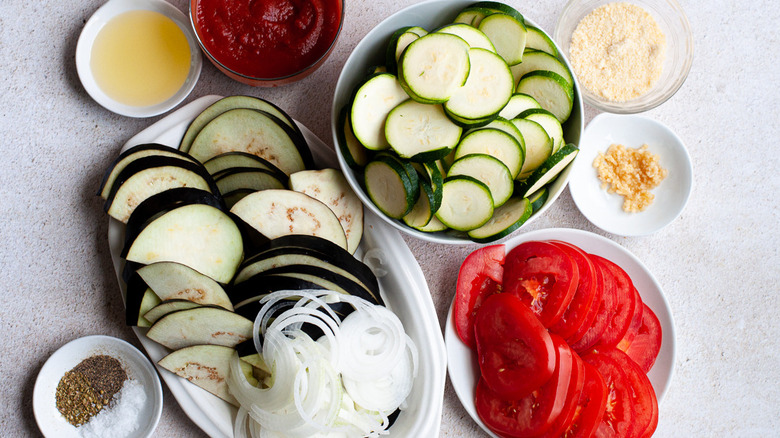 Christina Musgrave/Mashed
Once you're ready to start cooking, it's time to take a trip to the store. The first ingredient you will need is a little bit of olive oil. Double-check before you put it on your list in case you have it at home already. Then, pop by the produce section and grab zucchini, tomatoes, eggplant, and white onion. You will also need some red sauce (you can choose your favorite brand) and a few cloves of garlic.
Moving onto the spices, be sure to get oregano, salt, and pepper. The last item you need for this dish is Parmesan cheese.
Add oil to the slow cooker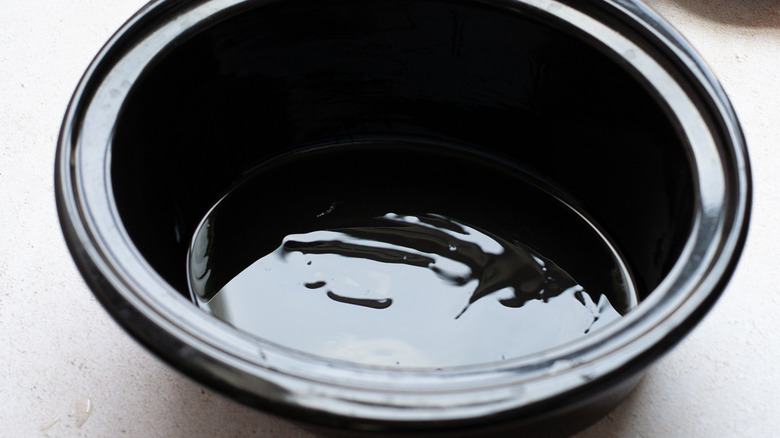 Christina Musgrave/Mashed
You will need to cook with a crockpot for this recipe, so be sure you have one available to use. Then, take it out of your pantry or storage spot and place it in a safe spot on the counter. Grab your olive oil and measure out two tablespoons. Take the lid off of the crockpot and drizzle in the olive oil. Then, spread it evenly on the bottom and the sides of the cooking device. The olive oil ensures that nothing will stick to the bottom of the vessel during the cooking process.
Layer the veggies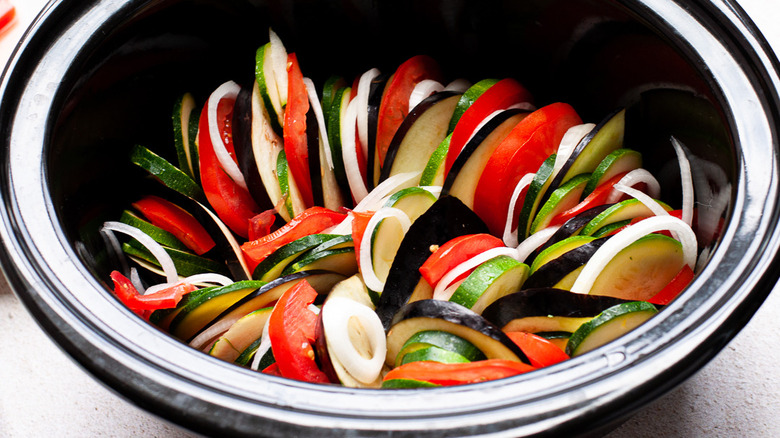 Christina Musgrave/Mashed
For this step, you will need to grab all of your veggies. Remember that you should have sliced these ahead of time. "You want to cut the vegetables to the same thickness. That will improve the final dish texture," Musgrave shares.
Start to layer the veggies. Begin with the sliced zucchini, followed by the sliced tomato. Then, add the sliced eggplant and the sliced white onion. There should be just enough room in the slow cooker to just do one layer of veggies so they all cook evenly. It may take a little playing around with, but it will work! 
Add the sauce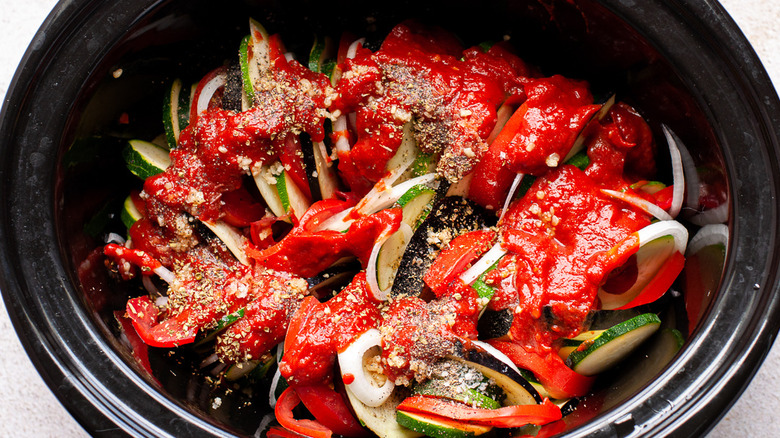 Christina Musgrave/Mashed
Once you have all of your veggies loaded into the slow cooker, it's time to add some flavor. Grab your red sauce and measure out a cup. Then, pour the liquid over the veggies — this will help them cook. Add the minced garlic and spices in the next layer, then add the oregano, salt, and black pepper.
Now it's time to cook this yummy dish. Place the lid on top of the slow cooker and turn the dial of the device. You have two options here: You can cook it on high for four hours or on low for seven to eight hours.
Add the cheese and enjoy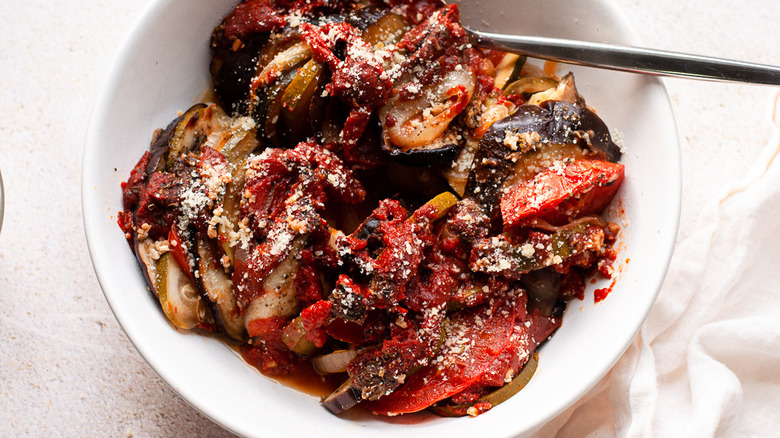 Christina Musgrave/Mashed
While the veggies cook in the slow cooker, you can tend to other things. Once your timer goes off, the veggies should be tender. The last thing you need to do is sprinkle a little Parmesan cheese on top. 
Now, it's finally time to serve this wonderful dish to your guests. "I wouldn't add meat to this dish. Instead, I'd serve it with the dish on the side," Musgrave shares. "Grilled chicken, chicken Parmesan, or steak would be great searing suggestions." Anything left? Don't worry! "Leftovers will keep for two to three days in the fridge." Yum!
Slow Cooker Ratatouille Recipe
This wonderful dish is jam-packed with veggies and a delicious red sauce of your choosing. Did we mention that it also has some Parmesan cheese?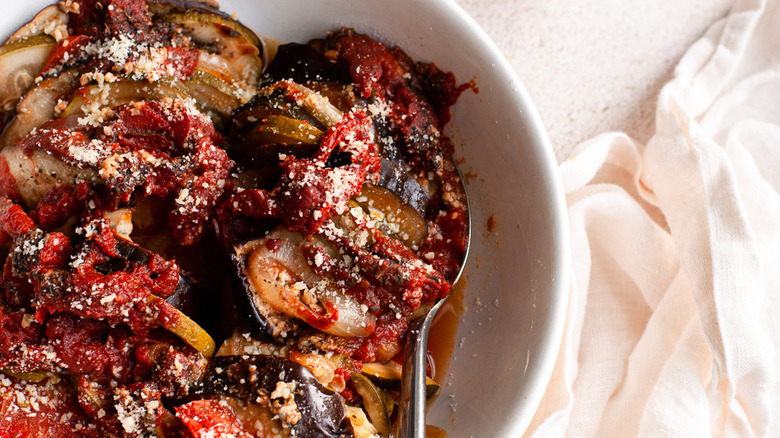 Ingredients
2 tablespoons olive oil
2 zucchini, sliced thinly
2 large tomatoes, sliced thinly
1 eggplant, sliced thinly
1 white onion, sliced thinly
1 cup red sauce
2 cloves garlic, minced
1 teaspoon oregano
½ teaspoon salt
½ teaspoon black pepper
½ cup Parmesan cheese, for serving
Directions
Drizzle 2 tablespoons of olive oil in the bottom of a slow cooker. Spread evenly, including the sides.
Layer the sliced zucchini, sliced tomatoes, sliced eggplant, and sliced white onion in the bottom of the slow cooker.
Pour 1 cup of red sauce over the vegetables, then season with 2 cloves minced garlic, 1 teaspoon oregano, salt, and black pepper. Cover and cook for 4 hours on high or 7 to 8 hours on low.
When vegetables are tender, top with Parmesan cheese and serve.
Nutrition
| | |
| --- | --- |
| Calories per Serving | 142 |
| Total Fat | 8.2 g |
| Saturated Fat | 2.8 g |
| Trans Fat | 0.0 g |
| Cholesterol | 8.4 mg |
| | |
| --- | --- |
| Total Carbohydrates | 12.3 g |
| Dietary Fiber | 4.5 g |
| Total Sugars | 7.2 g |
| Sodium | 375.1 mg |
| Protein | 6.9 g |