This Famous NYC Dessert Is Now Available To Vegans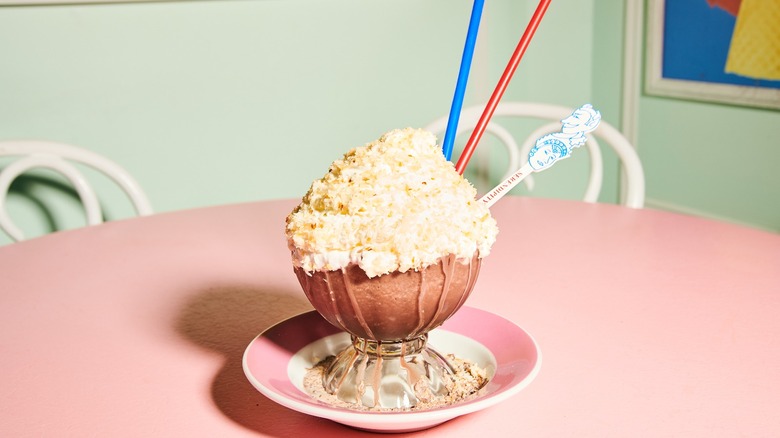 Serendipity3
Serendipity3 is an iconic New York City landmark, and this winter, it's just made all of our holiday dreams come true by creating a vegan version of its famous Frrrozen Hot Chocolate. The original drink has quite the fan following that paved the way for its own ice cream flavor (via the New York Daily News). When ordering this special at the Upper East Side location, it features 14 exotic cocoas and is served in a large, elegant glass with tons of whipped cream and two straws, which makes it perfect for a winter date (via Forbes).
Now, for $19.95, vegans can also enjoy this decadent dessert with the chain's new blend of its iconic mix, which includes cocoa powder, powdered sugar, and cream of coconut. And don't you worry — this plant-based drink is piled high with coconut milk whipped cream and coconut flakes, so you can have a full "One Fine Day" moment, which quite literally has a scene in the flagship location (via On the Set of New York).
Other new vegan options at Serendipity3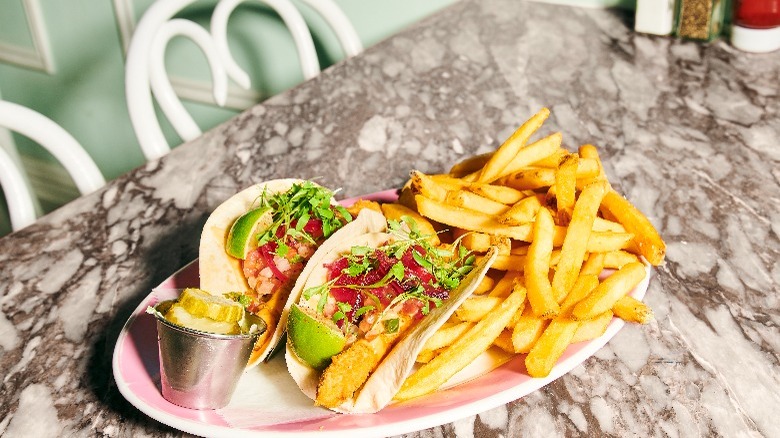 Serendipity3
If you would like a meal before dessert, you can also order a plant-based menu item from Serendipity3, which has released a number of new dishes for vegans. These include the Vegan Black Bean Burger, Crispy Vegan Chicken Tacos, Crispy Vegan Polynesian Pineapple, and the Serendipity Vegan Truffle Mac. Chef Joe Calderone, creative director of Serendipity3, said, "Our menu has always included plant-based items, so it was only fitting that we developed a vegan version of our Frrrozen Hot Chocolates, the iconic dessert that has satisfied nearly 30 million guests since we opened our doors in 1954."
The world-renowned food and dessert spot has also made a lot of upgrades to its original menu, including the Infamous Truffle Burger with Boursin Cheese & Black Truffle Mayo and the It's My Birthday Cake Sundae. Most notably, it created the Selena Sundae, named after the restaurant's part-owner and investor, Selena Gomez. After momentarily closing its doors to renovate its kitchen, Serendipity3 is going as strong as ever with its exciting, inclusive new menu (via Time Out). So run — don't walk — to the Manhattan flagship restaurant to try its dairy-free twist on a legendary favorite.