Valerie Bertinelli Is Missing Eddie Van Halen As Son Celebrates Milestone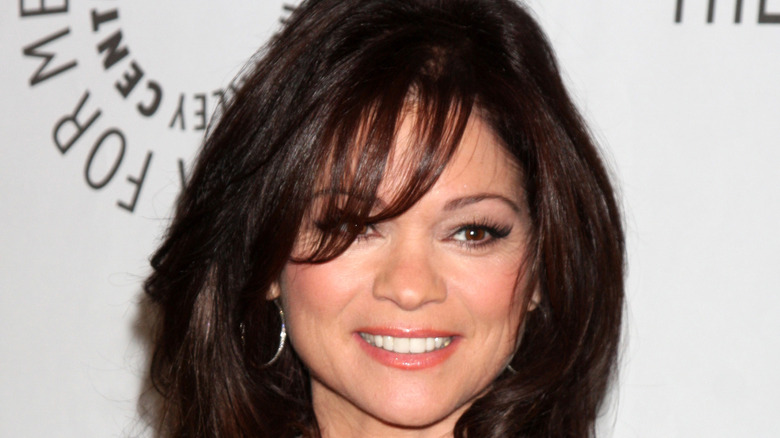 Kathy Hutchins/Shutterstock
Actress and Food TV personality Valerie Bertinelli shares a close bond with her son, Wolfgang Van Halen. As discussed in Good Housekeeping, Bertinelli admits food helped the two connect with each other when Wolfie was a kid, and mom said she knew she could get her son interested in food by making sure that he was actively involved in the process. As the star recalled, "He would just sit in the kitchen with me and watch me do everything ... he would get really interested, and I would sneak him a bit of tofu or whatever it may be that we were cooking with that day."
Wolfie also had a great connection with his dad, the late musician Eddie Van Halen. After all, Wolfie loves music and is trying to make a name for himself in the music business in his own project Mammoth WVH. Per Blabbermouth, it's said that Van Halen had an emotional reaction when hearing his son's first single, "Distance" before he passed from a battle with cancer in 2020. Recently, Bertinelli wrote a touching post on Instagram about her son and his music project while also paying tribute to her ex-husband.
Bertinelli is very grateful for her fans' support of Wolfie's band
Valerie Bertinelli had a lot to say in her recent Instagram post, commemorating the one-year anniversary of her son Wolfgang Van Halen's release of his first single, "Distance." She wrote about the milestone, noting, "Can you believe it's already been a year since @mammothwvh released 'Distance'? What a journey." The star also posted a special note for her fans and thanked them for rooting so hard for Wolfie and his musical dreams. She added, "Thank you so much for supporting my son, his career, and his bandmates this year; you have no idea how much gratitude we have for all of you!" 
Bertinelli also took a moment to remember her ex-husband, the late Eddie Van Halen, and wrote, "We miss you Ed," while encouraging her followers to watch the touching music video for the song on YouTube. Fans were moved by her words. One person commented that Wolfie is really talented and that the song is beautiful and made them tear up. Another fan wrote, "What a fine young man you and Eddie raised. How proud you must be!"